Abstract
Functional autoantibodies directed to the M2 muscarinic acetylcholine receptor (M2R) could affect the heart rate directly by altering cardiac M2R activity and/or indirectly by changing vagal-mediated cardiac M2R activity. We measured M2R autoantibody activity in sera from 10 subjects with postural tachycardia syndrome (POTS) and 5 healthy control subjects using a cell-based bioassay. Half of the POTS subjects demonstrated presence of elevated M2R autoantibody activity, while no significant M2R autoantibody activity was found in the healthy subjects. Serum-derived immunoglobulin G (IgG) from antibody-positive POTS patients induced a dose-dependent activation of M2R, which was blocked by the muscarinic antagonist atropine. Moreover, antibody-positive POTS IgG decreased the responsiveness to oxotremorine, an orthosteric muscarinic agonist, indicating an indirect inhibitory effect. These data suggest that M2R autoantibodies may contribute to the pathophysiology of POTS by increasing the normal vagal withdrawal during upright posture through its negative allosteric modulation of M2R activity.
Graphical abstract
M2 muscarinic receptor-activating autoantibodies are present in a subgroup of patients with POTS and act as a negative allosteric modulator of the orthosteric ligand response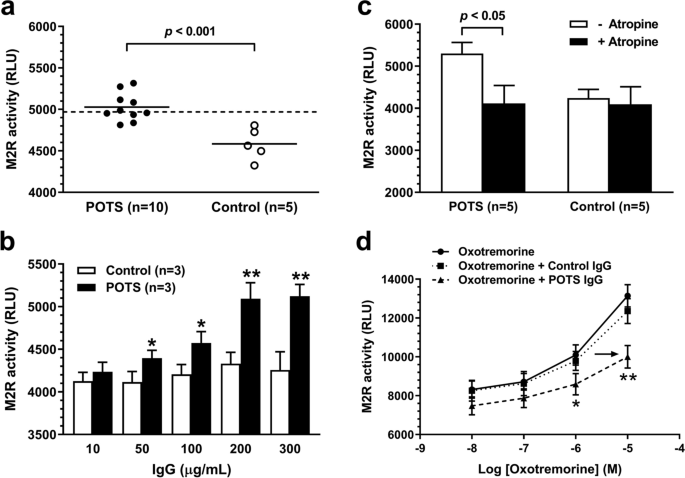 Access options
Buy single article
Instant access to the full article PDF.
USD 39.95
Price includes VAT (USA)
Tax calculation will be finalised during checkout.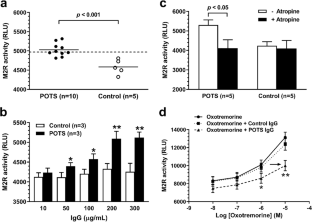 Acknowledgements
This manuscript is dedicated to the memory of our colleague Dr. David Kem, who recently passed away. He proposed the concept of autoantibody-mediated cardiovagal dysfunction in postural tachycardia syndrome.
Funding
This work was supported by funding from the National Heart, Lung, and Blood Institute (R01HL128393), an Exploratory Grant award from Harold Hamm Diabetes Center at the University of Oklahoma, and individual grants from Christy and Aaron Jagdfeld and Francie Fitzgerald family through the University of Oklahoma Foundation Webster Fund.
Ethics declarations
Human subjects
This study was approved by the Vanderbilt University Medical Center and University of Oklahoma Health Sciences Center Institutional Review Boards as conforming to the overlying ethics principles operative in the United States. All subjects provided written informed consent.
Conflict of interest
The authors declare no competing interests.
Additional information
Publisher's note
Springer Nature remains neutral with regard to jurisdictional claims in published maps and institutional affiliations.
Communicated by Associate Editor Jozine ter Maaten oversaw the review of this article.
About this article
Cite this article
Li, H., Zhang, G., Forsythe, E. et al. Implications of Antimuscarinic Autoantibodies in Postural Tachycardia Syndrome. J. of Cardiovasc. Trans. Res. (2021). https://doi.org/10.1007/s12265-021-10167-z
Received:

Accepted:

Published:
Keywords
M2 muscarinic acetylcholine receptor

Postural tachycardia syndrome

Activating autoantibody