Abstract
Bile acid receptor TGR5 has been proved to play protective roles in the process of myocardial infarction (MI). Recently, we found spleen weight of Tgr5+/+ mice was increased at 7-day post-MI but not in Tgr5−/− mice. Since the spleen is one of the main resources of immune and inflammatory cells post-MI, we conducted flow cytometry analysis of multiple immune cells in the heart post-MI. It showed the recruitment of CD4+ T cells and CD8+ T cells was continuously more in the heart of Tgr5−/− mice post-MI until 7 days after MI. Furthermore, CD4-specific TGR5 depletion mice exhibited aggravated ischemic injury. The mRNA expressions of the markers of Th1 and Treg were upregulated in the heart of Tgr5−/− mice at 7-day post-MI. These results suggested TGR5 modulates CD4+ T cell functions and subsets distribution in the heart, and plays protective roles in myocardial infarction.
Graphical abstract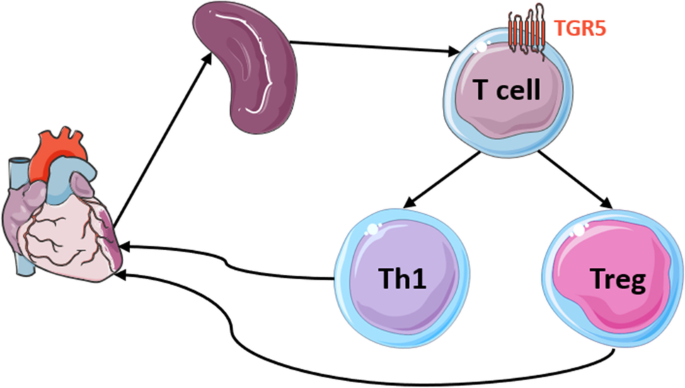 Access options
Buy single article
Instant access to the full article PDF.
USD 39.95
Price includes VAT (USA)
Tax calculation will be finalised during checkout.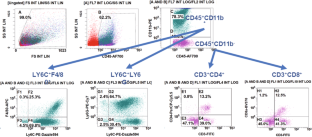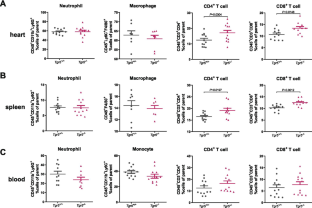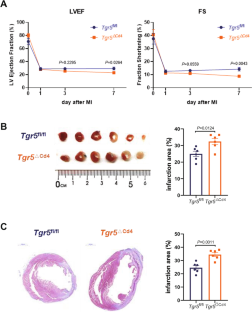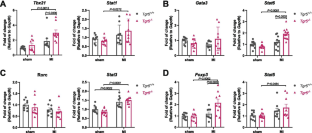 Acknowledgements
We greatly appreciate Professor Changtao Jiang, School of Basic Medical Sciences, Peking University, for providing valuable opinions and suggestions on the study, especially the Tgr5 global deletion mice.
Funding
This work was supported by the National Natural Science Foundation of China (Grant No. 81900315, Grant No. 81625001) and the National Key Research & Development Program of China (Grant No. 2018YFC1312700, Grant No. 2018YFC1312701).
Ethics declarations
Ethics Approval
No human studies were carried out by the authors for this article. This study conformed to the Guidelines for the Care and Use of Laboratory Animals published by the US National Institutes of Health and was approved by the Institutional Animal Care and Use Committee at Peking University Health Science Center (LA2019138, LA2021363).
Conflict of Interest
The authors declare no competing interest.
Additional information
Publisher's Note
Springer Nature remains neutral with regard to jurisdictional claims in published maps and institutional affiliations.
Associate Editor Junjie Xiao oversaw the review of this article
Supplementary Information
Below is the link to the electronic supplementary material.
About this article
Cite this article
Wang, J., Xu, T. & Xu, M. Roles and Mechanisms of TGR5 in the Modulation of CD4+ T Cell Functions in Myocardial Infarction. J. of Cardiovasc. Trans. Res. (2021). https://doi.org/10.1007/s12265-021-10164-2
Received:

Accepted:

Published:
Keywords
TGR5

Myocardial infarction

T cell

Immunomodulation