Abstract
A prospective, observational single-center study was carried out. Pediatric patients undergoing congenital heart defect surgery were evaluated before, during, and after surgery. At each time point, sublingual microcirculation and clinical parameters were assessed, along with analytical variables. Twenty-four patients were included. All microcirculatory parameters worsened during cardiopulmonary bypass and returned to baseline values after surgery (p ≤ 0.001). In the intraoperative evaluation, body temperature correlated with perfused small vessel density (p = 0.014), proportion of perfused small vessels (p < 0.001), small vessel microvascular flow index (p = 0.003), and small vessel heterogeneity index (p < 0.002). Patients with cyanotic disease exhibited higher small vessel density (p < 0.008) and higher density of perfused small vessels (p < 0.022) at baseline, and a lower microvascular flow index (p = 0.022) and higher heterogeneity (p = 0.026) in the intraoperative phase. Children with congenital heart disease exhibited decreased vascular density and microvascular blood flow and increased heterogeneity during cardiopulmonary bypass. All these parameters returned to baseline values after surgery.
Graphical abstract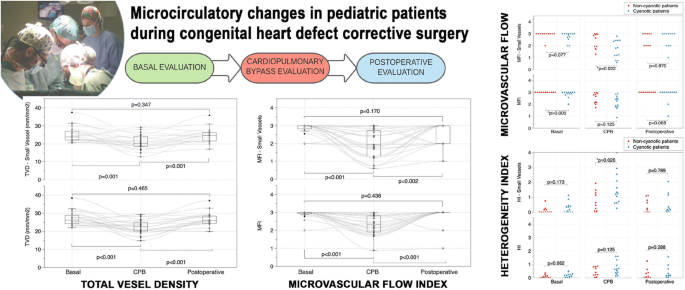 Access options
Buy single article
Instant access to the full article PDF.
US$ 39.95
Tax calculation will be finalised during checkout.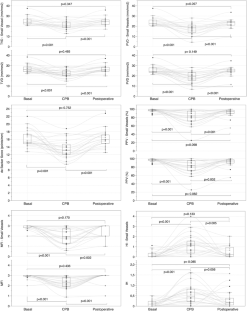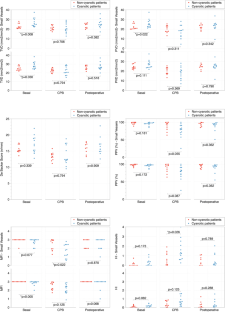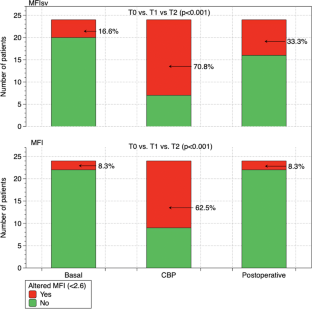 Abbreviations
CHD:

Congenital heart defects

CI95%:

95% confidence interval

DB:

De Backer score

FiO2 :

Fraction of inspired oxygen

HI:

Heterogeneity index

IQR:

Interquartile range

MFI:

Microcirculatory flow index

NIRS:

Near infrared photospectrometry

PEEP:

Positive end expiratory pressure

PICU:

Pediatric intensive care unit

PIP:

Peak inspiratory pressure

PPV:

Proportion of perfused vessels

PVD:

Perfused vessel density

SDF:

Sidestream dark-field imaging

SV:

Small vessels

TVD:

Total vessel density

VIS:

Vasoactive inotropic score
Acknowledgements
The authors would like to acknowledge the contribution to the study of all members of the infant heart area of Gregorio Marañón General University Hospital. The authors would like to specially acknowledge the patients and their families who decided to collaborate with our study.
Funding
This study was partially funded by the Mutua Madrileña Foundation (grant FMM 14/02), by the Spanish Society of Paediatric Intensive Care (Francisco Ruza's grant 2017), and by the Carlos III Health Institute Subdirectorate General for Research Assessment and Promotion, and the European Regional Development Fund (ERDF) (grant PI17/01319).
Ethics declarations
Human Subjects/Informed Consent Statement
The study was approved by Gregorio Marañón General University Hospital Institutional Review Board. All procedures followed were in accordance with the ethical standards of the responsible committee on human experimentation and with the Helsinki Declaration of 1975, as revised in 2000. Informed consent was obtained from all patients or their legal representatives for being included in the study
Conflict of Interest
The authors declare no competing interests.
Additional information
Publisher's Note
Springer Nature remains neutral with regard to jurisdictional claims in published maps and institutional affiliations.
Associate Editor Junjie Xiao oversaw the review of this article
About this article
Cite this article
González Cortés, R., Urbano Villaescusa, J., Solana García, M.J. et al. Microcirculatory Changes in Pediatric Patients During Congenital Heart Defect Corrective Surgery. J. of Cardiovasc. Trans. Res. (2021). https://doi.org/10.1007/s12265-021-10132-w
Received:

Accepted:

Published:
Keywords
Microcirculation

Heart surgery

Cardiopulmonary bypass

Children