Abstract
Cardiopulmonary bypass (CPB) is required for the surgical correction of congenital heart defects and incites an acute inflammatory response that impairs endothelial function post-operatively. Therefore, we hypothesized that the pre-operative relationship between endothelial function and blood pressure would be impaired after CPB-mediated inflammation. Using laser Doppler perfusion monitoring coupled with iontophoresis, we found that while there was a significant inverse correlation between endothelium-dependent vascular reactivity to acetylcholine (ACh) stimulation and systolic blood pressure (SBP), this relationship was lost after CPB. No relationship was observed between endothelium-independent vascular reactivity using sodium nitroprusside (SNP) and SBP either pre-CPB or any point thereafter. Additionally, neither CPB time nor inflammatory cytokines correlated with the degree of responsiveness to ACh. These data suggest that the measurement of endothelium impairment after CPB may be more reflective of cardiovascular health than SBP alone.
Access options
Buy single article
Instant access to the full article PDF.
US$ 39.95
Tax calculation will be finalised during checkout.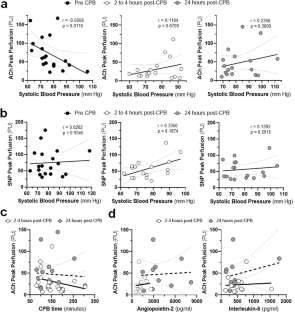 Abbreviations
CPB:

Cardiopulmonary bypass

LDPMI:

Laser Doppler perfusion monitoring coupled with iontophoresis

ACh:

Acetylcholine

SNP:

Sodium nitroprusside

SBP:

Systolic blood pressure

IL:

Interleukin

Ang:

Angiopoetin
Funding
This study was supported by grants from the National Institutes of Health (RJS: K08 GM117367 and R35 GM138191, FSL: R01 HL128386)
Ethics declarations
Human Subjects/Informed Consent
All procedures followed were in accordance with the ethical standards of the responsible committee on human experimentation (institutional and national) and with the Helsinki Declaration of 1975, as revised in 2000. Written informed consent was obtained from parents or legal guardians of all patients prior to participation in the study, and the study protocol was approved by the Institutional Review Board at the Vanderbilt University Medical Center.
Conflict of Interest
The authors declare no competing interests.
Additional information
Publisher's Note
Springer Nature remains neutral with regard to jurisdictional claims in published maps and institutional affiliations.
Associate Editor Marat Fudim oversaw the review of this article
About this article
Cite this article
Stark, R.J., Krispinsky, L.T. & Lamb, F.S. The Inverse Relationship Between Endothelium-Dependent Vasodilation and Blood Pressure is Lost After Cardiopulmonary Bypass. J. of Cardiovasc. Trans. Res. (2021). https://doi.org/10.1007/s12265-021-10124-w
Received:

Accepted:

Published:
Keywords
Cardiopulmonary bypass

Vascular reactivity

Blood pressure

Endothelium