Abstract
Residual or newly acquired leaks are routinely appraised after left atrial appendage closure (LAAC). The Watchman and the Amulet are the two most frequently used devices for LAAC but no randomized study has so far assessed their comparative leak rates after intervention. The "Comparison of Amplatzer Amulet vs Watchman devices in patients undergoing left atrial appendage closure" (Swiss-Apero, clinicaltrial.gov NCT03399851) is an academic-sponsored multicenter, randomized clinical trial comparing Amulet versus Watchman/FLX devices among patients undergoing a clinically indicated LAAC. The study is designed to assess the superiority of Amulet vs. Watchman/FLX in terms of leaks detected by cardiac computed tomography angiography (CCTA) at 45 days (primary endpoint) and 13 months (secondary endpoint) after intervention by an imaging Core Laboratory. The Swiss-Apero study is the first randomized clinical trial comparing Amulet and Watchman/FLX with respect to the prevalence of post-procedural leak as assessed with CCTA.
Access options
Buy single article
Instant access to the full article PDF.
US$ 39.95
Tax calculation will be finalised during checkout.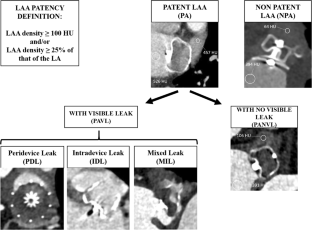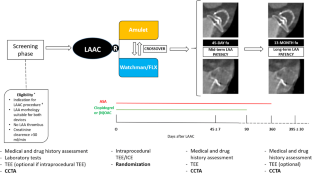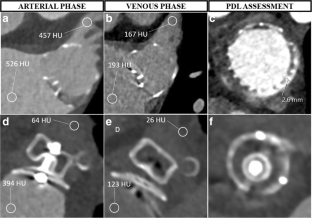 Abbreviations
ACP:

Amplatzer cardiac plug

AMI:

Acute myocardial infarction

AKI:

Acute kidney injury

BARC:

Bleeding Academic Research Consortium

CABG:

Coronary artery bypass graft

CCTA:

Cardiac computed tomography angiography

CEC:

Clinical Events Committee

CHF:

Congestive heart failure

CNS:

Central nervous system

CT:

Computed tomography

CV:

Cardiovascular

DRT:

Device-related thrombus

ECG:

12-lead electrocardiogram

HU:

Hounsfield unit

ICE:

Intracardiac echocardiography

ICL:

Imaging core lab

IDL:

Intra device leak

IFU:

Instructions for use

LA:

Left atrium

LAA:

Left atrial appendage

LAAC:

Left atrial appendage closure

LBBB:

Left bundle branch block

MI:

Myocardial infarction

MIL:

MIxed leak

MRI:

Magnetic resonance imaging

NOAC:

Non-vitamin-K antagonist oral anticoagulants

NPA:

Non patent left atrial appendage

PA:

Patent left atrial appendage

PANVL:

Patent left atrial appendage with no visible leak

PCI:

Percutaneous coronary intervention

PDL:

Peridevice leak

TEE:

Transesophageal echocardiography

URL:

Upper range limit
Funding
This study is supported by local available funding and from a research grant from St. Jude Medical/Abbott, Nathan Lane North Plymouth, MN, USA
Ethics declarations
Human Subjects/Informed Consent Statement
All procedures followed are in accordance with the ethical standards of the responsible committee on human experimentation ("Kantonale-Ethikkommission-Bern"-Switzerland; "Sud-Mediterranee-IV"-France; Erasme-ULB-Belgium; IRCCS-SanRaffaele-Italy) and with the Helsinki Declaration of 1975, as revised in 2000. Informed consent is obtained from all patients previous to being included in the study.
Disclosures
FDM reports consultancies and paid expert testimonies from Abbott and Boston-Scientific. AA is a proctor and consultant for Abbott and Boston-Scientific. NM reports personal fees and other from Abbott and St. Jude-Medical, grants from Boston-Scientific, during the conduct of the study; grants and personal fees from BMS-Pfizer, personal fees from Bayer-Health-Care, Boehringer-Ingelheim, AstraZeneca, outside the submitted work. FA is consultant for Boston-Scientific. ET reports personal fees from Abbott for proctoring. XI is a proctor for Boston-Scientific and Abbott, he is a consultant for Philips-Health-Care. PV reports personal fees from AstraZeneca, Bayer-Health-Care, Terumo, and Daiichi-Sankyo outside the submitted work. UF reports grants from Medtronic, other from Medtronic, Stryker and CSL-Behring, outside the submitted work. FB is proctor for Abbott, Boston-Scientific and Medtronic; he reports consultancies from Terumo and Meril. SW reports research and educational grants to the institution from Abbott, Amgen, BMS, Bayer, Boston-Scientific, Biotronik, Cardinal-Health, CSL-Behring, Daiichi-Sankyo, Edwards-Lifesciences, Johnson&Johnson, Medtronic, Querbet, Polares, Sanofi, Terumo, Sinomed. LR reports research grants to institution by Abbott-Vascular, Boston-Scientific, Biotronik, Heartflow, Sanofi, Regeneron. He reports speaker/consultation fees by Abbott-Vascular, Amgen, AstraZeneca, CSL-Behring, Canon, Occlutech, Sanofi, Vifor. MV has received grants and/or personal fees from AstraZeneca, Terumo, Alvimedica/CID, Abbott-Vascular, Daiichi-Sankyo, Opsens, Bayer, CoreFLOW, Idorsia-Pharmaceuticals-Ltd., Universität Basel Department Klinische Forschung, Vifor, Bristol-Myers-Squibb-SA, iVascular, and Medscape. All other authors have reported that they have no relationships relevant to the contents of this paper to disclose.
Additional information
Publisher's Note
Springer Nature remains neutral with regard to jurisdictional claims in published maps and institutional affiliations.
Associate Editor Craig M. Stolen oversaw the review of this article
Supplementary Information
About this article
Cite this article
Galea, R., De Marco, F., Aminian, A. et al. Design and Rationale of the Swiss-Apero Randomized Clinical Trial: Comparison of Amplatzer Amulet vs Watchman Device in Patients Undergoing Left Atrial Appendage Closure. J. of Cardiovasc. Trans. Res. (2021). https://doi.org/10.1007/s12265-020-10095-4
Received:

Accepted:

Published:
Keywords
Left atrial appendage closure

Randomized clinical trial

Cardiac computed tomography angiography

Amulet

Watchman

Watchman FLX