Abstract
Tyr78Phe is a rare pathogenic transthyretin (TTR) mutation. Few previous reports described a late-onset hereditary transthyretin-related amyloidosis (ATTR-m) form with a variable phenotype, mainly dominated by neurological manifestations. We describe the case of a 69-year-old male with massive but asymptomatic cardiac infiltration and only subclinical neurological involvement, and review the literature to depict characteristics of the Tyr78Phe TTR mutation.
This is a preview of subscription content, log in to check access.
Access options
Buy single article
Instant access to the full article PDF.
US$ 39.95
Price includes VAT for USA
Subscribe to journal
Immediate online access to all issues from 2019. Subscription will auto renew annually.
US$ 99
This is the net price. Taxes to be calculated in checkout.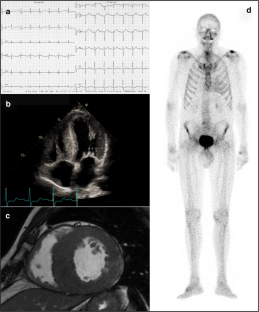 References
1.

Rapezzi, C., Quarta, C. C., Obici, L., et al. (2013). Disease profile and differential diagnosis of hereditary transthyretin-related amyloidosis with exclusively cardiac phenotype: an Italian perspective. European Heart Journal, 34(7), 520–528. https://doi.org/10.1093/eurheartj/ehs123.

2.

Redondo, C., Damas, A. M., Olofsson, A., et al. (2000). Search for intermediate structures in transthyretin fibrillogenesis: soluble tetrameric Tyr78Phe TTR expresses a specific epitope present only in amyloid fibrils. Journal of Molecular Biology, 304(3), 461–470. https://doi.org/10.1006/jmbi.2000.4220.

3.

Anesi, E., Palladini, G., Perfetti, V., et al. (2001). Therapeutic advances demand accurate typing of amyloid deposits. The American Journal of Medicine, 111(3), 243–244.

4.

Magy, N., Liepnieks, J. J., Gil, H., et al. (2003). A transthyretin mutation (Tyr78Phe) associated with peripheral neuropathy, carpal tunnel syndrome and skin amyloidosis. Amyloid, 10(1), 29–33.

5.

Riboldi, G., Del Bo, R., Ranieri, M., et al. (2011). Tyr78Phe transthyretin mutation with predominant motor neuropathy as the initial presentation. Case Report in Neurology, 3(1), 62–68. https://doi.org/10.1159/000324925.
Ethics declarations
This study complied with all ethical standards involving human subjects. The patient consented to participation into clinical surveys by signing an informed consent.
Conflict of Interest
The authors declare that they have no conflict of interest.
Additional information
Publisher's Note
Springer Nature remains neutral with regard to jurisdictional claims in published maps and institutional affiliations.
Associate Editor Mazen Hanna oversaw the review of this article
About this article
Cite this article
Tini, G., Vianello, P.F., Gemelli, C. et al. Amyloid Cardiomyopathy in the Rare Transthyretin Tyr78Phe Mutation. J. of Cardiovasc. Trans. Res. 12, 514–516 (2019). https://doi.org/10.1007/s12265-018-9859-0
Received:

Accepted:

Published:

Issue Date:
Keywords
Transthyretin

Amyloidosis

Amyloid cardiomyopathy

Tyr78Phe

Transthyretin familial amyloid polyneuropathy