Abstract
Evidence suggests that explicit reappraisal has limited regulatory effects on high-intensity emotions, mainly due to the depletion of cognitive resources occupied by the high-intensity emotional stimulus itself. The implicit form of reappraisal has proved to be resource-saving and therefore might be an ideal strategy to achieve the desired regulatory effect in high-intensity situations. In this study, we explored the regulatory effect of explicit and implicit reappraisal when participants encountered low- and high-intensity negative images. The subjective emotional rating indicated that both explicit and implicit reappraisal down-regulated negative experiences, irrespective of intensity. However, the amplitude of the parietal late positive potential (LPP; a neural index of experienced emotional intensity) showed that only implicit reappraisal had significant regulatory effects in the high-intensity context, though both explicit and implicit reappraisal successfully reduced the emotional neural responses elicited by low-intensity negative images. Meanwhile, implicit reappraisal led to a smaller frontal LPP amplitude (an index of cognitive cost) compared to explicit reappraisal, indicating that the implementation of implicit reappraisal consumes limited cognitive control resources. Furthermore, we found a prolonged effect of implicit emotion regulation introduced by training procedures. Taken together, these findings not only reveal that implicit reappraisal is suitable to relieve high-intensity negative experiences as well as neural responses, but also highlight the potential benefit of trained implicit regulation in clinical populations whose frontal control resources are limited.
Access options
Buy single article
Instant access to the full article PDF.
USD 39.95
Price excludes VAT (USA)
Tax calculation will be finalised during checkout.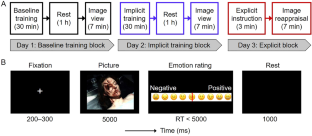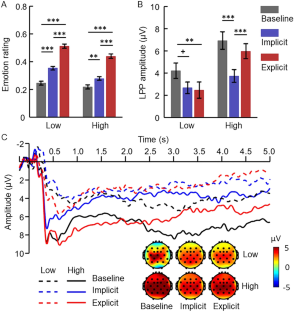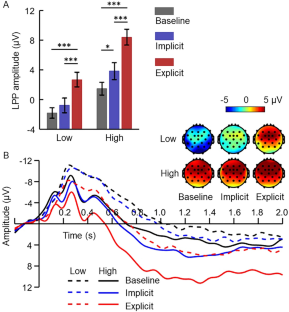 References
Gross JJ. The emerging field of emotion regulation: An integrative review. Rev Gen Psychol. 1998, 20: 271–299.

Gross JJ. Emotion regulation: Current status and future prospects. Psychol Inq. 2015, 26: 1–26.

McRae K, Gross JJ. Emotion regulation. Emotion. 2020, 20: 1–9.

Webb TL, Miles E, Sheeran P. Dealing with feeling: A meta-analysis of the effectiveness of strategies derived from the process model of emotion regulation. Psychol Bull. 2012, 138: 775–808.

Dörfel D, Lamke J-P, Hummel F, Wagner U, Erk S, Walter H. Common and differential neural networks of emotion regulation by detachment, reinterpretation, distraction, and expressive suppression: A comparative fMRI investigation. Neuroimage. 2014, 101: 298–309.

Goldin PR, McRae K, Ramel W, Gross JJ. The neural bases of emotion regulation: Reappraisal and suppression of negative emotion. Biol Psychiatry. 2008, 63: 577–586.

Guex R, Hofstetter C, Domínguez-Borràs J, Méndez-Bértolo C, Sterpenich V, Spinelli L. Neurophysiological evidence for early modulation of amygdala activity by emotional reappraisal. Biol Psychol. 2019, 145: 211–223.

Langeslag SJE, Surti K. The effect of arousal on regulation of negative emotions using cognitive reappraisal: An ERP study. Int J Psychophysiol. 2017, 118: 18–26.

Shafir R, Schwartz N, Blechert J, Sheppes G. Emotional intensity influences pre-implementation and implementation of distraction and reappraisal. Soc Cogn Affect Neurosci. 2015, 10: 1329–1337.

Shafir R, Thiruchselvam R, Suri G, Gross JJ, Sheppes G. Neural processing of emotional-intensity predicts emotion regulation choice. Soc Cogn Affect Neurosci. 2016, 11: 1863–1871.

Sheppes G, Gross JJ. Is timing everything? Temporal considerations in emotion regulation. Pers Soc Psychol Rev. 2011, 15: 319–331.

Sheppes G, Scheibe S, Suri G, Radu P, Blechert J, Gross JJ. Emotion regulation choice: A conceptual framework and supporting evidence. J Exp Psychol Gen. 2014, 143: 163–181.

Sheppes G, Scheibe S, Suri G, Gross JJ. Emotion-regulation choice. Psychol Sci. 2011, 22: 1391–1396.

Heatherton TF, Wagner DD. Cognitive neuroscience of self-regulation failure. Trends Cogn Sci. 2011, 15: 132–139.

Muraven M, Baumeister RF. Self-regulation and depletion of limited resources: Does self-control resemble a muscle? Psychol Bull. 2000, 126: 247–259.

Ortner CNM, Ste Marie M, Corno D. Cognitive costs of reappraisal depend on both emotional stimulus intensity and individual differences in habitual reappraisal. PLoS One. 2016, 11: e0167253–e0167253.

Troy AS, Shallcross AJ, Brunner A, Friedman R, Jones MC. Cognitive reappraisal and acceptance: Effects on emotion, physiology, and perceived cognitive costs. Emotion. 2018, 18: 58–74.

Buhle JT, Silvers JA, Wager TD, Lopez R, Onyemekwu C, Kober H, et al. Cognitive reappraisal of emotion: A meta-analysis of human neuroimaging studies. Cereb Cortex. 2014, 24: 2981–2990.

Morawetz C, Bode S, Derntl B, Heekeren HR. The effect of strategies, goals and stimulus material on the neural mechanisms of emotion regulation: A meta-analysis of fMRI studies. Neurosci Biobehav Rev. 2017, 72: 111–128.

Silvers JA, Weber J, Wager TD, Ochsner KN. Bad and worse: Neural systems underlying reappraisal of high- and low-intensity negative emotions. Soc Cogn Affect Neurosci. 2015, 10: 172–179.

Carretié L. Exogenous (automatic) attention to emotional stimuli: A review. Cogn Affect Behav Neurosci. 2014, 14: 1228–1258.

Chajut E, Algom D. Selective attention improves under stress: Implications for theories of social cognition. J Pers Soc Psychol. 2003, 85: 231–248.

Raio CM, Orederu TA, Palazzolo L, Shurick AA, Phelps EA. Cognitive emotion regulation fails the stress test. Proc Natl Acad Sci U S A. 2013, 110: 15139–15144.

Chen L, Lui S, Wu Q-Z, Zhang W, Zhou D, Chen H-F, et al. Impact of acute stress on human brain microstructure: An MR diffusion study of earthquake survivors. Hum Brain Mapp. 2013, 34: 367–373.

Garfin DR, Thompson RR, Holman EA. Acute stress and subsequent health outcomes: A systematic review. J Psychosom Res. 2018, 112: 107–113.

Etkin A, Büchel C, Gross JJ. The neural bases of emotion regulation. Nat Rev Neurosci. 2015, 16: 693–700.

Gyurak A, Gross JJ, Etkin A. Explicit and implicit emotion regulation: A dual-process framework. Cogn Emot. 2011, 25: 400–412.

Koole SL, Rothermund K. "I feel better but I don't know why": The psychology of implicit emotion regulation. Cogn Emot. 2011, 25: 389–399.

Mauss IB, Cook CL, Gross JJ. Automatic emotion regulation during anger provocation. J Exp Soc Psychol. 2007, 43: 698–711.

Williams LE, Bargh JA, Nocera CC, Gray JR. The unconscious regulation of emotion: Nonconscious reappraisal goals modulate emotional reactivity. Emotion. 2009, 9: 847–854.

Yuan J, Long Q, Li X, Deng Z, Ma B, Chen S, et al. Regulatory effect of implicit acceptance during outcome evaluation: The temporal dynamics in an event-related potential study. Int J Psychophysiol. 2019, 141: 37–44.

Zhang Y, Chen S, Deng Z, Yang J, Yuan J. Benefits of implicit regulation of instructed fear: Evidence from neuroimaging and functional connectivity. Front Neurosci. 2020, 14: 201.

Yang Q, Tang P, Gu R, Luo W, Luo Y. Implicit emotion regulation affects outcome evaluation. Soc Cogn Affect Neurosci. 2015, 10: 824–831.

Ding N, Yang J, Liu Y, Yuan J. Paying less but harvesting more: The effect of unconscious acceptance in regulating frustrating emotion. Sci China Life Sci. 2015, 58: 799–809.

Wyczesany M, Adamczyk AK, Ligeza TS, Bereś A, Marchewka A. Implicit induction of emotional control-A comparative fMRI investigation of self-control and reappraisal goal pursuit. Emotion. 2021, 21: 1379–1391.

Yuan J, Zhang Y, Zhao Y, Gao K, Tan S, Zhang D The emotion-regulation benefits of implicit reappraisal in clinical depression: behavioral and electrophysiological evidences. Neurosci Bull 2022. https://doi.org/10.1007/s12264-022-00973-z.

Berking M, Ebert D, Cuijpers P, Hofmann SG. Emotion regulation skills training enhances the efficacy of inpatient cognitive behavioral therapy for major depressive disorder: A randomized controlled trial. Psychother Psychosom. 2013, 82: 234–245.

Denny BT. Getting better over time: A framework for examining the impact of emotion regulation training. Emotion. 2020, 20: 110–114.

Sheppes G, Suri G, Gross JJ. Emotion regulation and psychopathology. Annu Rev Clin Psychol. 2015, 11: 379–405.

Denny BT, Ochsner KN. Behavioral effects of longitudinal training in cognitive reappraisal. Emotion. 2014, 14: 425–433.

Bomyea J, Ball TM, Simmons AN, Campbell-Sills L, Paulus MP, Stein MB. Change in neural response during emotion regulation is associated with symptom reduction in cognitive behavioral therapy for anxiety disorders. J Affect Disord. 2020, 271: 207–214.

Daros AR, Haefner SA, Asadi S, Kazi S, Rodak T, Quilty LC. A meta-analysis of emotional regulation outcomes in psychological interventions for youth with depression and anxiety. Nat Hum Behav. 2021, 5: 1443–1457.

Finkel EJ, Slotter EB, Luchies LB, Walton GM, Gross JJ. A brief intervention to promote conflict reappraisal preserves marital quality over time. Psychol Sci. 2013, 24: 1595–1601.

Pan D-N, Hoid D, Wang X-B, Jia Z, Li X. When expanding training from working memory to emotional working memory: Not only improving explicit emotion regulation but also implicit negative control for anxious individuals. Psychol Med. 2022, 52: 675–684.

Mauss IB, Robinson MD. Measures of emotion: A review. Cogn Emot. 2009, 23: 209–237.

Ellingsen D-M, Wessberg J, Eikemo M, Liljencrantz J, Endestad T, Olausson H, et al. Placebo improves pleasure and pain through opposite modulation of sensory processing. Proc Natl Acad Sci U S A. 2013, 110: 17993–17998.

Koban L, Jepma M, López-Solà M, Wager TD. Different brain networks mediate the effects of social and conditioned expectations on pain. Nat Commun. 2019, 10: 4096.

Hajcak G, Klawohn J, Meyer A. The utility of event-related potentials in clinical psychology. Annu Rev Clin Psychol. 2019, 15: 71–95.

Helfrich RF, Knight RT. Cognitive neurophysiology: Event-related potentials. Handb Clin Neurol. 2019, 160: 543–558.

Hajcak G, MacNamara A, Olvet DM. Event-related potentials, emotion, and emotion regulation: An integrative review. Dev Neuropsychol. 2010, 35: 129–155.

Liu Y, Huang H, McGinnis-Deweese M, Keil A, Ding M. Neural substrate of the late positive potential in emotional processing. J Neurosci. 2012, 32: 14563–14572.

Kennedy H, Montreuil TC. The late positive potential as a reliable neural marker of cognitive reappraisal in children and youth: A brief review of the research literature. Front Psychol. 2021, 11: 608522.

Schönfelder S, Kanske P, Heissler J, Wessa M. Time course of emotion-related responding during distraction and reappraisal. Soc Cogn Affect Neurosci. 2014, 9: 1310–1319.

He Z, Zhao J, Shen J, Muhlert N, Elliott R, Zhang D. The right VLPFC and down-regulation of social pain: A TMS study. Hum Brain Mapp. 2020, 41: 1362–1371.

Li S, Xie H, Zheng Z, Chen W, Xu F, Hu X, et al. The causal role of the bilateral ventrolateral prefrontal cortices on emotion regulation of social feedback. Hum Brain Mapp. 2022, 43: 2898–2910.

Zhao J, Mo L, Bi R, He Z, Chen Y, Xu F, et al. The VLPFC versus the DLPFC in down-regulating social pain using reappraisal and distraction strategies. J Neurosci. 2021, 41: 1331–1339.

Chen S, Yu K, Yang J, Yuan J. Automatic reappraisal-based implementation intention produces early and sustainable emotion regulation effects: Event-related potential evidence. Front Behav Neurosci. 2020, 14: 89.

Moser JS, Hartwig R, Moran TP, Jendrusina AA, Kross E. Neural markers of positive reappraisal and their associations with trait reappraisal and worry. J Abnorm Psychol. 2014, 123: 91–105.

Lang PJ, Bradley MM, Cuthbert BN. International affective picture system (IAPS): Affective ratings of pictures and instruction manual. Technical Report A-8, Gainesville, FL: University of Florida, 2008.

Bai L, Ma H, Huang YX, Luo YJ. The development of native Chinese affective picture system-A pretest in 46 college students. Chinese Ment Heal J. 2005, 19: 719–722.

Paul S, Simon D, Endrass T, Kathmann N. Altered emotion regulation in obsessive-compulsive disorder as evidenced by the late positive potential. Psychol Med. 2016, 46: 137–147.

Hróbjartsson A, Gøtzsche PC. Is the placebo powerless? An analysis of clinical trials comparing placebo with no treatment. N Engl J Med 2001, 344: 1594–602.

Koban L, Jepma M, Geuter S, Wager TD. What's in a word? How instructions, suggestions, and social information change pain and emotion. Neurosci Biobehav Rev. 2017, 81: 29–42.

Denson TF, Creswell JD, Terides MD, Blundell K. Cognitive reappraisal increases neuroendocrine reactivity to acute social stress and physical pain. Psychoneuroendocrinology. 2014, 49: 69–78.

Wang H-Y, Xu G-Q, Ni M-F, Zhang C-H, Sun X-P, Chang Y, et al. Neural mechanisms of implicit cognitive reappraisal: Preceding descriptions alter emotional response to unpleasant images. Neuroscience. 2017, 347: 65–75.

Li H, Yuan J. The emotion regulation effect of unconscious distraction on the subclinical depression. Kexue Tongbao/Chinese Sci Bull. 2018, 63: 2057–2070.
Acknowledgments
This work was supported by the National Natural Science Foundation of China (32271102, 31970980, and 31920103009), the Major Project of the National Social Science Foundation (20&ZD153), the Shenzhen-Hong Kong Institute of Brain Science (2022SHIBS0003), and the Guangdong Key Project (2018B030335001).
Ethics declarations
Conflict of interest
Authors declare no conflicts of interest in this study.
Rights and permissions
Springer Nature or its licensor (e.g. a society or other partner) holds exclusive rights to this article under a publishing agreement with the author(s) or other rightsholder(s); author self-archiving of the accepted manuscript version of this article is solely governed by the terms of such publishing agreement and applicable law.
About this article
Cite this article
Zhang, Y., Li, S., Gao, K. et al. Implicit, But Not Explicit, Emotion Regulation Relieves Unpleasant Neural Responses Evoked by High-Intensity Negative Images. Neurosci. Bull. (2023). https://doi.org/10.1007/s12264-023-01036-7
Received:

Accepted:

Published:

DOI: https://doi.org/10.1007/s12264-023-01036-7
Keywords
Cognitive reappraisal

Implicit emotion regulation

Training

Emotional intensity

Late positive potential