Access options
Buy single article
Instant access to the full article PDF.
USD 39.95
Price excludes VAT (USA)
Tax calculation will be finalised during checkout.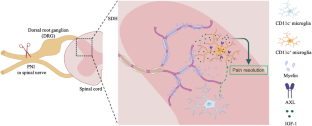 References
Finnerup NB, Kuner R, Jensen TS. Neuropathic pain: From mechanisms to treatment. Physiol Rev 2021, 101: 259–301.

Price TJ, Basbaum AI, Bresnahan J, Chambers JF, de Koninck Y, Edwards RR. Transition to chronic pain: Opportunities for novel therapeutics. Nat Rev Neurosci 2018, 19: 383–384.

Kohno K, Shirasaka R, Yoshihara K, Mikuriya S, Tanaka K, Takanami K, et al. A spinal microglia population involved in remitting and relapsing neuropathic pain. Science 2022, 376: 86–90.

Inoue K, Tsuda M. Microglia in neuropathic pain: Cellular and molecular mechanisms and therapeutic potential. Nat Rev Neurosci 2018, 19: 138–152.

Chen G, Zhang YQ, Qadri YJ, Serhan CN, Ji RR. Microglia in pain: Detrimental and protective roles in pathogenesis and resolution of pain. Neuron 2018, 100: 1292–1311.

Shemer A, Erny D, Jung S, Prinz M. Microglia plasticity during health and disease: An immunological perspective. Trends Immunol 2015, 36: 614–624.

Rothhammer V, Borucki DM, Tjon EC, Takenaka MC, Chao CC, Ardura-Fabregat A, et al. Microglial control of astrocytes in response to microbial metabolites. Nature 2018, 557: 724–728.

Sideris-Lampretsas G, Malcangio M. Microglial heterogeneity in chronic pain. Brain Behav Immun 2021, 96: 279–289.

Guan Z, Kuhn JA, Wang X, Colquitt B, Solorzano C, Vaman S, et al. Injured sensory neuron–derived CSF1 induces microglial proliferation and DAP12-dependent pain. Nat Neurosci 2016, 19: 94–101.

Huang Y, Happonen KE, Burrola PG, O'Connor C, Hah N, Huang L, et al. Microglia use TAM receptors to detect and engulf amyloid β plaques. Nat Immunol 2021, 22: 586–594.

Mogil JS. Qualitative sex differences in pain processing: Emerging evidence of a biased literature. Nat Rev Neurosci 2020, 21: 353–365.

Krieger CC, Neumann S, Gershengorn MC. TSH/IGF1 receptor crosstalk: Mechanism and clinical implications. Pharmacol Ther 2020, 209: 107502.

Tansley S, Uttam S, Ureña Guzmán A, Yaqubi M, Pacis A, Parisien M, et al. Single-cell RNA sequencing reveals time- and sex-specific responses of mouse spinal cord microglia to peripheral nerve injury and links ApoE to chronic pain. Nat Commun 2022, 13: 843.

Niehaus JK, Taylor-Blake B, Loo L, Simon JM, Zylka MJ. Spinal macrophages resolve nociceptive hypersensitivity after peripheral injury. Neuron 2021, 109: 1274-1282.e6.
Acknowledgements
This research highlight was supported by the National Key R&D Program of China (2021ZD0202703), Zhejiang Provincial Natural Science Foundation (LZ18C090002), and the National Natural Science Foundation of China (81971050 and 82171206).
Rights and permissions
Springer Nature or its licensor holds exclusive rights to this article under a publishing agreement with the author(s) or other rightsholder(s); author self-archiving of the accepted manuscript version of this article is solely governed by the terms of such publishing agreement and applicable law.
About this article
Cite this article
Yang, J., Xie, S., Zhu, S. et al. Specialized Microglia Resolve Neuropathic Pain in the Spinal Cord. Neurosci. Bull. 39, 173–175 (2023). https://doi.org/10.1007/s12264-022-00932-8
Received:

Accepted:

Published:

Issue Date:

DOI: https://doi.org/10.1007/s12264-022-00932-8