Access options
Buy single article
Instant access to the full article PDF.
USD 39.95
Price excludes VAT (USA)
Tax calculation will be finalised during checkout.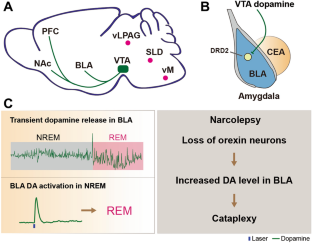 References
Liu D, Dan Y. A motor theory of sleep-wake control: Arousal-action circuit. Annu Rev Neurosci 2019, 42: 27–46.

Scammell TE, Arrigoni E, Lipton JO. Neural circuitry of wakefulness and sleep. Neuron 2017, 93: 747–765.

Brown RE, Basheer R, McKenna JT, Strecker RE, McCarley RW. Control of sleep and wakefulness. Physiol Rev 2012, 92: 1087–1187.

Eban-Rothschild A, Rothschild G, Giardino WJ, Jones JR, de Lecea L. VTA dopaminergic neurons regulate ethologically relevant sleep–wake behaviors. Nat Neurosci 2016, 19: 1356–1366.

Hasegawa E, Miyasaka A, Sakurai K, Cherasse Y, Li Y, Sakurai T. Rapid eye movement sleep is initiated by basolateral amygdala dopamine signaling in mice. Science 2022, 375: 994–1000.

Beier KT, Steinberg EE, DeLoach KE, Xie S, Miyamichi K, Schwarz L. Circuit architecture of VTA dopamine neurons revealed by systematic input-output mapping. Cell 2015, 162: 622–634.

Sun F, Zeng J, Jing M, Zhou J, Feng J, Owen SF, et al. A genetically encoded fluorescent sensor enables rapid and specific detection of dopamine in flies, fish, and mice. Cell 2018, 174: 481–496.e19.

Dzirasa K, Ribeiro S, Costa R, Santos LM, Lin SC, Grosmark A, et al. Dopaminergic control of sleep-wake states. J Neurosci 2006, 26: 10577–10589.

Peever J, Fuller PM. The biology of REM sleep. Curr Biol 2017, 27: R1237–R1248.

Mahoney CE, Cogswell A, Koralnik IJ, Scammell TE. The neurobiological basis of narcolepsy. Nat Rev Neurosci 2019, 20: 83–93.

Sakurai T. The neural circuit of orexin (hypocretin): Maintaining sleep and wakefulness. Nat Rev Neurosci 2007, 8: 171–181.
About this article
Cite this article
Zhang, C., Huang, L. & Xu, M. Dopamine Control of REM Sleep and Cataplexy. Neurosci. Bull. 38, 1617–1619 (2022). https://doi.org/10.1007/s12264-022-00925-7
Received:

Accepted:

Published:

Issue Date:

DOI: https://doi.org/10.1007/s12264-022-00925-7