Access options
Buy single article
Instant access to the full article PDF.
USD 39.95
Price excludes VAT (USA)
Tax calculation will be finalised during checkout.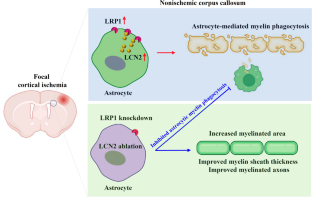 References
Chen D, Huang YC, Shi ZY, Li JY, Zhang Y, Wang K. Demyelinating processes in aging and stroke in the central nervous system and the prospect of treatment strategy. CNS Neurosci Ther 2020, 26: 1219–1229.

Traiffort E, Kassoussi A, Zahaf A, Laouarem Y. Astrocytes and microglia as major players of myelin production in normal and pathological conditions. Front Cell Neurosci 2020, 14: 79.

Neumann H, Kotter MR, Franklin RJM. Debris clearance by microglia: An essential link between degeneration and regeneration. Brain 2009, 132: 288–295.

Wan T, Zhu WS, Zhao Y, Zhang XH, Ye RD, Zuo M, et al. Astrocytic phagocytosis contributes to demyelination after focal cortical ischemia in mice. Nat Commun 2022, 13: 1134.

Gonias SL. Mechanisms by which LRP1 (low-density lipoprotein receptor-related protein-1) maintains arterial integrity. Arterioscler Thromb Vasc Biol 2018, 38: 2548–2549.

Yang LD, Wu CY, Parker E, Li Y, Dong Y, Tucker L, et al. Non-invasive photobiomodulation treatment in an Alzheimer Disease-like transgenic rat model. Theranostics 2022, 12: 2205–2231.

Witte ME, Mahad DJ, Lassmann H, van Horssen J. Mitochondrial dysfunction contributes to neurodegeneration in multiple sclerosis. Trends Mol Med 2014, 20: 179–187.

Wu CY, Yang LD, Youngblood H, Liu TCY, Duan R. Microglial SIRPα deletion facilitates synapse loss in preclinical models of neurodegeneration. Neurosci Bull 2022, 38: 232–234.

Mills EA, Davis CHO, Bushong EA, Boassa D, Kim KY, Ellisman MH, et al. Astrocytes phagocytose focal dystrophies from shortening myelin segments in the optic nerve of Xenopus laevis at metamorphosis. Proc Natl Acad Sci U S A 2015, 112: 10509–10514.

Xing CH, Wang XS, Cheng CJ, Montaner J, Mandeville E, Leung W, et al. Neuronal production of lipocalin-2 as a help-me signal for glial activation. Stroke 2014, 45: 2085–2092.
Acknowledgements
This highlight was supported by a grant from the National Institute of Aging, National Institutes of Health (1RF1AG058603).
Ethics declarations
Conflict of interest
The authors declare no competing financial interests.
About this article
Cite this article
Yang, L., Zhang, D. & Zhang, Q. Astrocyte-Mediated Myelin Phagocytosis in Ischemia. Neurosci. Bull. 39, 167–169 (2023). https://doi.org/10.1007/s12264-022-00917-7
Received:

Accepted:

Published:

Issue Date:

DOI: https://doi.org/10.1007/s12264-022-00917-7