Access options
Buy single article
Instant access to the full article PDF.
USD 39.95
Price excludes VAT (USA)
Tax calculation will be finalised during checkout.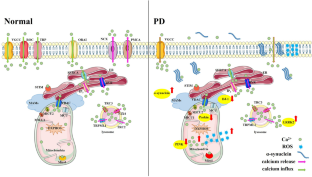 References:
Verma A, Ravindranath V. Ca V1.3 L-type calcium channels increase the vulnerability of substantia nigra dopaminergic neurons in MPTP mouse model of Parkinson's disease. Front Aging Neurosci 2020, 11: 382.

Lautenschläger J, Stephens AD, Fusco G, Ströhl F, Curry N, Zacharopoulou M. C-terminal calcium binding of α-synuclein modulates synaptic vesicle interaction. Nat Commun 2018, 9: 712.

Emmanouilidou E, Minakaki G, Keramioti MV, Xylaki M, Balafas E, Chrysanthou-Piterou M, et al. GABA transmission via ATP-dependent K+ channels regulates α-synuclein secretion in mouse striatum. Brain 2016, 139: 871–890.

Tsunemi T, Perez-Rosello T, Ishiguro Y, Yoroisaka A, Jeon S, Hamada K, et al. Increased lysosomal exocytosis induced by lysosomal Ca2+ channel agonists protects human dopaminergic neurons from α-synuclein toxicity. J Neurosci 2019, 39: 5760–5772.

Apicco DJ, Shlevkov E, Nezich CL, Tran DT, Guilmette E, Nicholatos JW, et al. The Parkinson's disease-associated gene ITPKB protects against α-synuclein aggregation by regulating ER-to-mitochondria calcium release. Proc Natl Acad Sci U S A 2021, 118: e2006476118.

Rcom-H'cheo-Gauthier AN, Davis A, Meedeniya ACB, Pountney DL. Alpha-synuclein aggregates are excluded from calbindin-D28k-positive neurons in dementia with Lewy bodies and a unilateral rotenone mouse model. Mol Cell Neurosci 2016, 77: 65–75.

Inoue KI, Miyachi S, Nishi K, Okado H, Nagai YJ, Minamimoto T, et al. Recruitment of calbindin into nigral dopamine neurons protects against MPTP-Induced Parkinsonism. Mov Disord 2019, 34: 200–209.

Angelova PR, Choi ML, Berezhnov AV, Horrocks MH, Hughes CD, De SM, et al. Alpha synuclein aggregation drives ferroptosis: An interplay of iron, calcium and lipid peroxidation. Cell Death Differ 2020, 27: 2781–2796.

Lieberman OJ, Choi SJ, Kanter E, Saverchenko A, Frier MD, Fiore GM, et al. Α-synuclein-dependent calcium entry underlies differential sensitivity of cultured SN and VTA dopaminergic neurons to a parkinsonian neurotoxin. eNeuro 2017, 4: ENEURO.0167–17.2017.

Hotka M, Cagalinec M, Hilber K, Hool L, Boehm S, Kubista H. L-type Ca2+ channel-mediated Ca2+ influx adjusts neuronal mitochondrial function to physiological and pathophysiological conditions. Sci Signal 2020, 13: eaaw6923.

Guzman JN, Ilijic E, Yang B, Sanchez-Padilla J, Wokosin D, Galtieri D, et al. Systemic isradipine treatment diminishes calcium-dependent mitochondrial oxidant stress. J Clin Invest 2018, 128: 2266–2280.

Burbulla LF, Song PP, Mazzulli JR, Zampese E, Wong YC, Jeon S, et al. Dopamine oxidation mediates mitochondrial and lysosomal dysfunction in Parkinson's disease. Science 2017, 357: 1255–1261.

Huang E, Qu DB, Huang TW, Rizzi N, Boonying W, Krolak D, et al. PINK1-mediated phosphorylation of LETM1 regulates mitochondrial calcium transport and protects neurons against mitochondrial stress. Nat Commun 2017, 8: 1399.

Matteucci A, Patron M, Vecellio Reane D, Gastaldello S, Amoroso S, Rizzuto R, et al. Parkin-dependent regulation of the MCU complex component MICU1. Sci Rep 2018, 8: 14199.

Ludtmann MHR, Kostic M, Horne A, Gandhi S, Sekler I, Abramov AY. LRRK2 deficiency induced mitochondrial Ca2+ efflux inhibition can be rescued by Na+/ Ca2+/Li + exchanger upregulation. Cell Death Dis 2019, 10: 265.

Kilpatrick BS, Magalhaes J, Beavan MS, McNeill A, Gegg ME, Cleeter MWJ, et al. Endoplasmic Reticulum and lysosomal Ca2+ stores are remodelled in GBA1-linked Parkinson disease patient fibroblasts. Cell Calcium 2016, 59: 12–20.

Zhang JY, Guan X, Shah K, Yan JS. Lsm12 is an NAADP receptor and a two-pore channel regulatory protein required for calcium mobilization from acidic organelles. Nat Commun 2021, 12: 4739.

Paillusson S, Gomez-Suaga P, Stoica R, Little D, Gissen P, Devine MJ, et al. Α-Synuclein binds to the ER-mitochondria tethering protein VAPB to disrupt Ca2+ homeostasis and mitochondrial ATP production. Acta Neuropathol 2017, 134: 129–149.

Grossmann D, Berenguer-Escuder C, Bellet ME, Scheibner D, Bohler J, Massart F, et al. Mutations in RHOT1 disrupt endoplasmic Reticulum-mitochondria contact sites interfering with calcium homeostasis and mitochondrial dynamics in Parkinson's disease. Antioxid Redox Signal 2019, 31: 1213–1234.

Liu Y, Ma XP, Fujioka H, Liu J, Chen SD, Zhu XW. DJ-1 regulates the integrity and function of ER-mitochondria association through interaction with IP3R3-Grp75-VDAC1. Proc Natl Acad Sci U S A 2019, 116: 25322–25328.

Chen LL, Li C, Xie JX. Axonal iron transport might contribute to iron deposition in Parkinson's disease. Neurosci Bull 2021, 37: 275–277.
Acknowledgements
This insight was supported by the National Foundation of Natural Science of China (32170984), and the Natural Science Foundation of Shandong Province (ZR2020YQ23 and ZR2019BC008).
About this article
Cite this article
Zhang, J., Shen, Q., Ma, Y. et al. Calcium Homeostasis in Parkinson's Disease: From Pathology to Treatment. Neurosci. Bull. 38, 1267–1270 (2022). https://doi.org/10.1007/s12264-022-00899-6
Received:

Accepted:

Published:

Issue Date:

DOI: https://doi.org/10.1007/s12264-022-00899-6