Abstract
Chronic stress leads to many psychiatric disorders, including social and anxiety disorders that are associated with over-activation of neurons in the basolateral amygdala (BLA). However, not all individuals develop psychiatric diseases, many showing considerable resilience against stress exposure. Whether BLA neuronal activity is involved in regulating an individual's vulnerability to stress remains elusive. In this study, using a mouse model of chronic social defeat stress (CSDS), we divided the mice into susceptible and resilient subgroups based on their social interaction behavior. Using in vivo fiber photometry and in vitro patch-clamp recording, we showed that CSDS persistently (after 20 days of recovery from stress) increased BLA neuronal activity in all the mice regardless of their susceptible or resilient nature, although impaired social interaction behavior was only observed in susceptible mice. Increased anxiety-like behavior, on the other hand, was evident in both groups. Notably, the CSDS-induced increase of BLA neuronal activity correlated well with the heightened anxiety-like but not the social avoidance behavior in mice. These findings provide new insight to our understanding of the role of neuronal activity in the amygdala in mediating stress-related psychiatric disorders.
Access options
Buy single article
Instant access to the full article PDF.
US$ 39.95
Tax calculation will be finalised during checkout.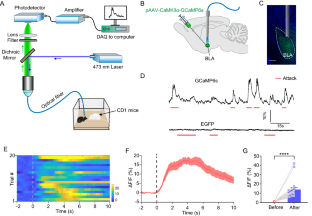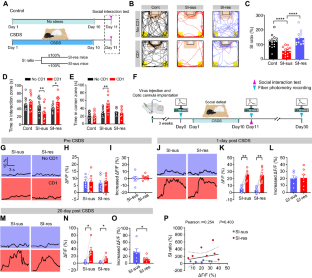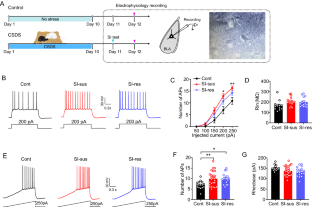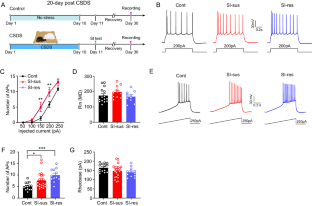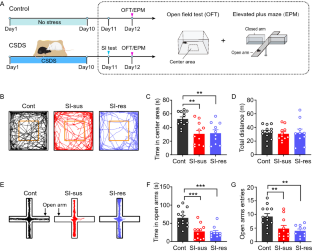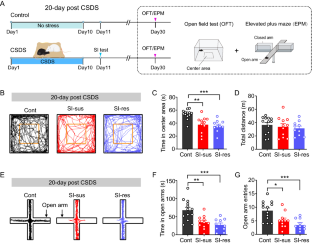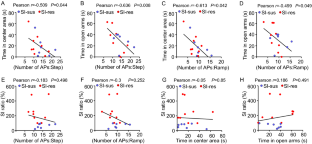 References
1.

de Kloet ER, Joëls M, Holsboer F. Stress and the brain: From adaptation to disease. Nat Rev Neurosci 2005, 6: 463–475.

2.

Craske MG, Stein MB, Eley TC, Milad MR, Holmes A, Rapee RM. Anxiety disorders. Nat Rev Dis Primers 2017, 3: 1–19.

3.

Twining RC, Vantrease JE, Love S, Padival M, Rosenkranz JA. An intra-amygdala circuit specifically regulates social fear learning. Nat Neurosci 2017, 20: 459–469.

4.

Yin YN, Hu J, Wei YL, Li ZL, Luo ZC, Wang RQ, et al. Astrocyte-derived lactate modulates the passive coping response to behavioral challenge in male mice. Neurosci Bull 2021, 37: 1–14.

5.

Krishnan V, Han MH, Graham DL, Berton O, Renthal W, Russo SJ, et al. Molecular adaptations underlying susceptibility and resistance to social defeat in brain reward regions. Cell 2007, 131: 391–404.

6.

Russo SJ, Murrough JW, Han MH, Charney DS, Nestler EJ. Neurobiology of resilience. Nat Neurosci 2012, 15: 1475–1484.

7.

Bagot RC, Cates HM, Purushothaman I, Lorsch ZS, Walker DM, Wang J, et al. Circuit-wide transcriptional profiling reveals brain region-specific gene networks regulating depression susceptibility. Neuron 2016, 90: 969–983.

8.

Han MH, Nestler EJ. Neural substrates of depression and resilience. Neurotherapeutics 2017, 14: 677–686.

9.

Burke AR, McCormick CM, Pellis SM, Lukkes JL. Impact of adolescent social experiences on behavior and neural circuits implicated in mental illnesses. Neurosci Biobehav Rev 2017, 76: 280–300.

10.

Li MX, Zheng HL, Luo Y, He JG, Wang W, Han J, et al. Gene deficiency and pharmacological inhibition of caspase-1 confers resilience to chronic social defeat stress via regulating the stability of surface AMPARs. Mol Psychiatry 2018, 23: 556–568.

11.

Shen CJ, Zheng D, Li KX, Yang JM, Pan HQ, Yu XD, et al. Cannabinoid CB1 receptors in the amygdalar cholecystokinin glutamatergic afferents to nucleus accumbens modulate depressive-like behavior. Nat Med 2019, 25: 337–349.

12.

Pfau ML, Russo SJ. Peripheral and central mechanisms of stress resilience. Neurobiol Stress 2015, 1: 66–79.

13.

Espallergues J, Teegarden SL, Veerakumar A, Boulden J, Challis C, Jochems J, et al. HDAC6 regulates glucocorticoid receptor signaling in serotonin pathways with critical impact on stress resilience. J Neurosci 2012, 32: 4400–4416.

14.

Donahue RJ, Muschamp JW, Russo SJ, Nestler EJ, Carlezon WA Jr. Effects of striatal ΔFosB overexpression and ketamine on social defeat stress-induced anhedonia in mice. Biol Psychiatry 2014, 76: 550–558.

15.

Sah P, Faber ES, Lopez De Armentia M, Power J. The amygdaloid complex: Anatomy and physiology. Physiol Rev 2003, 83: 803–834.

16.

Janak PH, Tye KM. From circuits to behaviour in the amygdala. Nature 2015, 517: 284–292.

17.

Fu JY, Yu XD, Zhu Y, Xie SZ, Tang MY, Yu B, et al. Whole-brain map of long-range monosynaptic inputs to different cell types in the amygdala of the mouse. Neurosci Bull 2020, 36: 1381–1394.

18.

Padival M, Quinette D, Rosenkranz JA. Effects of repeated stress on excitatory drive of basal amygdala neurons in vivo. Neuropsychopharmacology 2013, 38: 1748–1762.

19.

LeDoux J. The amygdala. Curr Biol 2007, 17: R868–R874.

20.

Rosenkranz JA, Venheim ER, Padival M. Chronic stress causes amygdala hyperexcitability in rodents. Biol Psychiatry 2010, 67: 1128–1136.

21.

Liu ZP, Song C, Wang M, He Y, Xu XB, Pan HQ, et al. Chronic stress impairs GABAergic control of amygdala through suppressing the tonic GABAA receptor currents. Mol Brain 2014, 7: 32.

22.

Liu ZP, He QH, Pan HQ, Xu XB, Chen WB, He Y, et al. Delta subunit-containing gamma-aminobutyric acid A receptor disinhibits lateral amygdala and facilitates fear expression in mice. Biol Psychiatry 2017, 81: 990–1002.

23.

Zhang WH, Zhang JY, Holmes A, Pan BX. Amygdala circuit substrates for stress adaptation and adversity. Biol Psychiatry 2021, 89: 847–856.

24.

Gunaydin LA, Grosenick L, Finkelstein JC, Kauvar IV, Fenno LE, Adhikari A, et al. Natural neural projection dynamics underlying social behavior. Cell 2014, 157: 1535–1551.

25.

Calipari ES, Bagot RC, Purushothaman I, Davidson TJ, Yorgason JT, Peña CJ, et al. In vivo imaging identifies temporal signature of D1 and D2 medium spiny neurons in cocaine reward. PNAS 2016, 113: 2726–2731.

26.

Wang DQ, Li Y, Feng QR, Guo QC, Luo MM. Learning shapes the aversion and reward responses of lateral habenula neurons. Elife Sci 2017, 6: e23045.

27.

Li Y, Liu Z, Guo Q, Luo M. Long-term fiber photometry for neuroscience studies. Neurosci Bull 2019, 35: 425–433.

28.

Qin X, He Y, Wang N, Zou JX, Zhang YM, Cao JL, et al. Moderate maternal separation mitigates the altered synaptic transmission and neuronal activation in amygdala by chronic stress in adult mice. Mol Brain 2019, 12: 111.

29.

Pan HQ, Zhang WH, Liao CZ, He Y, Xiao ZM, Qin X, et al. Chronic stress oppositely regulates tonic inhibition in Thy1-expressing and non-expressing neurons in amygdala. Front Neurosci 2020, 14: 299.

30.

Zhang WH, Liu WZ, He Y, You WJ, Zhang JY, Xu H, et al. Chronic stress causes projection-specific adaptation of amygdala neurons via small-conductance calcium-activated potassium channel downregulation. Biol Psychiatry 2019, 85: 812–828.

31.

Zheng ZH, Tu JL, Li XH, Hua Q, Liu WZ, Liu Y, et al. Neuroinflammation induces anxiety- and depressive-like behavior by modulating neuronal plasticity in the basolateral amygdala. Brain Behav Immun 2021, 91: 505–518.

32.

Morgan A, Gaulden A, Altemus M, Williford K, Centanni S, Winder D, et al. Cyclooxygenase-2 inhibition prevents stress induced amygdala activation and anxiety-like behavior. Brain Behav Immun 2020, 89: 513–517.

33.

Golden SA, Covington HE, Berton O, Russo SJ. A standardized protocol for repeated social defeat stress in mice. Nat Protoc 2011, 6: 1183–1191.

34.

Anacker C, Scholz J, O'Donnell KJ, Allemang-Grand R, Diorio J, Bagot RC, et al. Neuroanatomic differences associated with stress susceptibility and resilience. Biol Psychiatry 2016, 79: 840–849.

35.

Berton O, Covington HE, Ebner K, Tsankova NM, Carle TL, Ulery P, et al. Induction of ΔFosB in the periaqueductal gray by stress promotes active coping responses. Neuron 2007, 56: 574.

36.

Delgado y Palacios R, Campo A, Henningsen K, Verhoye M, Poot D, Dijkstra J, et al. Magnetic resonance imaging and spectroscopy reveal differential hippocampal changes in anhedonic and resilient subtypes of the chronic mild stress rat model. Biol Psychiatry 2011, 70: 449–457.

37.

Cohen H, Liu TM, Kozlovsky N, Kaplan Z, Zohar J, Mathé AA. The neuropeptide Y (NPY)-ergic system is associated with behavioral resilience to stress exposure in an animal model of post-traumatic stress disorder. Neuropsychopharmacology 2012, 37: 350–363.

38.

Hetzel A, Rosenkranz JA. Distinct effects of repeated restraint stress on basolateral amygdala neuronal membrane properties in resilient adolescent and adult rats. Neuropsychopharmacology 2014, 39: 2114–2130.

39.

Nasca C, Bigio B, Zelli D, Nicoletti F, McEwen BS. Mind the gap: Glucocorticoids modulate hippocampal glutamate tone underlying individual differences in stress susceptibility. Mol Psychiatry 2015, 20: 755–763.

40.

Nasca C, Menard C, Hodes G, Bigio B, Pena C, Lorsch Z, et al. Multidimensional predictors of susceptibility and resilience to social defeat stress. Biol Psychiatry 2019, 86: 483–491.

41.

Berton O, McClung CA, Dileone RJ, Krishnan V, Renthal W, Russo SJ, et al. Essential role of BDNF in the mesolimbic dopamine pathway in social defeat stress. Science 2006, 311: 864–868.

42.

Lagace DC, Donovan MH, DeCarolis NA, Farnbauch LA, Malhotra S, Berton O, et al. Adult hippocampal neurogenesis is functionally important for stress-induced social avoidance. PNAS 2010, 107: 4436–4441.

43.

Colyn L, Venzala E, Marco S, Perez-Otaño I, Tordera RM. Chronic social defeat stress induces sustained synaptic structural changes in the prefrontal cortex and amygdala. Behav Brain Res 2019, 373: 112079.

44.

Cao X, Li LP, Wang Q, Wu Q, Hu HH, Zhang M, et al. Astrocyte-derived ATP modulates depressive-like behaviors. Nat Med 2013, 19: 773–777.

45.

Kim SY, Adhikari A, Lee SY, Marshel JH, Kim CK, Mallory CS, et al. Diverging neural pathways assemble a behavioural state from separable features in anxiety. Nature 2013, 496: 219–223.

46.

Tye KM, Prakash R, Kim SY, Fenno LE, Grosenick L, Zarabi H, et al. Amygdala circuitry mediating reversible and bidirectional control of anxiety. Nature 2011, 471: 358–362.

47.

Felix-Ortiz AC, Burgos-Robles A, Bhagat ND, Leppla CA, Tye KM. Bidirectional modulation of anxiety-related and social behaviors by amygdala projections to the medial prefrontal cortex. Neuroscience 2016, 321: 197–209.

48.

Felix-Ortiz AC, Tye KM. Amygdala inputs to the ventral hippocampus bidirectionally modulate social behavior. J Neurosci 2014, 34: 586–595.

49.

Razzoli M, Andreoli M, Michielin F, de Quarta D, Sokal DM. Increased phasic activity of VTA dopamine neurons in mice 3 weeks after repeated social defeat. Behav Brain Res 2011, 218: 253–257.

50.

Bagot RC, Parise EM, Peña CJ, Zhang HX, Maze I, Chaudhury D, et al. Ventral hippocampal afferents to the nucleus accumbens regulate susceptibility to depression. Nat Commun 2015, 6: 7062.

51.

VanTieghem MR, Tottenham N. Neurobiological programming of early life stress: Functional development of amygdala-prefrontal circuitry and vulnerability for stress-related psychopathology. Curr Top Behav Neurosci 2018, 38: 117–136.
Acknowledgements
This work was supported by grants from the National Natural Science Foundation of China (31970953, 81930032, and 81760505) and the Natural Science Foundation of Jiangxi Province, China (20192ACB21024, 20192ACB20023, 20181ACG70003, and 20192BCB23008).
Ethics declarations
Conflict of interest
The authors declare that no competing interests.
About this article
Cite this article
Huang, SH., Liu, WZ., Qin, X. et al. Association of Increased Amygdala Activity with Stress-Induced Anxiety but not Social Avoidance Behavior in Mice. Neurosci. Bull. (2021). https://doi.org/10.1007/s12264-021-00762-0
Received:

Accepted:

Published:
Keywords
Chronic stress

Amygdala

Stress vulnerability

Anxiety

Fiber photometry

Neuronal activity