Access options
Buy single article
Instant access to the full article PDF.
USD 39.95
Price excludes VAT (USA)
Tax calculation will be finalised during checkout.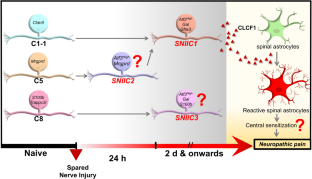 References
Costigan M, Befort K, Karchewski L, Griffin RS, D'Urso D, Allchorne A. Replicate high-density rat genome oligonucleotide microarrays reveal hundreds of regulated genes in the dorsal root ganglion after peripheral nerve injury. BMC Neurosci 2002, 3: 16.

Méchaly I, Bourane S, Piquemal D, Al-Jumaily M, Ventéo S, Puech S, et al. Gene profiling during development and after a peripheral nerve traumatism reveals genes specifically induced by injury in dorsal root Ganglia. Mol Cell Neurosci 2006, 32: 217–229.

Xiao HS, Huang QH, Zhang FX, Bao L, Lu YJ, Guo C, et al. Identification of gene expression profile of dorsal root ganglion in the rat peripheral axotomy model of neuropathic pain. Proc Natl Acdy Sci U S A 2002, 99: 8360–8365.

Usoskin D, Furlan A, Islam S, Abdo H, Lönnerberg P, Lou D, et al. Unbiased classification of sensory neuron types by large-scale single-cell RNA sequencing. Nat Neurosci 2015, 18: 145–153.

Li CL, Li KC, Wu D, Chen Y, Luo H, Zhao JR, et al. Somatosensory neuron types identified by high-coverage single-cell RNA-sequencing and functional heterogeneity. Cell Res 2016, 26: 83–102.

Zheng Y, Liu P, Bai L, Trimmer JS, Bean BP, Ginty DD. Deep sequencing of somatosensory neurons reveals molecular determinants of intrinsic physiological properties. Neuron 2019, 103: 598–616.e7.

Sharma N, Flaherty K, Lezgiyeva K, Wagner DE, Klein AM, Ginty DD. The emergence of transcriptional identity in somatosensory neurons. Nature 2020, 577: 392–398.

Wang KK, Wang SS, Chen Y, Wu D, Hu XY, Lu YJ, et al. Single-cell transcriptomic analysis of somatosensory neurons uncovers temporal development of neuropathic pain. Cell Res 2021: 1–15.

Renthal W, Tochitsky I, Yang L, Cheng YC, Li E, Kawaguchi R, et al. Transcriptional reprogramming of distinct peripheral sensory neuron subtypes after axonal injury. Neuron 2020, 108: 128–144.e9.

Yekkirala AS, Roberson DP, Bean BP, Woolf CJ. Breaking barriers to novel analgesic drug development. Nat Rev Drug Discov 2017, 16: 545–564.

Chen G, Luo X, Qadri MY, Berta T, Ji RR. Sex-dependent glial signaling in pathological pain: Distinct roles of spinal microglia and astrocytes. Neurosci Bull 2018, 34: 98–108.
Acknowledgements
B.D received funding supports from the NINDS.
About this article
Cite this article
Fatima, M., Hor, C.C. & Duan, B. Know Thy Enemy: Untangling the Mysteries of Neuropathic Pain. Neurosci. Bull. 37, 1639–1641 (2021). https://doi.org/10.1007/s12264-021-00748-y
Received:

Accepted:

Published:

Issue Date:

DOI: https://doi.org/10.1007/s12264-021-00748-y