Abstract
Ferroptosis is a form of iron-dependent regulated cell death. Evidence of its existence and the effects of its inhibitors on subarachnoid hemorrhage (SAH) is still lacking. In the present study, we found that liproxstatin-1 protected HT22 cells against hemin-induced injury by protecting mitochondrial functions and ameliorating lipid peroxidation. In in vivo experiments, we demonstrated the presence of characteristic shrunken mitochondria in ipsilateral cortical neurons after SAH. Moreover, liproxstatin-1 attenuated the neurological deficits and brain edema, reduced neuronal cell death, and restored the redox equilibrium after SAH. The inhibition of ferroptosis by liproxstatin-1 was associated with the preservation of glutathione peroxidase 4 and the downregulation of acyl-CoA synthetase long-chain family member 4 as well as cyclooxygenase 2. In addition, liproxstatin-1 decreased the activation of microglia and the release of IL-6, IL-1β, and TNF-α. These data enhance our understanding of cell death after SAH and shed light on future preclinical studies.
This is a preview of subscription content, log in to check access.
Access options
Buy single article
Instant access to the full article PDF.
US$ 39.95
Tax calculation will be finalised during checkout.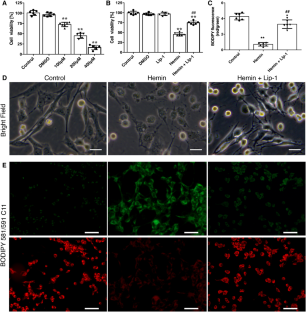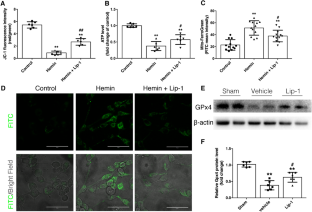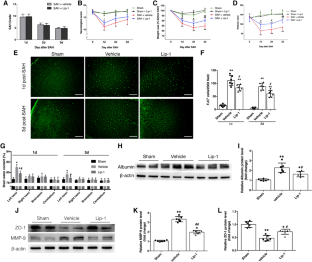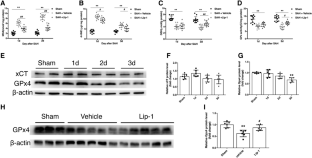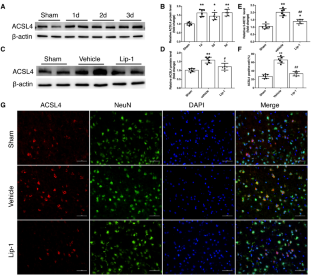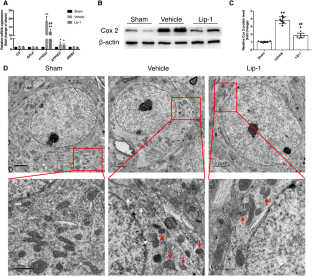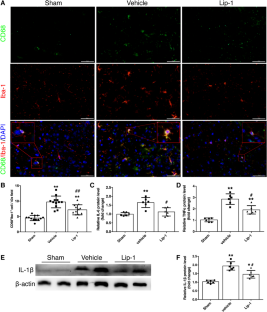 References
1.

Wang W, Jiang B, Sun H, Ru X, Sun D, Wang L, et al. Prevalence, incidence, and mortality of stroke in China: results from a nationwide population-based survey of 480 687 adults. Circulation 2017, 135: 759–771.

2.

Lawton MT, Vates GE. Subarachnoid hemorrhage. N Engl J Med 2017, 377: 257–266.

3.

Fujii M, Yan J, Rolland WB, Soejima Y, Caner B, Zhang JH. Early brain injury, an evolving frontier in subarachnoid hemorrhage research. Transl Stroke Res 2013, 4: 432–446.

4.

Kusaka G, Ishikawa M, Nanda A, Granger DN, Zhang JH. Signaling pathways for early brain injury after subarachnoid hemorrhage. J Cereb Blood Flow Metab 2004, 24: 916–925.

5.

Fang YJ, Mei SH, Lu JN, Chen YK, Chai ZH, Dong X, et al. New risk score of the early period after spontaneous subarachnoid hemorrhage: for the prediction of delayed cerebral ischemia. CNS Neurosci Ther 2019, 25: 1173–1181.

6.

Wang L, Xi G, Keep RF, Hua Y. Iron enhances the neurotoxicity of amyloid beta. Transl Stroke Res 2012, 3: 107–113.

7.

Lee JY, Keep RF, He Y, Sagher O, Hua Y, Xi G. Hemoglobin and iron handling in brain after subarachnoid hemorrhage and the effect of deferoxamine on early brain injury. J Cereb Blood Flow Metab 2010, 30: 1793–1803.

8.

Garton T, Keep RF, Hua Y, Xi G. Brain iron overload following intracranial haemorrhage. Stroke Vasc Neurol 2016, 1: 172–184.

9.

Song N, Xie J. Iron, Dopamine, and alpha-synuclein interactions in at-risk dopaminergic neurons in Parkinson's disease. Neurosci Bull 2018, 34: 382–384.

10.

Dixon SJ, Lemberg KM, Lamprecht MR, Skouta R, Zaitsev EM, Gleason CE, et al. Ferroptosis: an iron-dependent form of nonapoptotic cell death. Cell 2012, 149: 1060–1072.

11.

Friedmann Angeli JP, Schneider M, Proneth B, Tyurina YY, Tyurin VA, Hammond VJ, et al. Inactivation of the ferroptosis regulator Gpx4 triggers acute renal failure in mice. Nat Cell Biol 2014, 16: 1180–1191.

12.

Fang X, Wang H, Han D, Xie E, Yang X, Wei J, et al. Ferroptosis as a target for protection against cardiomyopathy. Proc Natl Acad Sci U S A 2019, 116: 2672–2680.

13.

Zhang X, Du L, Qiao Y, Zhang X, Zheng W, Wu Q, et al. Ferroptosis is governed by differential regulation of transcription in liver cancer. Redox Biol 2019, 24: 101211.

14.

Li Q, Han X, Lan X, Gao Y, Wan J, Durham F, et al. Inhibition of neuronal ferroptosis protects hemorrhagic brain. JCI Insight 2017, 2: e90777.

15.

Hambright WS, Fonseca RS, Chen L, Na R, Ran Q. Ablation of ferroptosis regulator glutathione peroxidase 4 in forebrain neurons promotes cognitive impairment and neurodegeneration. Redox Biol 2017, 12: 8–17.

16.

Doll S, Proneth B, Tyurina YY, Panzilius E, Kobayashi S, Ingold I, et al. ACSL4 dictates ferroptosis sensitivity by shaping cellular lipid composition. Nat Chem Biol 2017, 13: 91–98.

17.

Li Y, Feng D, Wang Z, Zhao Y, Sun R, Tian D, et al. Ischemia-induced ACSL4 activation contributes to ferroptosis-mediated tissue injury in intestinal ischemia/reperfusion. Cell Death Differ 2019, 26: 2284–2299.

18.

Tuo QZ, Lei P, Jackman KA, Li XL, Xiong H, Li XL, et al. Tau-mediated iron export prevents ferroptotic damage after ischemic stroke. Mol Psychiatry 2017, 22: 1520–1530.

19.

Zhang Z, Wu Y, Yuan S, Zhang P, Zhang J, Li H, et al. Glutathione peroxidase 4 participates in secondary brain injury through mediating ferroptosis in a rat model of intracerebral hemorrhage. Brain Res 2018, 1701: 112–125.

20.

Tsurusaki S, Tsuchiya Y, Koumura T, Nakasone M, Sakamoto T, Matsuoka M, et al. Hepatic ferroptosis plays an important role as the trigger for initiating inflammation in nonalcoholic steatohepatitis. Cell Death Dis 2019, 10: 449.

21.

Yang WS, SriRamaratnam R, Welsch ME, Shimada K, Skouta R, Viswanathan VS, et al. Regulation of ferroptotic cancer cell death by GPX4. Cell 2014, 156: 317–331.

22.

Xie Y, Hou W, Song X, Yu Y, Huang J, Sun X, et al. Ferroptosis: process and function. Cell Death Differ 2016, 23: 369–379.

23.

Li JR, Xu HZ, Nie S, Peng YC, Fan LF, Wang ZJ, et al. Fluoxetine-enhanced autophagy ameliorates early brain injury via inhibition of NLRP3 inflammasome activation following subrachnoid hemorrhage in rats. J Neuroinflammation 2017, 14: 186.

24.

Cao S, Shrestha S, Li J, Yu X, Chen J, Yan F, et al. Melatonin-mediated mitophagy protects against early brain injury after subarachnoid hemorrhage through inhibition of NLRP3 inflammasome activation. Sci Rep 2017, 7: 2417.

25.

Lu J, Sun Z, Fang Y, Zheng J, Xu S, Xu W, et al. Melatonin suppresses microglial necroptosis by regulating deubiquitinating enzyme A20 after intracerebral hemorrhage. Front Immunol 2019, 10: 1360.

26.

Li R, Liu W, Yin J, Chen Y, Guo S, Fan H, et al. TSG-6 attenuates inflammation-induced brain injury via modulation of microglial polarization in SAH rats through the SOCS3/STAT3 pathway. J Neuroinflammation 2018, 15: 231.

27.

Chang CF, Cho S, Wang J. (-)-Epicatechin protects hemorrhagic brain via synergistic Nrf2 pathways. Ann Clin Transl Neurol 2014, 1: 258–271.

28.

Yuan H, Li X, Zhang X, Kang R, Tang D. Identification of ACSL4 as a biomarker and contributor of ferroptosis. Biochem Biophys Res Commun 2016, 478: 1338–1343.

29.

Fan LF, He PY, Peng YC, Du QH, Ma YJ, Jin JX, et al. Mdivi-1 ameliorates early brain injury after subarachnoid hemorrhage via the suppression of inflammation-related blood-brain barrier disruption and endoplasmic reticulum stress-based apoptosis. Free Radic Biol Med 2017, 112: 336–349.

30.

Vanden Berghe T, Linkermann A, Jouan-Lanhouet S, Walczak H, Vandenabeele P. Regulated necrosis: the expanding network of non-apoptotic cell death pathways. Nat Rev Mol Cell Biol 2014, 15: 135–147.

31.

Linkermann A, Skouta R, Himmerkus N, Mulay SR, Dewitz C, De Zen F, et al. Synchronized renal tubular cell death involves ferroptosis. Proc Natl Acad Sci U S A 2014, 111: 16836–16841.

32.

Kim SE, Zhang L, Ma K, Riegman M, Chen F, Ingold I, et al. Ultrasmall nanoparticles induce ferroptosis in nutrient-deprived cancer cells and suppress tumour growth. Nat Nanotechnol 2016, 11: 977–985.

33.

Do Van B, Gouel F, Jonneaux A, Timmerman K, Gele P, Petrault M, et al. Ferroptosis, a newly characterized form of cell death in Parkinson's disease that is regulated by PKC. Neurobiol Dis 2016, 94: 169–178.

34.

Xie BS, Wang YQ, Lin Y, Mao Q, Feng JF, Gao GY, et al. Inhibition of ferroptosis attenuates tissue damage and improves long-term outcomes after traumatic brain injury in mice. CNS Neurosci Ther 2019, 25: 465–475.

35.

Zille M, Karuppagounder SS, Chen Y, Gough PJ, Bertin J, Finger J, et al. Neuronal death after hemorrhagic stroke in vitro and in vivo shares features of ferroptosis and necroptosis. Stroke 2017, 48: 1033–1043.

36.

Li Q, Weiland A, Chen X, Lan X, Han X, Durham F, et al. Ultrastructural characteristics of neuronal death and white matter injury in mouse brain tissues after intracerebral hemorrhage: coexistence of ferroptosis, autophagy, and necrosis. Front Neurol 2018, 9: 581.

37.

Zilka O, Shah R, Li B, Friedmann Angeli JP, Griesser M, Conrad M, et al. On the mechanism of cytoprotection by ferrostatin-1 and liproxstatin-1 and the role of lipid peroxidation in ferroptotic cell death. ACS Cent Sci 2017, 3: 232–243.

38.

Gaschler MM, Andia AA, Liu H, Csuka JM, Hurlocker B, Vaiana CA, et al. FINO2 initiates ferroptosis through GPX4 inactivation and iron oxidation. Nat Chem Biol 2018, 14: 507–515.

39.

Kobayashi S, Sato M, Kasakoshi T, Tsutsui T, Sugimoto M, Osaki M, et al. Cystathionine is a novel substrate of cystine/glutamate transporter: implications for immune function. J Biol Chem 2015, 290: 8778–8788.

40.

Jelinek A, Heyder L, Daude M, Plessner M, Krippner S, Grosse R, et al. Mitochondrial rescue prevents glutathione peroxidase-dependent ferroptosis. Free Radic Biol Med 2018, 117: 45–57.

41.

Neitemeier S, Jelinek A, Laino V, Hoffmann L, Eisenbach I, Eying R, et al. BID links ferroptosis to mitochondrial cell death pathways. Redox Biol 2017, 12: 558–570.

42.

Stockwell BR, Friedmann Angeli JP, Bayir H, Bush AI, Conrad M, Dixon SJ, et al. Ferroptosis: a regulated cell death nexus linking metabolism, redox biology, and disease. Cell 2017, 171: 273–285.

43.

Wu T, Wu H, Wang J, Wang J. Expression and cellular localization of cyclooxygenases and prostaglandin E synthases in the hemorrhagic brain. J Neuroinflammation 2011, 8: 22.

44.

Funk CD. Prostaglandins and leukotrienes: advances in eicosanoid biology. Science 2001, 294: 1871–1875.

45.

Zheng J, Sun Z, Liang F, Xu W, Lu J, Shi L, et al. AdipoRon attenuates neuroinflammation after intracerebral hemorrhage through AdipoR1-AMPK pathway. Neuroscience 2019, 412: 116–130.

46.

Hu HM, Li B, Wang XD, Guo YS, Hui H, Zhang HP, et al. Fluoxetine is neuroprotective in early brain injury via its anti-inflammatory and anti-apoptotic effects in a rat experimental subarachnoid hemorrhage model. Neurosci Bull 2018, 34: 951–962.

47.

Qin C, Zhou LQ, Ma XT, Hu ZW, Yang S, Chen M, et al. Dual functions of microglia in ischemic stroke. Neurosci Bull 2019, 35: 921–933.

48.

Panaro MA, Aloisi A, Nicolardi G, Lofrumento DD, De Nuccio F, La Pesa V, et al. Radio electric asymmetric conveyer technology modulates neuroinflammation in a mouse model of neurodegeneration. Neurosci Bull 2018, 34: 270–282.

49.

He L, Chen L, Li L. The TBK1-OPTN axis mediates crosstalk between mitophagy and the innate immune response: a potential therapeutic target for neurodegenerative diseases. Neurosci Bull 2017, 33: 354–356.

50.

Pang J, Chen Y, Kuai L, Yang P, Peng J, Wu Y, et al. Inhibition of blood-brain barrier disruption by an apolipoprotein E-mimetic peptide ameliorates early brain injury in experimental subarachnoid hemorrhage. Transl Stroke Res 2017, 8: 257–272.

51.

Qin W, Lu W, Li H, Yuan X, Li B, Zhang Q, et al. Melatonin inhibits IL1beta-induced MMP9 expression and activity in human umbilical vein endothelial cells by suppressing NF-kappaB activation. J Endocrinol 2012, 214: 145–153.
Acknowledgements
This work was supported by grants from the National Key R&D Program of China (2018YFC1312600 and 2018YFC1312603), the National Science Foundation of China (81870910 and 81870908), the Natural Science Foundation of Zhejiang Province, China (LY18H090007), and the Scientific Research Fund of Zhejiang Provincial Education Department, China (Y201941838).
Ethics declarations
Conflicts of interest
All authors claim that there are no conflicts of interest.
Electronic supplementary material
Below is the link to the electronic supplementary material.
About this article
Cite this article
Cao, Y., Li, Y., He, C. et al. Selective Ferroptosis Inhibitor Liproxstatin-1 Attenuates Neurological Deficits and Neuroinflammation After Subarachnoid Hemorrhage. Neurosci. Bull. (2021). https://doi.org/10.1007/s12264-020-00620-5
Received:

Accepted:

Published:
Keywords
Subarachnoid hemorrhage

Ferroptosis

Inflammation

Liproxstatin-1