This is a preview of subscription content, log in to check access.
Access options
Buy single article
Instant access to the full article PDF.
US$ 39.95
Price includes VAT for USA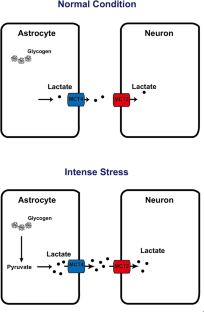 References:
1.

Krishnan V, Nestler EJ. The molecular neurobiology of depression. Nature 2008, 455: 894–902.

2.

Bagot RC, Parise EM, Pena CJ, Zhang HX, Maze I, Chaudhury D, et al. Ventral hippocampal afferents to the nucleus accumbens regulate susceptibility to depression. Nat Commun 2015, 6: 7062.

3.

Cook SC, Wellman CL. Chronic stress alters dendritic morphology in rat medial prefrontal cortex. J Neurobiol 2004, 60: 236–248.

4.

Yin YN, Hu J, Wei YL, Li ZL, Luo ZC, Wang RQ, et al. Astrocyte-derived lactate modulates the passive coping response to behavioral challenge in male mice. Neurosci Bull 2020. https://doi.org/10.1007/s12264-020-00553-z.

5.

Barros LF, Weber B. CrossTalk proposal: an important astrocyte-to-neuron lactate shuttle couples neuronal activity to glucose utilisation in the brain. J Physiol 2018, 596: 347–350.

6.

Daniels S, Horman T, Lapointe T, Melanson B, Storace A, Kennedy SH, et al. Reverse translation of major depressive disorder symptoms: A framework for the behavioural phenotyping of putative biomarkers. J Affect Disord 2020, 263: 353–366.

7.

Suzuki A, Stern Sarah A, Bozdagi O, Huntley George W, Walker Ruth H, Magistretti Pierre J, et al. Astrocyte-neuron lactate transport is required for long-term memory formation. Cell 2011, 144: 810–823.

8.

Pellerin L, Magistretti PJ. Glutamate uptake into astrocytes stimulates aerobic glycolysis: a mechanism coupling neuronal activity to glucose utilization. Proc Natl Acad Sci U S A 1994, 91: 10625–10629.

9.

Pierre K, Pellerin L. Monocarboxylate transporters in the central nervous system: distribution, regulation and function. J Neurochem 2005, 94: 1–14.

10.

Gray LR, Tompkins SC, Taylor EB. Regulation of pyruvate metabolism and human disease. Cell Mol Life Sci 2014, 71: 2577–2604.

11.

Diaz-Garcia CM, Mongeon R, Lahmann C, Koveal D, Zucker H, Yellen G. Neuronal stimulation triggers neuronal glycolysis and not lactate uptake. Cell Metab 2017, 26: 361–374 e364.
About this article
Cite this article
Descalzi, G. Cortical Astrocyte-neuronal Metabolic Coupling Emerges as a Critical Modulator of Stress-induced Hopelessness. Neurosci. Bull. (2020). https://doi.org/10.1007/s12264-020-00559-7
Received:

Accepted:

Published: