Access options
Buy single article
Instant access to the full article PDF.
US$ 39.95
Tax calculation will be finalised during checkout.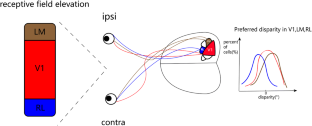 References
1.

Gonzalez F, Perez R. Neural mechanisms underlying stereoscopic vision. Prog Neurobiol 1998, 55: 191–224.

2.

Parker AJ. Binocular depth perception and the cerebral cortex. Nat Rev Neurosci 2007, 8: 379–391.

3.

Hubel DH, Wiesel TN, Yeagle EM, Lafer-Sousa R, Conway BR. Binocular stereoscopy in visual areas V-2, V-3, and V-3A of the macaque monkey. Cereb Cortex 2015, 25: 959–971.

4.

Poggio GF, Fischer B. Binocular interaction and depth sensitivity in striate and prestriate cortex of behaving rhesus monkey. J Neurophysiol 1977, 40: 1392–1405.

5.

Wang Q, Burkhalter A. Area map of mouse visual cortex. J Comp Neurol 2007, 502: 339–357.

6.

Garrett ME, Nauhaus I, Marshel JH, Callaway EM. Topography and areal organization of mouse visual cortex. J Neurosci 2014, 34: 12587–12600.

7.

La Chioma A, Bonhoeffer T, Hubener M. Area-specific mapping of binocular disparity across mouse visual cortex. Curr Biol 2019, 29: 2954–2960.e2955.

8.

Henriksen S, Tanabe S, Cumming B. Disparity processing in primary visual cortex. Philos Trans R Soc Lond B Biol Sci 2016, 371.

9.

Scholl B, Pattadkal JJ, Priebe NJ. Binocular disparity selectivity weakened after monocular deprivation in mouse V1. J Neurosci 2017, 37: 6517–6526.

10.

Tsao DY, Conway BR, Livingstone MS. Receptive fields of disparity-tuned simple cells in macaque V1. Neuron 2003, 38: 103–114.
Acknowledgements
This highlight article was supported by the National Natural Science Foundation of China (31872764 and 81800862), a Shanghai Municipal Science and Technology Major Project (2018SHZDZX01) and ZJLab, and the Shanghai Science and Technology Committee Rising-Star Program (19QA1401600).
About this article
Cite this article
Hao, X., Gu, Y. New Progress on Binocular Disparity in Higher Visual Areas Beyond V1. Neurosci. Bull. 36, 1236–1238 (2020). https://doi.org/10.1007/s12264-020-00538-y
Received:

Accepted:

Published:

Issue Date: