Abstract
Acute pain is a common complication after injury of a peripheral nerve but the underlying mechanism is obscure. We established a model of acute neuropathic pain via pulling a pre-implanted suture loop to transect a peripheral nerve in awake rats. The tibial (both muscular and cutaneous), gastrocnemius–soleus (muscular only), and sural nerves (cutaneous only) were each transected. Transection of the tibial and gastrocnemius–soleus nerves, but not the sural nerve immediately evoked spontaneous pain and mechanical allodynia in the skin territories innervated by the adjacent intact nerves. Evans blue extravasation and cutaneous temperature of the intact skin territory were also significantly increased. In vivo electrophysiological recordings revealed that injury of a muscular nerve induced mechanical hypersensitivity and spontaneous activity in the nociceptive C-neurons in adjacent intact nerves. Our results indicate that injury of a muscular nerve, but not a cutaneous nerve, drives acute neuropathic pain.
This is a preview of subscription content, log in to check access.
Access options
Buy single article
Instant access to the full article PDF.
US$ 39.95
Price includes VAT for USA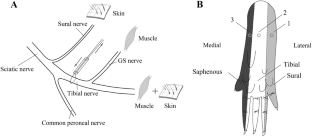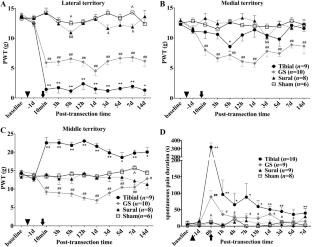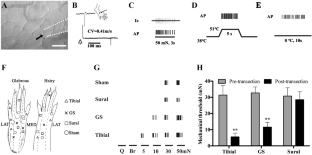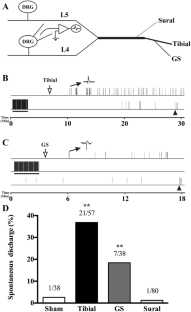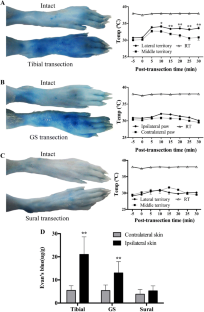 References
1.

Hayes C, Browne S, Lantry G, Burstal R. Neuropathic pain in the acute pain service: a prospective survey. Acute Pain 2002, 4: 45–48.

2.

Obata K, Yamanaka H, Kobayashi K, Dai Y, Mizushima T, Katsura H, et al. The effect of site and type of nerve injury on the expression of brain-derived neurotrophic factor in the dorsal root ganglion and on neuropathic pain behavior. Neuroscience 2006, 137: 961–970.

3.

Luo ZD, Chaplan SR, Higuera ES, Sorkin LS, Stauderman KA, Williams ME, et al. Upregulation of dorsal root ganglion (alpha)2(delta) calcium channel subunit and its correlation with allodynia in spinal nerve-injured rats. J Neurosci 2001, 21: 1868–1875.

4.

Ramer LM, Borisoff JF, Ramer MS. Rho-kinase inhibition enhances axonal plasticity and attenuates cold hyperalgesia after dorsal rhizotomy. J Neurosci 2004, 24: 10796–10805.

5.

Stoelb BL, Carter GT, Abresch RT, Purekal S, McDonald CM, Jensen MP. Pain in persons with postpolio syndrome: frequency, intensity, and impact. Arch Phys Med Rehabil 2008, 89: 1933–1940.

6.

IJpma FF, Nicolai JP, Meek MF. Sural nerve donor-site morbidity: thirty-four years of follow-up. Ann Plast Surg 2006, 57: 391–395.

7.

Miloro M, Stoner JA. Subjective outcomes following sural nerve harvest. J Oral Maxillofac Surg 2005, 63: 1150–1154.

8.

Waxman SG, Kocsis JD, Black JA. Type III sodium channel mRNA is expressed in embryonic but not adult spinal sensory neurons, and is reexpressed following axotomy. J Neurophysiol 1994, 72: 466–470.

9.

Dib-Hajj SD, Fjell J, Cummins TR, Zheng Z, Fried K, LaMotte R, et al. Plasticity of sodium channel expression in DRG neurons in the chronic constriction injury model of neuropathic pain. Pain 1999, 83: 591–600.

10.

Black JA, Cummins TR, Plumpton C, Chen YH, Hormuzdiar W, Clare JJ, et al. Upregulation of a silent sodium channel after peripheral, but not central, nerve injury in DRG neurons. J Neurophysiol 1999, 82: 2776–2785.

11.

Liefner M, Siebert H, Sachse T, Michel U, Kollias G, Brück W. The role of TNF-alpha during Wallerian degeneration. J Neuroimmunol 2000, 108: 147–152.

12.

Kim CH, Oh Y, Chung JM, Chung K. The changes in expression of three subtypes of TTX sensitive sodium channels in sensory neurons after spinal nerve ligation. Mol Brain Res 2001, 95: 153–161.

13.

Shamash S, Reichert F, Rotshenker S. The cytokine network of Wallerian degeneration: tumor necrosis factor-alpha, interleukin-1alpha, and interleukin-1beta. J Neurosci 2002, 22: 3052–3060.

14.

Zelenka M, Schäfers M, Sommer C. Intraneural injection of interleukin-1β and tumor necrosis factor-alpha into rat sciatic nerve at physiological doses induces signs of neuropathic pain. Pain 2005, 116: 257–263.

15.

Cunha TM, Verri WJ, Silva JS, Poole S, Cunha FQ, Ferreira SH. A cascade of cytokines mediates mechanical inflammatory hypernociception in mice. Proc Natl Acad Sci U S A 2005, 102: 1755–1760.

16.

Chen ZY, Wang T, Fang YH, Luo D, Anderson M, Huang Q, et al. Adjacent intact neurons drive the acute outburst of pain following peripheral axotomy. Sci Rep 2019, 9: 7651.

17.

Decosterd I, Woolf CJ. Spared nerve injury: an animal model of persistent peripheral neuropathic pain. Pain 2000, 87: 149–158.

18.

Bennett GJ, Xie YK. A peripheral mononeuropathy in rat that produces disorders of pain sensation like those seen in man. Pain 1988, 33: 87–107.

19.

Ma C, LaMotte RH. Multiple sites for generation of ectopic spontaneous activity in neurons of the chronically compressed dorsal root ganglion. J Neurosci 2007, 27: 14059–14068.

20.

Donelan J, Boucher W, Papadopoulou N, Lytinas M, Papaliodis D, Dobner P, et al. Corticotropin-releasing hormone induces skin vascular permeability through a neurotensin-dependent process. Proc Natl Acad Sci U S A 2006, 103: 7759–7764.

21.

Kuwabara S, Yuki N. Axonal Guillain-Barré syndrome: concepts and controversies. Lancet Neurol 2013, 12: 1180–1188.

22.

Tesfaye S, Boulton AJ, Dyck PJ, Freeman R, Horowitz M, Kempler P, et al. Diabetic neuropathies: update on definitions, diagnostic criteria, estimation of severity, and treatments. Diabetes Care 2010, 33: 2285–2293.

23.

Zhu YL, Xie ZL, Wu YW, Duan WR, Xie YK. Early demyelination of primary A-fibers induces a rapid-onset of neuropathic pain in rat. Neuroscience 2012, 200: 186–198.

24.

Radhakrishnan R, Sluka KA. Deep tissue afferents, but not cutaneous afferents, mediate transcutaneous electrical nerve stimulation-induced antihyperalgesia. J Pain 2005, 6: 673–680.

25.

Haker E, Lundeberg T. Acupuncture treatment in epicondylalgia: a comparative study of two acupuncture techniques. Clin J Pain 1990, 6: 221–226.

26.

Melzack R, Wall PD. Pain mechanisms: a new theory. Science 1965, 150: 971–979.

27.

Powell JJ, Todd AJ. Light and electron microscope study of GABA-immunoreactive neurones in lamina III of rat spinal cord. J Comp Neurol 1992, 315: 125–136.

28.

Sivilotti L, Woolf CJ. The contribution of GABAA and glycine receptors to central sensitization: disinhibition and touch-evoked allodynia in the spinal cord. J Neurophysiol 1994, 72: 169–179.

29.

Takahashi A, Mashimo T, Uchida I. GABAergic tonic inhibition of substantia gelatinosa neurons in mouse spinal cord. Neuroreport 2006, 17: 1331–1335.

30.

Willis WD. Dorsal root potentials and dorsal root reflexes: a double-edged sword. Exp Brain Res 1999, 124: 395–421.
Acknowledgements
We thank Bo Yuan, B.S., Tao Wang, Ph.D. and Jin Tao, M.S. from the Institute of Basic Medical Sciences, Chinese Academy of Medical Sciences, Beijing, China, for technical assistance. This work was supported by grants from the National Natural Science Foundation of China (NSFC; 81271239 and 91632113 to CM, and NSFC for Young Scientists 81600956 to WD), and the Chinese Academy of Medical Sciences Innovation Fund for Medical Sciences (2017-I2M-3-008 to CM).
Ethics declarations
Conflict of interest
The authors claim that there are no conflicts of interest.
About this article
Cite this article
Zhu, J., Chen, Z., Fang, Y. et al. Injury of Muscular but not Cutaneous Nerve Drives Acute Neuropathic Pain in Rats. Neurosci. Bull. (2020). https://doi.org/10.1007/s12264-019-00462-w
Received:

Accepted:

Published:
Keywords
Muscular nerve

Cutaneous nerve

Acute neuropathic pain