Access options
Buy single article
Instant access to the full article PDF.
US$ 39.95
Tax calculation will be finalised during checkout.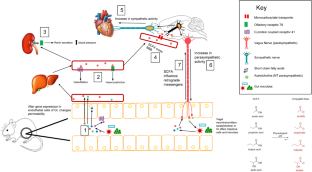 References
1.

Galla S, Chakraborty Mell B, Vijay-Kumar M, Joe B. Microbiota-host interactions and hypertension. Physiology (Bethesda) 2017, 32: 224–233.

2.

Adnan S, Nelson JW, Ajami NJ, Venna VR, Petrosino JF, Bryan RM Jr, et al. Alterations in gut microbiota can elicit hypertension in rats. Physiol Genomics 2016, 49: 96–104.

3.

Yang T, Santisteban MM, Rodriguez V, Li E, Ahmari N, Carvajal JM, et al. Gut dysbiosis is linked to hypertension. Hypertension 2015, 65: 1331–1340.

4.

Unger MM, Spiegel J, Dillmann KU, Grundmann D, Philippeit H, Bürmann J, et al. Short chain fatty acids and gut microbiota differ between patients with Parkinson's disease and age-matched controls. Parkinsonism Relat Disord 2016, 32: 66–72.

5.

Santisteban MM, Qi Y, Zubcevic J, Kim S, Yang T, Shenoy V, et al. Hypertension-linked pathophysiological alterations in the gut. Circ Res 2017, 120: 312–323.

6.

Sampson TR, Debelius JW, Thron T, Janssen S, Shastri GG, Ilhan ZE, et al. Gut microbiota regulate motor deficits and neuroinflammation in a model of Parkinson's disease. Cell 2016, 167: 1469–1480.

7.

Perry RJ, Peng L, Barry NA, Cline GW, Zhang D, Cardone RL, et al. Acetate mediates a microbiome-brain-β-cell axis to promote metabolic syndrome. Nature 2016, 534: 213–217.

8.

Pluznick J. A novel SCFA receptor, the microbiota, and blood pressure regulation. Gut Microbes 2014, 5: 202–207.

9.

Lal S, Kirkup AJ, Brunsden AM, Thompson DG, Grundy D. Vagal afferent responses to fatty acids of different chain length in the rat. Am J Physiol Gastrointest Liver Physiol 2001, 281: G907– G915.

10.

Soret R, Chevalier J, De Coppet P, Poupeau G, Derkinderen P, Segain JP, et al. Short-chain fatty acids regulate the enteric neurons and control gastrointestinal motility in rats. Gastroenterology 2010, 138: 1772–1782.

11.

Chapp AD, Gui L, Huber MJ, Liu J, Larson RA, Zhu J, et al. Sympathoexcitation and pressor responses induced by ethanol in the central nucleus of amygdala involves activation of NMDA receptors in rats. Am J Physiol Heart Circ Physiol 2014, 307: H701– H709.

12.

Chapp AD, Behnke JE, Driscoll KM, Fan Y, Hoban E, Shan Z, et al. Acetate mediates alcohol excitotoxicity in dopaminergic-like PC12 cells. ACS Chem Neurosci 2019, 10: 235–245.
Acknowledgements
This insight was supported by Michigan Technological University Portage Health Foundation, America Heart Association (16PRE27780121) and National Natural Science Foundation of China (31871150).
Ethics declarations
Conflict of interest
The authors declare that they have no conflict of interest.
About this article
Cite this article
Bruning, J., Chapp, A., Kaurala, G.A. et al. Gut Microbiota and Short Chain Fatty Acids: Influence on the Autonomic Nervous System. Neurosci. Bull. 36, 91–95 (2020). https://doi.org/10.1007/s12264-019-00410-8
Received:

Accepted:

Published:

Issue Date: