This is a preview of subscription content, log in to check access.
Access options
Buy single article
Instant access to the full article PDF.
US$ 39.95
Price includes VAT for USA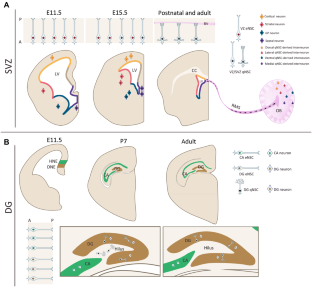 References
1.

Ming GL, Song H. Adult neurogenesis in the mammalian brain: significant answers and significant questions. Neuron 2011, 70: 687–702.

2.

Furutachi S, Miya H, Watanabe T, Kawai H, Yamasaki N, Harada Y, et al. Slowly dividing neural progenitors are an embryonic origin of adult neural stem cells. Nat Neurosci 2015, 18: 657–665.

3.

Fuentealba LC, Rompani SB, Parraguez JI, Obernier K, Romero R, Cepko CL, et al. Embryonic origin of postnatal neural stem cells. Cell 2015, 161: 1644–1655.

4.

Kheirbek MA. Finding the roots of adult neurogenesis. Cell 2015, 161: 1500–1502.

5.

Berg DA, Su Y, Jimenez-Cyrus D, Patel A, Huang N, Morizet D, et al. A Common embryonic origin of stem cells drives developmental and adult neurogenesis. Cell 2019, 177: 654–668.e15.

6.

Ni B, Wu R, Yu T, Zhu H, Li Y, Liu Z. Role of the hippocampus in distinct memory traces: timing of match and mismatch enhancement revealed by intracranial recording. Neurosci Bull 2017, 33: 664–674.

7.

Kriegstein A, Alvarez-Buylla A. The glial nature of embryonic and adult neural stem cells. Ann Rev Neurosci 2009, 32: 149–184.

8.

Li G, Fang L, Fernandez G, Pleasure SJ. The ventral hippocampus is the embryonic origin for adult neural stem cells in the dentate gyrus. Neuron 2013, 78: 658–672.

9.

Guo T, Liu G, Du H, Wen Y, Wei S, Li Z, et al. Dlx1/2 are central and essential components in the transcriptional code for generating olfactory bulb interneurons. Cereb Cortex 2019, pii: bhz018. https://doi.org/10.1093/cercor/bhz018.

10.

Hochgerner H, Zeisel A, Lonnerberg P, Linnarsson S. Conserved properties of dentate gyrus neurogenesis across postnatal development revealed by single-cell RNA sequencing. Nat Neurosci 2018, 21: 290–299.

11.

Boldrini M, Fulmore CA, Tartt AN, Simeon LR, Pavlova I, Poposka V, et al. Human hippocampal neurogenesis persists throughout aging. Cell Stem Cell 2018, 22: 589–599 e585.

12.

Sorrells SF, Paredes MF, Cebrian-Silla A, Sandoval K, Qi D, Kelley KW, et al. Human hippocampal neurogenesis drops sharply in children to undetectable levels in adults. Nature 2018, 555: 377–381.

13.

Wang Z, Zhu J. MEMOIR: a novel system for neural lineage tracing. Neurosci Bull 2017, 33: 763–765.
Acknowledgements
This highlight was supported by the grant from the National Natural Science Foundation of China (31600842).
About this article
Cite this article
Cai, Y., Yang, Z. Adult Neural Stem Cells: Constant Extension from Embryonic Ancestors. Neurosci. Bull. 35, 1120–1122 (2019). https://doi.org/10.1007/s12264-019-00396-3
Received:

Accepted:

Published:

Issue Date: