This is a preview of subscription content, log in to check access.
Access options
Buy single article
Instant access to the full article PDF.
US$ 39.95
Price includes VAT for USA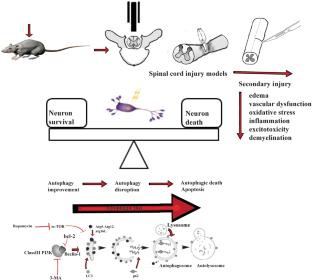 References
1.

Ganz J, Shor E, Guo S, Sheinin A, Arie I, Michaelevski I et al. Implantation of 3D constructs embedded with oral mucosa-derived cells induces functional recovery in rats with complete spinal cord transection. Front Neurosci 2017, 11:589.

2.

Cheriyan T, Ryan DJ, Weinreb JH, Cheriyan J, Paul JC, Lafage V et al. Spinal cord injury models: a review. Spinal Cord 2014, 52: 588–595.

3.

Liu S, Sarkar C, Dinizo M, Faden AI, Koh EY, Lipinski MM et al. Disrupted autophagy after spinal cord injury is associated with ER stress and neuronal cell death. Cell Death Dis 2015, 6: e1582.

4.

Zhou KL, Chen DH, Jin HM, Wu K, Wang XY, Xu HZ et al. Effects of calcitriol on experimental spinal cord injury in rats. Spinal Cord 2016, 54: 510.

5.

Li Z, Liu F, Zhang L, Cao Y, Shao Y, Wang X, Jiang X et al. Neuroserpin restores autophagy and promotes functional recovery after acute spinal cord injury in rats. Mol Med Rep 2018, 17: 2957–2963.

6.

Wu D, Hao Z, Ren H, Wang G. Loss of VAPB Regulates Autophagy in a Beclin 1-Dependent Manner. Neurosci Bull 2018, 34: 1037–1046.

7.

Kanno H, Ozawa H, Sekiguchi A, Yamaya S, Itoi E. Induction of autophagy and autophagic cell death in damaged neural tissue after acute spinal cord injury in mice. Spine 2011, 36: E1427.

8.

Tang P, Hou H, Zhang L, Lan X, Mao Z, Liu D et al. Autophagy reduces neuronal damage and promotes locomotor recovery via inhibition of apoptosis after spinal cord injury in rats. Mol Neurobiol 2014, 49: 276–287.

9.

Goldshmit Y, Kanner S, Zacs M, Frisca F, Pinto AR, Currie PD et al. Rapamycin increases neuronal survival, reduces inflammation and astrocyte proliferation after spinal cord injury. Mol Cell Neurosci 2015, 68: 82–91.

10.

Saghazadeh A, Rezaei N. The role of timing in the treatment of spinal cord injury. Biomed Pharmacother 2017, 92: 128–139.

11.

Li HT, Zhao XZ, Zhang XR, Li G, Jia ZQ, Sun P et al. Exendin-4 enhances motor function recovery via promotion of autophagy and inhibition of neuronal apoptosis after spinal cord injury in rats. Mol Neurobiol 2016, 53: 4073–4082.

12.

Hachem LD, Ahuja CS, Fehlings MG. Assessment and management of acute spinal cord injury: From point of injury to rehabilitation. J Spinal Cord Med 2017, 40(6): 665–675.

13.

Zhang HY, Wang ZG, Wu FZ, Kong XX, Yang J, Lin BB et al. Regulation of autophagy and ubiquitinated protein accumulation by bFGF promotes functional recovery and neural protection in a rat model of spinal cord injury. Mol Neurobiol 2013, 48: 452–464.

14.

Zhang D, Xuan J, Zheng BB, Zhou YL, Lin Y, Wu YS et al.. Metformin Improves Functional Recovery After Spinal Cord Injury via Autophagy Flux Stimulation. Mol Neurobiol 2017, 54: 1–15.

15.

Zhao H, Chen S, Gao K, Zhou Z, Wang C, Shen Z et al. Resveratrol Protects Against Spinal Cord Injury by Activating Autophagy and Inhibiting Apoptosis Mediated by the SIRT1/AMPK Signaling Pathway. Neuroscience 2017, 348: 241–251.

16.

Guo Y, Liu S, Zhang X, Wang L, Gao J, Han A et al. G-CSF promotes autophagy and reduces neural tissue damage after spinal cord injury in mice. Lab Invest 2015, 95: 1439.

17.

Xia Y, Xia H, Chen D, Liao Z, Yan Y. Mechanisms of autophagy and apoptosis mediated by JAK2 signaling pathway after spinal cord injury of rats. Exp Thera Med 2017, 14: 1589–1593.

18.

Zhang YB, Li SX, Chen XP, Yang L, Zhang YG, Liu R et al. Autophagy is activated and might protect neurons from degeneration after traumatic brain injury. Neurosci Bull 2008, 24: 143–149.

19.

Wang ZY, Liu WG, Muharram A, Wu ZY, Lin JH. Neuroprotective effects of autophagy induced by rapamycin in rat acute spinal cord injury model. Neuroimmunomodulat 2014, 21: 257–267.

20.

Bai L, Mei X, Shen Z, Bi Y, Yuan Y, Guo Z et al. Netrin-1 improves functional recovery through autophagy regulation by activating the AMPK/mTOR signaling pathway in rats with spinal cord injury. Sci Rep 2017, 7: 42288.
Acknowledgements
This insight was supported by the National Natural Science Foundation of China (81301047).
About this article
Cite this article
Li, Z., Chen, T., Cao, Y. et al. Pros and Cons: Autophagy in Acute Spinal Cord Injury. Neurosci. Bull. 35, 941–945 (2019). https://doi.org/10.1007/s12264-019-00368-7
Received:

Accepted:

Published:

Issue Date: