This is a preview of subscription content, log in to check access.
Access options
Buy single article
Instant access to the full article PDF.
US$ 39.95
Price includes VAT for USA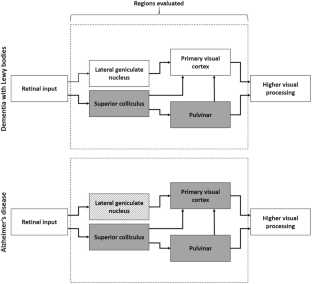 References
1.

McKeith IG, Boeve BF, Dickson DW, Halliday G, Taylor JP, Weintraub D, et al. Diagnosis and management of dementia with Lewy bodies: Fourth consensus report of the DLB Consortium. Neurology 2017, 89: 88–100.

2.

Ungerleider LG. Two cortical visual streams. Anal Vis Behav 1982: 549–586.

3.

Diederich NJ, Stebbins G, Schiltz C, Goetz CG. Are patients with Parkinson's disease blind to blindsight? Brain 2014, 137: 1838–1849.

4.

Collerton D, Mosimann UP, Perry E (Eds). The Neuroscience of Visual Hallucinations. Wiley, 2015.

5.

Hanoglu L, Yildiz S, Cakir T, Hanoglu T, Yulug B. FDG-PET scanning shows distributed changes in cortical activity associated with visual hallucinations in eye disease. Endocr Metab Immune Disord Drug Targets 2018. https://doi.org/10.2174/1871530318666180830112709.

6.

Shine JM, Muller AJ, O'Callaghan C, Hornberger M, Halliday GM, Lewis SJ. Abnormal connectivity between the default mode and the visual system underlies the manifestation of visual hallucinations in Parkinson's disease: a task-based fMRI study. NPJ Parkinsons Dis 2015, 1: 15003.

7.

Makin SM, Redman J, Mosimann UP, Dudley R, Clarke MP, Colbourn C, et al. Complex visual hallucinations and attentional performance in eye disease and dementia: a test of the Perception and Attention Deficit model. Int J Geriatr Psychiatry 2013, 28: 1232–1238.

8.

Erskine D, Taylor JP, Firbank MJ, Patterson L, Onofrj M, O'Brien JT, et al. Changes to the lateral geniculate nucleus in Alzheimer's disease but not dementia with Lewy bodies. Neuropathol Appl Neurobiol 2016, 42: 366–376.

9.

Taylor JP, Firbank M, Barnett N, Pearce S, Livingstone A, Mosimann U, et al. Visual hallucinations in dementia with Lewy bodies: transcranial magnetic stimulation study. Br J Psychiatry 2011, 199: 492–500.

10.

Taylor JP, Firbank M, O'Brien JT. Visual cortical excitability in dementia with Lewy bodies. Br J Psychiatry 2016, 208: 497–498.

11.

Delli Pizzi S, Maruotti V, Taylor JP, Franciotti R, Caulo M, Tartaro A, et al. Relevance of subcortical visual pathways disruption to visual symptoms in dementia with Lewy bodies. Cortex 2014, 59: 12–21.

12.

Khundakar AA, Hanson PS, Erskine D, Lax NZ, Roscamp J, Karyka E, et al. Analysis of primary visual cortex in dementia with Lewy bodies indicates GABAergic involvement associated with recurrent complex visual hallucinations. Acta Neuropathol Commun 2016, 4: 66.

13.

Erskine D, Thomas AJ, Taylor JP, Savage MA, Attems J, McKeith IG, et al. Neuronal loss and α-synuclein pathology in the superior colliculus and its relationship to visual hallucinations in dementia with lewy bodies. Am J Geriatr Psychiatry 2017, 25: 595–604.

14.

Erskine D, Thomas AJ, Attems J, Taylor JP, McKeith IG, Morris CM, et al. Specific patterns of neuronal loss in the pulvinar nucleus in dementia with lewy bodies. Mov Disord 2017, 32: 414–422.

15.

Zhou H, Schafer RJ, Desimone R. Pulvinar-cortex interactions in vision and attention. Neuron 2016, 89: 209–220.

16.

Erskine D, Khundakar AA. Stereological approaches to dementia research using human brain tissue. J Chem Neuroanat 2016, 76(Pt B): 73–81.

17.

Erskine D, Ding J, Thomas AJ, Kaganovich A, Khundakar AA, Hanson PS, et al. Molecular changes in the absence of severe pathology in the pulvinar in dementia with Lewy bodies. Mov Disord 2018, 33: 982–991.

18.

Roodveldt C, Christodoulou J, Dobson CM. Immunological features of alpha-synuclein in Parkinson's disease. J Cell Mol Med 2008, 12: 1820–1829.

19.

Surmeier DJ, Sulzer D. The pathology roadmap in Parkinson disease. Prion 2013, 7: 85–91.

20.

Erskine D, Patterson L, Alexandris A, Hanson PS, McKeith IG, Attems J, et al. Regional levels of physiological alpha-synuclein are directly associated with Lewy body pathology. Acta Neuropathol 2018, 135: 153–154.
Acknowledgements
DE is funded by Alzheimer's Research UK. The funder had no role in production of the manuscript or the choice of when or where to publish.
About this article
Cite this article
Erskine, D., Taylor, J., Thomas, A. et al. Pathological Changes to the Subcortical Visual System and its Relationship to Visual Hallucinations in Dementia with Lewy Bodies. Neurosci. Bull. 35, 295–300 (2019). https://doi.org/10.1007/s12264-019-00341-4
Received:

Accepted:

Published:

Issue Date: