Access options
Buy single article
Instant access to the full article PDF.
USD 39.95
Price excludes VAT (USA)
Tax calculation will be finalised during checkout.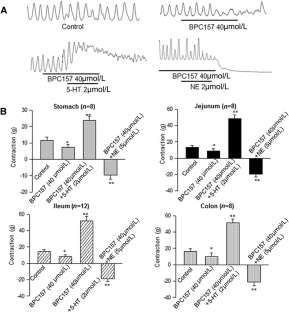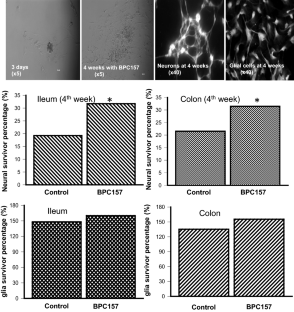 References
Sikirić P, Petek M, Rucman R, Seiwerth S, Grabarević Z, Rotkvić I, et al. A new gastric juice peptide, BPC-An overview of stomach/stress/organoprotection hypothesis and BPC beneficial effects. J Physiol (Paris) 1993, 87: 313–327.

Sikiric P, Seiwerth S, Grabarevic Z, Petek M, Rucman R, Turkovic B, et al. The beneficial effect of BPC 157, a 15 amino acid peptide BPC fragment, on gastric and duodenal lesions induced by restraint stress, cysteaniune and 96% ethanol in rats. A comparative study with H2 receptor antagonists, dopaunine promoters and gut peptides. Life Sci 1994, 54: PL63–68.

Linan-Rico A, Ochoa-Cortes F, Beyder A, Soghomonyan S, Zuleta-Alarcon A, Coppola V, et al. Mechanosensory signaling in enterochromaffin cells and 5-HT release: potential implications for gut inflammation. Front Neurosci 2016, 10: 564.

Gershon MD, Tack J. The serotonin signaling system: from basic understanding to drug development for functional GI disorders. Gastroenterology 2007, 132: 397–414.

Wood JD. Enteric nervous system neuropathy: repair and restoration. Curr Opin Gastroenterol 2011, 27: 106–111.

Gershon MD. Serotonin is a sword and a shield of the bowel: serotonin plays offense and defense. Trans Am Clin Climatol Assoc 2012, 123: 268–280.

Smith TK, Gershon MD. Cross Talk proposal: 5-HT is necessary for peristalsis. J Physiol 2015, 593: 3225–3227.

Boban Blagaic A, Blagaic V, Mirt M, Jelovac N, Dodig G, Rucman R, et al. Gastric pentadecapeptideBPC 157 effective against serotonin syndrome in rats. Eur J Pharmacol 2005, 512: 173–179.

Tohyama Y, Sikirić P, Diksic M. Effects of pentadecapeptide BPC157 on regional serotonin synthesis in the rat brain: alphamethyl-l-tryptophan autoradiographic measurements. Life Sci 2004, 76: 345–357.

Sikiric P, Seiwerth S, Rucman R, Kolenc D, Vuletic LB, Drmic D, et al. Brain-gut axis and pentadecapeptide BPC 157: Theoretical and practical implications. Curr Neuropharmacol 2016, 14: 857–865.

Sikiric P, Seiwerth S, Rucman R, Turkovic B, Rokotov DS, Brcic L, et al. Stable gastric pentadecapeptide BPC 157: novel therapy in gastrointestinal tract. Curr Pharm Des 2011, 17: 1612–1632.

Cirillo C, Vanden BP, Tack J. Role of serotonin in gastrointestinal physiology and pathology. Minerva Endocrinol 2011, 36: 311–324.
Acknowledgments
We appreciate very much the gift of BPC157 from Dr. Predrag Sikiric in Zagreb, Croatia. This work was supported by a JMEY International collaboration Grant (020002015).
Electronic supplementary material
Below is the link to the electronic supplementary material.
About this article
Cite this article
Wang, XY., Qu, M., Duan, R. et al. Cytoprotective Mechanism of the Novel Gastric Peptide BPC157 in Gastrointestinal Tract and Cultured Enteric Neurons and Glial Cells. Neurosci. Bull. 35, 167–170 (2019). https://doi.org/10.1007/s12264-018-0269-8
Received:

Accepted:

Published:

Issue Date:

DOI: https://doi.org/10.1007/s12264-018-0269-8