Access options
Buy single article
Instant access to the full article PDF.
USD 39.95
Price includes VAT (USA)
Tax calculation will be finalised during checkout.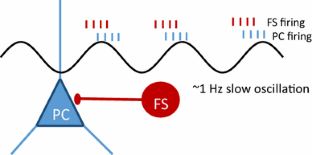 References
1.

Buzsaki G. Rhythms of the Brain. Oxford University Press, 2011.

2.

Wulff P, Ponomarenko AA, Bartos M, Korotkova TM, Fuchs EC, Bahner F, et al. Hippocampal theta rhythm and its coupling with gamma oscillations require fast inhibition onto parvalbumin-positive interneurons. Proc Natl Acad Sci U S A 2009, 106: 3561–3566.

3.

Gordon JA. Oscillations and hippocampal–prefrontal synchrony. Curr Opin Neurobiol 2011, 21: 486–491.

4.

Buzsaki G. Theta oscillations in the hippocampus. Neuron 2002, 33: 325–340.

5.

Xu Y, Wang L, Liu Y-z, Yang Y, Xue X, Wang Z. GABAergic Interneurons are required for generation of slow CA1 oscillation in rat hippocampus. Neurosci Bull 2016, 32: 363–373.

6.

Pi HJ, Hangya B, Kvitsiani D, Sanders JI, Huang ZJ, Kepecs A. Cortical interneurons that specialize in disinhibitory control. Nature 2013, 503: 521–524.

7.

Zhang Y, Perez Velazquez JL, Tian GF, Wu CP, Skinner FK, Carlen PL, et al. Slow oscillations (</=1 Hz) mediated by GABAergic interneuronal networks in rat hippocampus. J Neurosci 1998, 18: 9256–9268.
About this article
Cite this article
Zhan, Y. Harnessing GABAergic Transmission for Slow Oscillations. Neurosci. Bull. 32, 501–502 (2016). https://doi.org/10.1007/s12264-016-0058-1
Received:

Accepted:

Published:

Issue Date:
Keywords
GABAA Receptor

Local Field Potential

Oscillatory Activity

Slow Oscillation

GABAergic Transmission