Abstract
Vitamin C may have positive effects on wound healing and improve quality of life and the recovery process. A systematic review was done to study the effects of vitamin C on the healing of wounds and thereby hasten rehabilitation. Randomized controlled trials (RCTs) and controlled clinical trials on the effects of vitamin C were searched for using PubMed, Google Scholar, Science Direct, and Cochrane Library. Data was collected, analyzed, and assessed for risks of bias using Cochrane review protocols and tools. A total of 24 trials were procured, but after excluding 21 that did not meet the criteria, only three trials could be analyzed. Overall, addition of vitamin C was noted to have 3.94 times likelihood of acquiring quicker recovery process as compared to placebo (OR 3.99, 95% CI 2.06 to 7.73), but there was no difference in pain (p > 0.05). Overall quality of evidence was good, with low risk of bias. Evidence shows that vitamin C promotes wound healing by hastening recovery and attaining high leucocyte ascorbic acid levels. It is recommended to use vitamin C for wound healing while waiting for more RCTs to strengthen this evidence.
Access options
Buy single article
Instant access to the full article PDF.
USD 39.95
Price excludes VAT (USA)
Tax calculation will be finalised during checkout.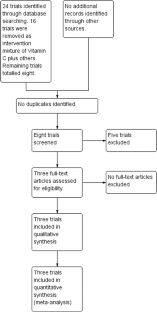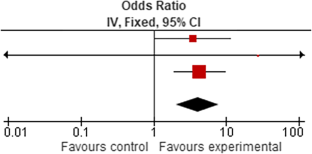 References
Wang PH, Huang BS, Horng HC, Yeh CC, Chen YJ (2018) Wound healing. J Chin Med Assoc 81(2):94–101. https://doi.org/10.1016/j.jcma.2017.11.002

Ekegren CL, Edwards ER, de Steiger R, Gabbe BJ (2018) Incidence, costs and predictors of non-union, delayed union and mal-union following long bone fracture. Int J Environ Res Public Health 15(12):E2845. https://doi.org/10.3390/ijerph15122845

Mohammed BM, Fisher BJ, Kraskauskas D, Ward S, Wayne JS, Brophy DF et al (2016) Vitamin C promotes wound healing through novel pleiotropic mechanisms. Int Wound J 13:572–584. https://doi.org/10.1111/iwj.12484

Duarte TL, Cooke MS, Jones GD (2009) Gene expression profiling reveals new protective roles for vitamin C in human skin cells. Free Radic Biol Med 46:78–87. https://doi.org/10.1016/j.freeradbiomed.2008.09.028

Parsons KK, Maeda N, Yamauchi M, Banes AJ, Koller BH (2006) Ascorbic acid-independent synthesis of collagen in mice. Am J Physiol Endocrinol Metab 290:E1131–E1139. https://doi.org/10.1152/ajpendo.00339.2005

Ross R, Benditt EP (1962) Wound healing and collagen formation. II. Fine structure in experimental scurvy. J Cell Biol 12:533–551. https://doi.org/10.1083/jcb.12.3.533

Blass SC, Goost H, Tolba RH, Stoffel-Wagner B, Kabir K, Burger C et al (2012) Time to wound closure in trauma patients with disorders in wound healing is shortened by supplements containing antioxidant micronutrients and glutamine: a PRCT. Clin Nutr 31:469–475. https://doi.org/10.1016/j.clnu.2012.01.002

Aghajanian P, Hall S, Wongworawat MD, Mohan S (2015) The roles and mechanisms of actions of vitamin C in bone: new developments. J Bone Miner Res 30(11):1945–1955. https://doi.org/10.1002/jbmr.2709

Motoji H, To M, Hidaka K, Matsuo M (2020) Vitamin Cand eggshell membrane facilitate orthodontic tooth movement and induce histological changes in the periodontal tissue. J Oral Biosci S1349-0079(20):30006–30002. https://doi.org/10.1016/j.job.2020.01.006

Ubbink DT, Santema TB, Stoekenbroek RM (2014) Systemic wound care: a meta-review of cochrane systematic reviews. Surg Technol Int 24:99–111

Abrahmsohn GM, Halberstein RA, Fregeolle S (1993) Vitamin C and dental healing: testing and placebo effect. Gen Dent 41(6):523–527

Taylor TV, Rimmer S, Day B, Butcher J, Dymock IW (1974) Ascorbic acid supplementation in the treatment of pressure-sores. Lancet 2(7880):544–546. https://doi.org/10.1016/s0140-6736(74)91874-1

Zollinger PE, Tuinebreijer WE, Kreis RW, Breederveld RS (1999) Effect of vitamin C on frequency of reflex sympathetic dystrophy in wrist fractures: a randomised trial. Lancet 354(9195):2025–2028. https://doi.org/10.1016/S0140-6736(99)03059-7

Burr RG, Rajan KT (1972) Leucocyte ascorbic acid and pressure sores in paraplegia. Br J Nutr 28(2):275–281

Woolfe SN, Kenney EB, Hume WR, Carranza FA (1984) Relationship of ascorbic acid levels of blood and gingival tissue with response to periodontal therapy. J Clin Periodontol 11(3):159–165. https://doi.org/10.1111/j.1600-051x.1984.tb01319.x

Ekrol I, Duckworth AD, Ralston SH, Court-Brown CM, McQueen MM (2014) The influence of vitamin C on the outcome of distal radial fractures: a double-blind, randomized controlled trial. J Bone Joint Surg 96(17):1451–1459. https://doi.org/10.2106/JBJS.M.00268

Lange-de Klerk ES (2000) Lower incidence of posttraumatic dystrophy in wrist fractures after prophylactic supplementation of vitamin C. Ned Tijdschr Geneeskd 144(42):2035–2036

ter Riet G, Kessels AG, Knipschild PG (1995) Randomized clinical trial of ascorbic acid in the treatment of pressure ulcers. J Clin Epidemiol 48(12):1453–1460. https://doi.org/10.1016/0895-4356(95)00053-4

Savitsky B, Radomislensky I, Goldman S, Gitelson N, Frid Z, Peleg K (2020) Returning to work following an injury: practical usage of a predictive model based on a nationwide study. J Community Health 45(1):183–193. https://doi.org/10.1007/s10900-019-00730-w

Rahim K, Saleha S, Zhu X, Huo L, Basit A, Franco OL (2017) Bacterial contribution in chronicity of wounds. Microb Ecol 73(3):710–721. https://doi.org/10.1007/s00248-016-0867-9

Powers JG, Higham C, Broussard K, Phillips TJ (2016) Wound healing and treating wounds: chronic wound care and management. J Am Acad Dermatol 74(4):607–625. https://doi.org/10.1016/j.jaad.2015.08.070

Chaitanya NC, Badam R, Siva Prasad Reddy G et al (2019) Analgesic effect of intravenous ascorbic acid versus acelcofenac post-transalveolar extraction:a case-control study. J Popul Ther Clin Pharmacol 26(2):e43–e52

Laflı Tunay D, Türkeün Ilgınel M, Ünlügenç H, Tunay M, Karacaer F, Biricik E (2020) Comparison of the effects of preoperative melatonin or vitamin C administration on postoperative analgesia. Bosn J Basic Med Sci 20(1):117–124
Additional information
Publisher's Note
Springer Nature remains neutral with regard to jurisdictional claims in published maps and institutional affiliations.
Rights and permissions
Springer Nature or its licensor (e.g. a society or other partner) holds exclusive rights to this article under a publishing agreement with the author(s) or other rightsholder(s); author self-archiving of the accepted manuscript version of this article is solely governed by the terms of such publishing agreement and applicable law.
About this article
Cite this article
Thevi, T., Abas, A.L. & Rajan, M. The Effects of Vitamin C on Wound Healing—Systematic Review. Indian J Surg (2023). https://doi.org/10.1007/s12262-023-03750-y
Received:

Accepted:

Published:

DOI: https://doi.org/10.1007/s12262-023-03750-y
Keywords