Abstract
The correct diagnosis and classification of bacterial infection are important for initiating appropriate antibiotic therapy thus leading to a reduction in the incidence of antibiotic-resistant microbial infection. There are many methods to detect wound bacterial infections. The gold standard method, at present, remains the tissue/swab culture along with a sensitivity test. However, new fluorescence-based methods of detecting bacterial infection in a POC (point of care) setting have proved themselves to be simple, prompt, accurate, and affordable. Many commonly infecting bacteria have a characteristic emission auto fluorescence when excited with ultraviolet and blue light. A newly developed hand-held device captures the emitted fluorescence and records the spectral signature of different bacteria. The fluorescence is exhibited because of the metabolic and infectious biomarkers present in a bacterium, e.g., pseudomonas produces pyocyanin, and pyoverdine. Finally, an in-built image processing and machine learning algorithm detects this native fluorescence produced by the bacteria and helps classify them according to their Gram type. We studied 100 patients with diabetic foot ulcers, comparing the results of the routine tissue culture with the Gram type report generated at POC by this novel device and found that this device was able to detect infection with 99.24% sensitivity and 82.35% specificity with that of the gold standard culture test.
This is a preview of subscription content,
to check access.
Access this article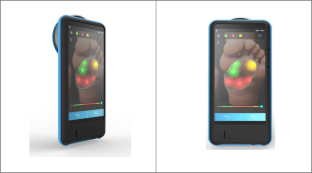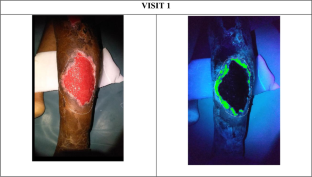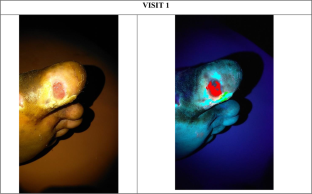 Similar content being viewed by others
References
Sally D, Fowler T, Watson J, Livermone D, Walker D (2013) Annual report of the chief medical officer: Infection and the rise of antimicrobial resistance. Lancet 381(9878):1000–1609

Varadi L, Luo Jia Lin, Hins DE, Perry JD, Anderson RJ, Orenga S, Paul W (2017) Methods for detection and identification of pathogenic bacteria Ground water chem. Soc Rev 46:4818–32

Dartnell LR, Roberts JA, Moore G, Ward JM, Mullet JP (2013) Fluorescence characterization of clinically Important bacteria. PloS One 8(9):e75270. www.plosone.orgsept2013/vol.8/issue9/e75270

Amor MS (2007) Recent advances in the use of intrinsic fluorescence for bacterial identification and Characterization. J Fluoresc 17(5):455–59. https://doi.org/10.1007/s10895-007-0180-6

Pj Modeiros, Weixu Liztein XU, Wilson BC, Rosen C, Linden R (2015) Point of care autofluorescence imaging for real time sampling and treatment guidance of bio burden in chronic wounds: first in human results. PLOS One 10(3):9

Murihead K, Horan G (1985) Flow cytometry: Present and future. Nat Biotechnol 3:56. https://doi.org/10.1038/nbt0485-337

Radhakrishnan Geethajali, Gupta Ayush, King John, Ganvir Davina (2020) Rapid handheld screening device to detect skin and soft tissue infection. Proc SPIE 2020:11211. https://doi.org/10.1117/12.2546404

Shah BM, Ganvir D, Sharma Misra SB, Misra RN, Kothari P et al (2020) Utility of a real –time fluorescence imaging device in guiding antibiotic treatment in superficial skin infections. Indian J Dermatol Venereol leprol 2020(1):6

Patra D, Mishra AK (2001) Investigation on simultaneous analysis of multi component polycyclic aromatic Hydrocarbon mixtures in water samples: a simple synchronous fluometric method. Talanta 55:143–153. https://doi.org/10.1016/50039-9140(01)00404.PubMed18963596

Chapman GV (1993) Instrumentation for flow cytometry. J Immunol Methods 243:3–12. https://doi.org/10.1016/50022-1759(00)224-6

Vermes I, Hannen C, Reutelingsperger C, (2000) flow cytometry of apoptotic cell death. J Immunol Methods 243:167–190. https://doi.org/10.1016/50022-1759(00)PubMed109861414

Zigarmann M, Abert M, Miller M, Frimmel FH (2010) use of fluorescence fingerprints for the estimation of Bloom formation and toxin production of microcystis aeruginosa. Water Res 444:195–204. https://doi.org/10.1016/j.waters.2009.09.035 (Pub Med 19818983s)

Georgakoudi I, Jacobson BC, Miiler MG, sheets EE, Badizadegan k etal, (2002) NAD(P)H and collagen as in vivo Quantitative fluorescent Biomarkers of Epithelial precancerous changes. Cancer Res 62:682–687

Diagaradjane P, yaseen MA, yu J, wong MS, Anvari B, (2005) Autofluorescence characterization for the early diagnosis of neoplastic changes in DMBA/TPA induced mouse skin carcinogenesis. Lasers Surg Med 37:382–395. https://doi.org/10.1002/15m.20248.PubMed16240416

Giana H, silveria L, Zangaro R, Pacheco MTT, (2003) Rapid identification of bacterial species by fluorescence spectroscopy and classification through principal components Analysis. J fluoresce 13:489–493. https://doi.org/10.1023/13JOFL0000008059.74052.36
Acknowledgements
We are thankful to Dr. Diwakar Sharma, Statistician and Assistant Professor, Community Medicine Department, GMERS Medical College, Valsad, for helping us to prepare the manuscript.
Additional information
Publisher's Note
Springer Nature remains neutral with regard to jurisdictional claims in published maps and institutional affiliations.
About this article
Cite this article
Parekh, J.N., Soni, P., Meena, M.K. et al. A New Device and Technology for Detecting Bacterial Infection and its Gram Type in Diabetic Foot Ulcer. Indian J Surg 84, 990–995 (2022). https://doi.org/10.1007/s12262-021-03190-6
Received:

Accepted:

Published:

Issue Date:

DOI: https://doi.org/10.1007/s12262-021-03190-6
Keywords