Abstract
We present the case of a 79-year-old woman and of a 43-year-old man with no relevant past medical history. Both patients were admitted to the emergency department for anemia and rectal bleeding. After resuscitation, the two patients underwent colonoscopy and gastroscopy, both negative. Computed tomography angiography revealed active bleeding from the small bowel in both cases. The first patient underwent angiography and mesenteric embolization with surgical glue, obtaining a complete stop of the bleeding. After 2 days, a small bowel resection was performed under the guidance of the segmental bowel ischemia secondary to embolization. In the second patient, the angiography revealed a large jejunal angiodysplasia. Therefore, a mesenteric super-selective embolization was carried out. The intraoperative identification of the coils allowed to guide the following bowel resection. The postoperative course was uneventful in both patients. Small bowel angiodysplasia is a rare cause of lower gastrointestinal bleeding. In most patients, bleeding stops spontaneously. However, patients with ongoing active bleeding non-responding to conservative treatment may need invasive procedures. The use of super-selective mesenteric embolization is highly successful and relatively safe. When surgery is necessary, identification of the bleeding site is troublesome. In this setting, angioembolization could help to identify the correct site of bleeding, thus allowing to perform a segmental small bowel resection.
Access options
Buy single article
Instant access to the full article PDF.
US$ 39.95
Tax calculation will be finalised during checkout.
Subscribe to journal
Immediate online access to all issues from 2019. Subscription will auto renew annually.
US$ 79
Tax calculation will be finalised during checkout.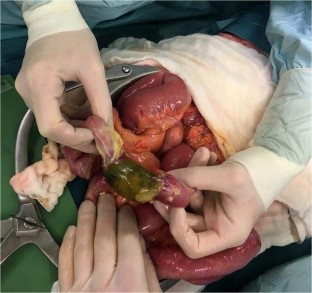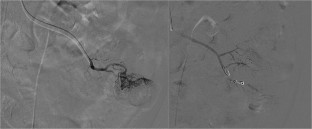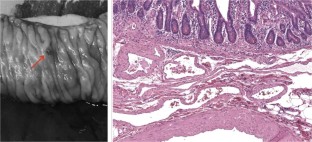 References
1.

Hawks MK, Svarverud JE (2020) Acute lower gastrointestinal bleeding: evaluation and management. Am Fam Physician 101(4):206–212

2.

Tan KK, Wong D, Sim R (2008) Superselective embolization for lower gastrointestinal hemorrhage: an institutional review over 7 years. World J Surg 32(12):2707–2715. https://doi.org/10.1007/s00268-008-9759-6

3.

Andrei GN, Popa B, Gulie L, Diaconescu BI, Martian BV, Bejenaru M, Beuran M (2016) Highlighted steps of the management algorithm in acute lower gastrointestinal bleeding - case reports and literature review. Chirurgia (Bucur) 111(1):74–79

4.

So M, Itatani Y, Obama K, Tsunoda S, Hisamori S, Hashimoto K, Sakai Y (2018) Laparoscopic resection of idiopathic jejunal arteriovenous malformation after metallic coil embolization. Surg Case Rep 4(1):78–74. https://doi.org/10.1186/s40792-018-0486-4

5.

Frydman J, Bahouth H, Leiderman M, Ofer A, Kluger Y (2014) Methylene Blue injection via superior mesenteric artery microcatheter for focused enterectomy in the treatment of a bleeding small intestinal arteriovenous malformation. World J Emerg Surg 9(1):1–4. https://doi.org/10.1186/1749-7922-9-17
Funding
The authors declare that they have no financial ties to disclose.
Ethics declarations
Conflict of Interest
The authors declare that they have no conflict of interest.
Ethical Approval
All procedures performed in this study were in accordance with the ethical standards of the institutional research committee and with the 1964 Helsinki declaration and its later amendments or comparable ethical standards.
Informed Consent
Informed consent was obtained from all individual participants included in this study.
Additional information
Publisher's Note
Springer Nature remains neutral with regard to jurisdictional claims in published maps and institutional affiliations.
About this article
Cite this article
Germani, P., Bellio, G., Bernardi, L. et al. Super-Selective Mesenteric Embolization as Guide for Surgical Resection in Bleeding Small Bowel Angiodysplasia. Indian J Surg (2020). https://doi.org/10.1007/s12262-020-02478-3
Received:

Accepted:

Published:
Keywords
Angiodysplasia

Small bowel

Angioembolization

Micro-coil