Abstract
To present our clinical experience with gall bladder perforation with exploring etiology, diagnosis and treatment of it. Fifty-six patients were taken in the study, which had presented in Safdarjung hospital between Jan. 2012 and Jan. 2018. The parameters including age, sex, site of perforation, type of perforation, symptoms, etiology, diagnosis, management and mortality were evaluated. Twenty-one patients had type 1, 25 patients had type 2 and ten patients had type 3 gall bladder perforation according to Niemeier's classification. Perforation was more common in female (M:F, 25:31) and having co morbid condition. Most common site of perforation was fundus (66%). Type 1 gall bladder perforation mostly diagnosed intraoperatively, type 2 diagnosed preoperatively by CECT abdomen and type 3 were diagnosed during laparoscopic cholecystectomy. Most patients of type 1 gall bladder perforation had been operated in emergency after proper resuscitation and exploratory laprotomy was done. Type 2 and type 3 gall bladder perforation were treated conservatively initially and planned for lap cholecystectomy. Histopathological report was acute cholecystitis (n = 32), chronic cholecystitis (n = 23) and one carcinoma gall bladder. Most of the patients had gall bladder calculus. Eight patients had died due to sepsis and multiple organ failure. Mortality was mostly in type 1 gall bladder perforation. Early diagnosis and treatment is very important aspect in gall bladder perforation. Contrast enhanced CT [CECT] scan of abdomen may play an important role in diagnosis. Patient with gall bladder calculus with co morbid condition needs more attention for management. Mortality can be reduced by early diagnosis and management.
This is a preview of subscription content, log in to check access.
Access options
Buy single article
Instant access to the full article PDF.
US$ 39.95
Price includes VAT for USA
Subscribe to journal
Immediate online access to all issues from 2019. Subscription will auto renew annually.
US$ 99
This is the net price. Taxes to be calculated in checkout.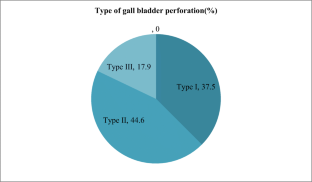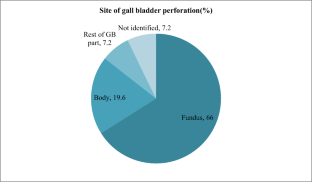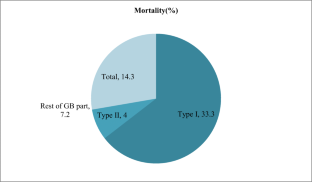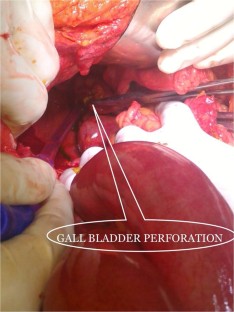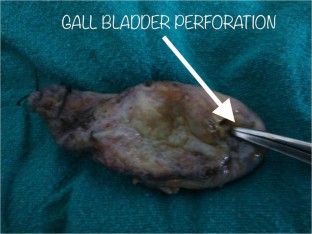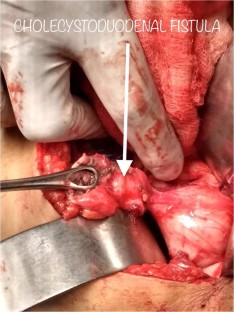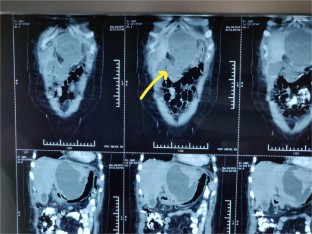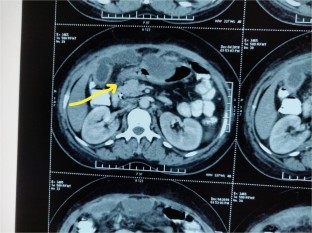 References
1.

Roslyn JJ, Thompson JE, Darin H, DenBesten L (1987) Risk factors for gall bladder perforation. Am J Gastroenterol 82:636–640

2.

Lennon F, Green WE (1983) Perforation of the gall bladder. A review of 32 cases. J R Coll Surg Edinb 30:270–274

3.

Ong CL, Wong TH, Rauff A (1991) Acute gall bladder perforation...a dielemma in early diagnosis. Gut 32:956–958

4.

Bedirli A, Sakrak O, Sozuer EM et al (2001) Factors effecting the complications in the natural history of acute cholecystitis. Hepatogastroenterology 48:1275–1278

5.

Abu -Dalu J, Urca I (1971) Acute cholewcystitis with perforation into the peritoneal cavity. Arch Surg 102:108–110

6.

Menakuru SR, Kaman L, Behera A, Singh R, Katariya RN (2004) Current management of gall bladder perforation. ANZ J Surg 74:843–846

7.

Wang AJ, Wang TE, Lin CC, Lin SC, Shih SC (2003) Clinical predictors of severe gall bladder complications in acute acalculouc cholecystitis. World J Gastroenterol 9:2821–2823

8.

Babb RR (1992) Acute acalculous cholecystitis. A review. J Clin Gastroenterol 15:238–241

9.

Glenn F, Moore SW (1942) Gangrene and perforation of the wall of the gall bladder. A sequele of acute cholecystitis. Arch Surg 44:677

10.

Niemeier OW (1934) Acute free perforation of the gall bladder. Ann Surg 99:922–924

11.

Yamada T, Alpers DH, Kalloo AN, Kaplowitz N, Owyang C, Powell DW (2009) Textbook of Gastroenterology, 5th edn. Blackwell Publishing Ltd. https://doi.org/10.1002/9781444303254

12.

Glenn F, Moore SW (1942) Gangrene and perforation of the wall of the gall bladder. Arch Surg 44:677–686

13.

Strohl EL, Diffenbaugh WG, Baker JH et al (1962) Collective reviews: gangrene and perforation of gall bladder perforation. Int Abstr Surg 114:1–7

14.

Deici H, Kara C et al (2006) Diagnosis and treatment of gall bladder perforation. World J Gastroenterol 12(48):7832–7836

15.

Kim PN, Lee KS, Kim IY, Bae WK, Lee BH (1994) Gall bladder perforation: comparison of US finding with CT. Abdom Imaging 19:239–242

16.

Van Sonnenberg E, D'Agostino H, Casola G et al (1990) Interventional gall bladder procedures. Radiol Clin N Am 28:1185–1190
Ethics declarations
Conflict of Interest
The authors declare that they have no conflict of interest.
Informed Consent
Taken from the patient.
Ethical Approval
Not needed.
Additional information
Publisher's Note
Springer Nature remains neutral with regard to jurisdictional claims in published maps and institutional affiliations.
About this article
Cite this article
Kundan, M., Chintamani & Kumari, A. Gall Bladder Perforation: Still an Enigma in Tropics. Indian J Surg 81, 277–283 (2019). https://doi.org/10.1007/s12262-019-01869-5
Received:

Accepted:

Published:

Issue Date:
Keywords
Diagnosis

Cholecystoduodenal fistula

Gall bladder perforation

Etiology

Management