Abstract
Voice and swallowing alterations are frequently reported after thyroidectomy, even in absence of nerve injury. The symptoms impair the quality of life. Aim of the study was to evaluate prospectively vocal function and swallowing symptom changes after total thyroidectomy in the early and late postoperative period. Prospective observational study. All consecutive patients scheduled for total thyroidectomy were included. Subjective voice evaluation using the Greek version of Voice Handicap Index (VHI) was performed preoperatively and at 2nd postoperative day, 1 month, 12 months postoperatively to assess the functional outcome. Laryngoscopy was performed at the same timing. Subjective swallowing evaluation using the Swallowing Impairment score (SIS) evaluated the swallowing symptoms. The study population included 125 patients. Total VHI score differed significantly between preoperative values and at 48 h and 1 year postoperatively (p = 0.000). Significant changes were observed for the functional and emotional domain of VHI between preoperative and 48 h postoperatively (p = 0.001, 0.003, respectively). There were statistically significant changes for physical domain of VHI between preoperative values and values at 48 h and 1 year (p = 0.000, 0.001, respectively). Regarding the swallowing symptoms, the mean postoperative score at 1 month did not differ significantly from the mean preoperative score (p = 0.103). Swallowing alterations showed a tendency to increase 48 h postoperatively and decreased thereafter. Swallowing score at 1 year postoperatively was statistical significant lower compared to preoperative values. Even with intact laryngeal nerves, transient voice and swallowing alterations may occur after total thyroidectomy. Patients should be informed about these mild changes to lower anxiety following the operation.
This is a preview of subscription content, log in to check access.
Access options
Buy single article
Instant access to the full article PDF.
US$ 39.95
Price includes VAT for USA
Subscribe to journal
Immediate online access to all issues from 2019. Subscription will auto renew annually.
US$ 99
This is the net price. Taxes to be calculated in checkout.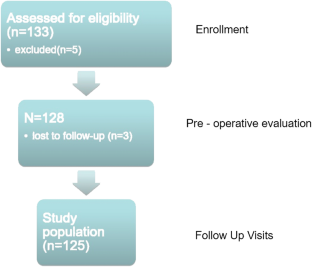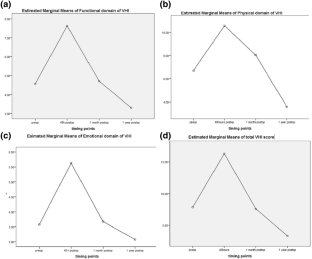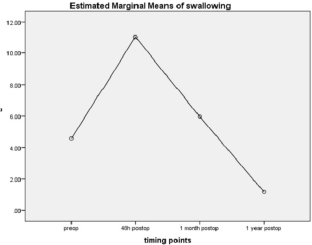 References
1.

Chandrasekhar SS, Randolph GW, Seidman MD, Rosenfeld RM, Angelos P, Barkmeier-Kraemer J, Benninger MS, Blumin JH, Dennis G, Hanks J, Haymart MR, Kloos RT, Seals B, Schreibstein JM, Thomas MA, Waddington C, Warren B, Robertson PJ, American Academy of Otolaryngology-Head and Neck Surgery (2013) Clinical practice guideline: improving voice outcomes after thyroid surgery. Otolaryngol Head Neck Surg 148:S1–S37

2.

Hong KH, Kim YK (1997) Phonatory characteristics of patients undergoing thyroidectomy without laryngeal nerve injury. Otolaryngol Head Neck Surg 117:399–404

3.

de Pedro NI, Fae A, Vartanian JG et al (2006) Voice and vocal self-assessment after thyroidectomy. Head Neck 28:1106–1114

4.

Stojadinovic A, Henry LR, Howard RS, Gurevich-Uvena J, Makashay MJ, Coppit GL, Shriver CD, Solomon NP (2008) Prospective trial of voice outcomes after thyroidectomy: evaluation of patient-reported and clinician-determined voice assessments in identifying postthyroidectomy dysphonia. Surgery 143:732–742

5.

Scerrino G, Inviati A, Di Giovanni S et al (2013) Esophageal motility changes after thyroidectomy; possible associations with postoperative voice and swallowing disorders: preliminary results. Otolaryngol Head Neck Surg 148:926–932

6.

Lombardi CP, Raffaelli M, D'Alatri L et al (2006) Voice and swallowing changes after thyroidectomy in patients without inferior laryngeal nerve injuries. Surgery 140:1026–1032 discussion 1032-1024

7.

Lombardi CP, Raffaelli M, De Crea C et al (2009) Long-term outcome of functional post-thyroidectomy voice and swallowing symptoms. Surgery 146:1174–1181

8.

Tae K, Kim KY, Yun BR, Ji YB, Park CW, Kim DS, Kim TW (2012) Functional voice and swallowing outcomes after robotic thyroidectomy by a gasless unilateral axillo-breast approach: comparison with open thyroidectomy. Surg Endosc 26:1871–1877

9.

Maeda T, Saito M, Otsuki N, Morimoto K, Takahashi M, Iwaki S, Inoue H, Tomoda C, Miyauchi A, Nibu KI (2013) Voice quality after surgical treatment for thyroid cancer. Thyroid 23:847–853

10.

Lombardi CP, Raffaelli M, D'Alatri L et al (2008) Video-assisted thyroidectomy significantly reduces the risk of early postthyroidectomy voice and swallowing symptoms. World J Surg 32:693–700

11.

Kark AE, Kissin MW, Auerbach R, Meikle M (1984) Voice changes after thyroidectomy: role of the external laryngeal nerve. Br Med J 289:1412–1415

12.

Helidoni ME, Murry T, Moschandreas J, Lionis C, Printza A, Velegrakis GA (2010) Cross-cultural adaptation and validation of the voice handicap index into Greek. J Voice 24:221–227

13.

Jacobson BHJA, Grywalski C et al (1997) The Voice Handicap Index (VHI): development and validation. Am J Speech Lang Pathol 6:66–70

14.

Silva IC, Netto Ide P, Vartanian JG, Kowalski LP, Carrara-de AE (2012) Prevalence of upper aerodigestive symptoms in patients who underwent thyroidectomy with and without the use of intraoperative laryngeal nerve monitoring. Thyroid 22:814–819

15.

Song CM, Yun BR, Ji YB, Sung ES, Kim KR, Tae K (2016) Long-term voice outcomes after robotic thyroidectomy. World J Surg 40:110–116

16.

Mohil RS, Desai P, Narayan N, Sahoo M, Bhatnagar D, Venkatachalam VP (2011) Recurrent laryngeal nerve and voice preservation: routine identification and appropriate assessment—two important steps in thyroid surgery. Ann R Coll Surg Engl 93:49–53

17.

Wasserman JM, Sundaram K, Alfonso AE, Rosenfeld RM, Har-El G (2008) Determination of the function of the internal branch of the superior laryngeal nerve after thyroidectomy. Head Neck 30:21–27

18.

Pereira JA, Girvent M, Sancho JJ, Parada C, Sitges-Serra A (2003) Prevalence of long-term upper aerodigestive symptoms after uncomplicated bilateral thyroidectomy. Surgery 133:318–322

19.

Grover G, Sadler GP, Mihai R (2013) Morbidity after thyroid surgery: patient perspective. Laryngoscope 123:2319–2323

20.

Holler T, Anderson J (2014) Prevalence of voice and swallowing complaints in preoperative thyroidectomy patients: a prospective cohort study. J Otolaryngol Head Nrck Surg 43:28. https://doi.org/10.1186/s40463-014-0028-4

21.

Lombardi CP, D'Alatri L, Marchese MR et al (2012) Prospective electromyographic evaluation of functional postthyroidectomy voice and swallowing symptoms. World J Surg 36:1354–1360

22.

Nasiri S, Shafag S, Khorgami Z, Sodagari N, Aminian A, Hedayat A (2013) Does corticosteroid have any beneficial effect on voice change after thyroidectomy? Am Surg 79:1258–1262

23.

Lachanas VA, Exarchos S, Tsiouvaka S, Tsea M, Hajiioannou JK, Skoulakis CE, Bizakis JG (2014) Does perioperative dexamethasone affect voice-related quality of life after thyroidectomy? Eur Arch Otorhinolaryngol 271:3073–3076

24.

Worni M, Schudel HH, Seifert E, Inglin R, Hagemann M, Vorburger SA, Candinas D (2008) Randomized controlled trial on single dose steroid before thyroidectomy for benign disease to improve postoperative nausea, pain, and vocal function. Ann Surg 248:1060–1066

25.

Vicente DA, Solomon NP, Avital I, Henry LR, Howard RS, Helou LB, Coppit GL, Shriver CD, Buckenmaier CC, Libutti SK, Shaha AR, Stojadinovic A (2014) Voice outcomes after total thyroidectomy, partial thyroidectomy, or non-neck surgery using a prospective multifactorial assessment. J Am Coll Surg 219:152–163

26.

Sabaretnam M, Mishra A, Chand G, Agarwal G, Agarwal A, Verma AK, Mishra SK (2012 Jun) Assessment of swallowing function impairment in patients with benign goiters and impact of thyroidectomy: a case control study. World J Surg 36(6):1293–1299
Ethics declarations
The study was conducted after approval of the Institutional Ethics Committee. All clinical investigations were conducted in accordance with the guidelines in the Declaration of Helsinki.
Conflict of Interest
The authors declare that they have no conflict of interest.
Additional information
Publisher's Note
Springer Nature remains neutral with regard to jurisdictional claims in published maps and institutional affiliations.
Appendix
Appendix
About this article
Cite this article
Hajiioannou, J.K., Sioka, E., Tsiouvaka, S. et al. Impact of Uncomplicated Total Thyroidectomy on Voice and Swallowing Symptoms: a Prospective Clinical Trial. Indian J Surg 81, 564–571 (2019). https://doi.org/10.1007/s12262-019-01865-9
Received:

Accepted:

Published:

Issue Date:
Keywords
Total thyroidectomy

Voice handicap index

Swallowing disorders

Thyroid surgery

Voice disorders