Abstract
Immediate breast reconstruction surgery (IBRS) with a sub-pectoral placement of implant improves quality of life of patients undergoing a mastectomy. Implant-based IBRS with autologous lower dermal sling (ALDS) procedure provides an effective surgical alternative to acellular dermal matrices. However, the influence of this procedure on radiation therapy (RT) outcomes remains unclear. This study aims at investigating post-surgery complications after 1 year in patients who have undergone IBRS-ALDS and RT. In this single-institution retrospective study, 78 implant-based IBRS patients with data available for a minimum of 1-year follow-up were stratified into group A (n = 40; IBRS) and group B (n = 38; IBRS + RT). Based on the use of ALDS procedure, group A patients were further stratified into sub-groups A1 (conventional IBRS; n = 21) and A2 (ALDS-IBRS; n = 19). Similarly, group B patients were sub-stratified into sub-groups B1 (conventional IBRS + RT; n = 18) and B2 (ALDS-IBRS + RT; n = 20). Clinical assessment and patient-reported outcome measures (PROMs) after 1-year post-surgery were conducted using Baker classification and BREAST-Q questionnaire, respectively. Patients in sub-group B1 exhibited higher percentages of overall major complications (41.6%) when compared to sub-group B2 (8.2%). Capsular contracture (12.5%) and reconstruction failure (20.8%) rates were higher for sub-group B1 vis-a-vis sub-group B2. Superior breast reconstruction outcomes with psycho-social well-being were observed in group B patients in comparison to group A (p < 0.05). Preliminary outcomes after a 1-year follow-up indicate that patients undergoing ALDS-IBRS exhibit reduced rate of RT-associated complications. IBRS-ALDS may obviate the need of ADMs in low-resource settings.
This is a preview of subscription content, log in to check access.
Access options
Buy single article
Instant access to the full article PDF.
US$ 39.95
Price includes VAT for USA
Subscribe to journal
Immediate online access to all issues from 2019. Subscription will auto renew annually.
US$ 99
This is the net price. Taxes to be calculated in checkout.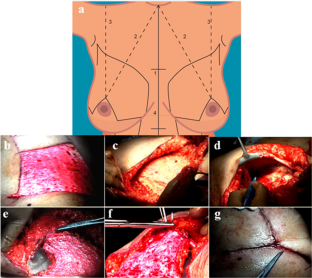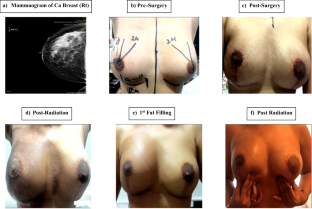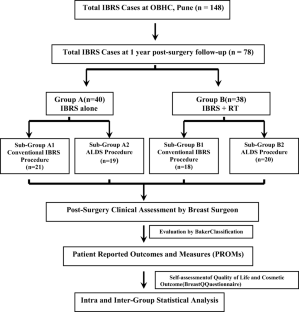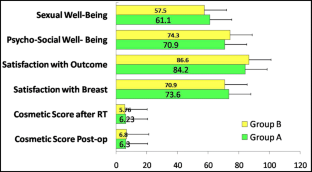 Abbreviations
BC:

Breast cancer

IBRS:

Immediate breast reconstruction surgery

ADMs:

Acellular dermal matrices

ALDS:

Autologous lower dermal sling

RT:

Radiation therapy

OBHC:

Orchids Breast Health Clinic

3D-CRT:

Three-dimensional conformal radiotherapy

PROMs:

Patient-reported outcome measures
References
1.

Ferlay J, Soerjomataram I, Dikshit R, Eser S, Mathers C, Rebelo M, Parkin DM, Forman D, Bray F (2015) Cancer incidence and mortality worldwide: sources, methods and major patterns in GLOBOCAN 2012. Int J Cancer 136:E359–E386

2.

Rajaraman P, Anderson BO, Basu P (2015) Recommendations for screening and early detection of common cancers in India. Lancet Oncol 16(7):e352–e361

3.

Agarwal G, Ramakant P (2008) Breast Cancer in India: the current scenario and challenges for the future. Breast Care 3:21–27

4.

Dragun AE, Huang B, Tucker TC, Spanos WJ (2012) Increasing mastectomy rates among all age groups for early stage breast cancer: a 10-year study of surgical choice. Breast J 18(4):318–325

5.

Djohan R, Gage E, Bernard S (2008) Breast reconstruction options following mastectomy. Cleve Clin J Med 75(Suppl. 1):S17–S23

6.

Chun YS, Verma K, Rosen H, Lipsitz S, Morris D, Kenney P, Eriksson E (2010) Implant-based breast reconstruction using acellular dermal matrix and the risk of postoperative complications. Plast Reconstr Surg 125(2):429–436

7.

Goyal A, Wu JM, Chandran VP, Reed MW (2011) Outcome after autologous dermal sling-assisted immediate breast reconstruction. Br J Surg 98(9):1267–1272

8.

Whelan TJ, Julian J, Wright J, Jadad AR, Levine ML (2000) Does locoregional radiation therapy improve survival in breast cancer? A meta-analysis. J Clin Oncol 18(6):1220–1229

9.

Van de Steene J, Soete G, Storme G (2000) Adjuvant radiotherapy for breast cancer significantly improves overall survival: the missing link. Radiother Oncol 55(3):263–272

10.

Clarke M, Collins R, Darby S, Collins R, Darby S, Davies C, Elphinstone P, Evans E, Godwin J, Gray R, Hicks C, James S, MacKinnon E, McGale P, McHugh T, Peto R, Taylor C, Wang Y, Early Breast Cancer Trialists' Collaborative Group (EBCTCG) (2005) Effects of radiotherapy and of differences in the extent of surgery for early breast cancer on local recurrence and 15-year survival: an overview of the randomized trials. Lancet 366(9503):2087–2006

11.

Momoh AO, Ahmed R, Kelley BP, Aliu O, Kidwell KM, Kozlow JH, Chung KC (2014) A systematic review of complications of implant-based breast reconstruction with pre- reconstruction and post-reconstruction radiation therapy. Ann SurgOncol 21(1):118–124

12.

Barber MD, Williams L, Anderson ED, Neades GT, Raine C, Young O, Kulkarni D, Young I, Dixon JM (2015) Outcome of the use of acellular-dermal matrix to assist implant-based breast reconstruction in a single clinic. Eur J Surg Oncol 41(1):100–105

13.

Spear SL, Baker JL Jr (1995) Classification of capsular contracture after prosthetic breast reconstruction. Plast Reconstr Surg 96(5):1119–1124

14.

Pusic AL, Klassen AF, Scott AM, Klok JA, Cordeiro PG, Cano SJ (2009) Development of a new patient-reported outcome measure for breast surgery: the BREAST-Q. Plast Reconstr Surg 124(2):345–353

15.

King IC, Harvey JR, Bhaskar P (2014) One-stage breast reconstruction using the inferior dermal flap, implant and free nipple graft. Aesthet Plast Surg 38(2):358–364

16.

Gardani M, Bertozzi N, Grieco MP, Pesce M, Simonacci F, Santi P, Raposio E (2017) Breast reconstruction with anatomical implants: a review of indications and techniques based on current literature. Ann Med Surg (Lond) 21:96–04

17.

Nava MB, Pennati AE, Lozza L, Spano A, Zambetti M, Catanuto G (2011) Outcome of different timings of radiotherapy in implant-based breast reconstructions. Plast Reconstr Surg 128(2):353–359

18.

Gabriel SE, Woods JE, O'Fallon WM, Beard CM, Kurland LT, Melton LJ 3rd (1997) Complications leading to surgery after breast implantation. N Engl J Med 336(10):677–682

19.

Vardanian AJ, Clayton JL, Roostaeian J, Shirvanian V, Da Lio A, Lipa JE, Crisera C, Festekjian JH (2011) Comparison of implant-based immediate breast reconstruction with and without acellular dermal matrix. Plast Reconstr Surg 128(5):403e–410e

20.

Glasberg SB, Light D (2012) AlloDerm and Strattice in breast reconstruction: a comparison and techniques for optimizing outcomes. Plast Reconstr Surg 129(6):1223–1233

21.

Ohkuma R, Buretta KJ, Mohan R, Rosson GD, Rad AN (2013) Initial experience with the use of foetal/neonatal bovine acellular dermal collagen matrix (SurgiMend™) for tissue-expander breast reconstruction. J Plast Reconstr Aesthet Surg 66(9):1195–1101

22.

Nahabedian M (2009) AlloDerm performance in the setting of prosthetic breast surgery, infection and irradiation. Plast Reconstr Surg 124(6):1743–1753

23.

Spear SL, Seruya M, Rao SS, Rottman S, Stolle E, Cohen M, Rose KM, Parikh PM, Nahabedian MY (2012) Two-stage prosthetic breast reconstruction using AlloDerm including outcomes of different timings of radiotherapy. Plast Reconstr Surg 130(1):1–9

24.

Mitchell RE (2013) Porcine acellular dermis–assisted breast reconstruction: influence of adjuvant radiotherapy on complications and outcomes. Plast Reconstr Surg Glob Open 1(8):e77

25.

Pestana IA, Campbell DC, Bharti G, Thompson JT (2013) Factors affecting complications in radiated breast reconstruction. Ann Plast Surg 70(5):542–545

26.

Weichman KE, Cemal Y, Albornoz CR, McCarthy CM, Pusic AL, Mehrara BJ, Disa JJ (2013) Unilateral preoperative chest wall irradiation in bilateral tissue expander breast reconstruction with acellular dermal matrix: a prospective outcomes analysis. Plast Reconstr Surg 131(5):921–927

27.

Moyer HR, Pinell-White X, Losken A (2014) The effect of radiation on acellular dermal matrix and capsule formation in breast reconstruction: clinical outcomes and histologic analysis. Plast Reconstr Surg 133(2):214–221

28.

Bostwick J (2009) Prophylactic (risk-reducing) mastectomy and reconstruction. In: Bostwick J (ed) Plastic and Reconstructive Breast Surgery, Vol II. Quality Medical Publishing, St Louis, pp 1369–1373

29.

Kronowitz SJ, Robb GL (2009) Radiation therapy and breast reconstruction: a critical review of the literature. Plast Reconstr Surg 124(2):395–308

30.

Chang DW, Barnea Y, Robb GL (2008) Effects of an autologous flap combined with an implant for breast reconstruction: an evaluation of 1000 consecutive reconstructions of previously irradiated breasts. PlastReconstr Surg 122(2):356–362
Acknowledgments
The study authors would like to thank all participants who willingly participated in this study. We also acknowledge the unstinting support of the Bajaj Auto Ltd. for providing support to research activities at OBHC, Pune. The contribution of Laxmi Shekhawat in BREAST-Q analysis is acknowledged. We are grateful to the MAPI Research Trust for the permission to use BREAST-Q (http://www.mapitrust.org). We also thank Prof. L.S. Shashidhara (Indian Institute of Science Education and Research, Pune) for the suggestions and advice throughout the work. We would also like to thank the management and staff of Ruby Hall Clinic, Pune, where all surgeries were performed.
Ethics declarations
Conflict of interest
The authors declare that they have no conflict of interest.
Additional information
Publisher's Note
Springer Nature remains neutral with regard to jurisdictional claims in published maps and institutional affiliations.
Electronic supplementary material
About this article
Cite this article
Koppiker, C.B., Noor, A.U., Dixit, S. et al. Implant-Based Breast Reconstruction with Autologous Lower Dermal Sling and Radiation Therapy Outcomes. Indian J Surg 81, 543–551 (2019). https://doi.org/10.1007/s12262-018-1856-7
Received:

Accepted:

Published:

Issue Date:
Keywords
Immediate breast reconstruction surgery

Autologous lower dermal sling

Radiation therapy

Patient-reported outcome measures

Breast cancer