Abstract
Lid loading with upper eyelid gold weight implants is one of the more accepted ways of treating facial paralysis-related lagophthalmos. This study evaluates the short- and long-term outcomes of the technique in terms of objective and subjective functional and aesthetic outcomes. Two groups of 10 patients in each group were included in the study for prospective and retrospective evaluation of outcome of upper eyelid gold weight implant in Indian ethnicity. Assessment of the weight and dimension of gold implant was done in both sexes along with an evaluation of patient satisfaction, medical observations and ophthalmological assessment for corneal integrity, symmetry and exposure. Chi-square test, Friedman's test and Wilcoxon rank-sum (Mann–Whitney) test. The mean weight–length of the implant for appropriate correction was noted as 1.12 g (range 0.9–1.3 g) and 17.8 mm (range 16–20 mm). Initial postsurgical congestion and eyelid oedema was near universal. Comparing the short-term and long-term assessments, palpebral fissure height reduction and eye closure was noted as stable and all subjective parameters were relatively consistent. Nineteen of 20 patients reported satisfaction with the cosmetic and functional results. Upper eyelid loading by gold weight implantation results in consistent and sustained improvement for eye closure in patients with facial paralysis.
This is a preview of subscription content, log in to check access.
Access options
Buy single article
Instant access to the full article PDF.
US$ 39.95
Price includes VAT for USA
Subscribe to journal
Immediate online access to all issues from 2019. Subscription will auto renew annually.
US$ 99
This is the net price. Taxes to be calculated in checkout.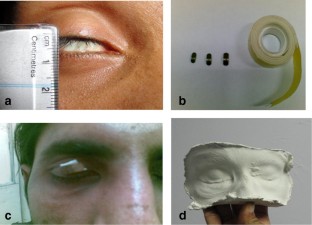 References
1.

Tower RN, Dailey RA (2004) Gold weight implantation: a better way. Ophthal Plast Reconstr Surg 20(3):202–206

2.

Dalkiz M, Gokce HS, Aydin A, Beydemir B (2007) Gold weight implantation for rehabilitation of the paralysed eyelid. Int J Oral Maxillofac Surg 36(6):522–526

3.

Lavy JA, East CA, Bamber A, Andrews PJ (2004) Gold weight implants in the management of lagophthalmos in facial palsy. Clin Otolaryngol Allied Sci 29(3):279–283

4.

Yu Y, Sun J, Chen L, Liu L (2011) Lid loading for treatment of paralytic lagophthalmos. Aesthet Plast Surg 35(6):1165–1171

5.

Abenavoli FM, De Gregorio A, Corelli R (2006) Upper eye lid loading with autologous cartilage in paralytic lagophthalmos. Plast Reconstr Surg 117(7):2511–2512

6.

Harrisberg BP, Singh RP, Croxson GR, Taylor RF, McCluskey PJ (2001) Long-term outcome of gold eyelid weights in patients with facial nerve palsy. Otol Neurotol 22(3):397–400

7.

Razfar A, Afifi AM, Manders EK, Myers EN, Johnson JT, Ferris RL, Deleyiannis FWB (2009) Ocular outcomes after gold weight placement and facial nerve resection. Otolaryngol Head Neck Surg 140(1):82–85

8.

Doyle E, Mavrikakis I, Lee EJ, Emerson R, Rainey AJ, Brittain GP (2005) Type IV hypersensitivity reactions to upper lid gold weight implants-is patch testing necessary. Orbit 24(3):205–210

9.

Bair RL, Harris GJ, Lyon DB, Komorowski RA (1995) Noninfectious inflammatory response to gold weight eyelid implants. Ophthal Plast Reconstr Surg 11(3):209–214

10.

Kao C-H, Moe KS (2004) Retrograde weight implantation for correction of lagophthalmos. Laryngoscope 114(9):1570–1575

11.

Kim DW, Ali MJ (2007) Modified retrograde approach to upper eyelid static loading. Laryngoscope 117(12):2110–2114

12.

Terng SC, Rijnders W, Kon M, Werker PM (2000) Custom-made gold plate prosthesis in the upper eyelid in patients with facial paralysis: improved eyelid closure with less effects on other eye complaints. Ned Tijdschr Geneeskd 144(17):800–804

13.

Rofagha S, Seiff SR (2010) Long-term results for the use of gold eyelid load weights in the management of facial paralysis. Plast Reconstr Surg 125(1):142–149

14.

Terzis JK, Kyere SA (2008) Experience with the gold weight and palpebral spring in the management of paralytic lagophthalmos. Plast Reconstr Surg 121(3):806–815

15.

Jayashankar N, Morwani KP, Shaan MJ, Bhatia SR, Patil KT (2008) Customized gold weight eyelid implantation in paralytic lagophthalmos. J Laryngol Otol 122(10):1088–1091

16.

Schrom T, Buchal A, Ganswindt S, Knipping S, Knippping S (2009) Patient satisfaction after lid loading in facial palsy. Eur Arch Otorhinolaryngol 266(11):1727–1731

17.

73.Schrom T, Wernecke K, Thelen A, Knipping S (2007) Results after lidloading with rigid gold weights. A meta-analysis. Laryngorhinootologie 86(2):117–123

18.

Marra S, Leonetti JP, Konior RJ, Raslan W (1995) Effect of magnetic resonance imaging on implantable eyelid weights. Ann Otol Rhinol Laryngol 104(6):448–452

19.

Schrom T, Thelen A, Asbach P, Bauknecht H-C (2006) Effect of 7.0 Tesla MRI on upper eyelid implants. Ophthal Plast Reconstr Surg 22(6):480–482

20.

Canady JW, Meine J, Thompson SA, Yuh WT (1993) Effects of magnetic resonance imaging fields on gold eyelid loads. Ann Plast Surg 31(1):76–77

21.

Saleh GM, Mavrikakis I, de Sousa J-L, Xing W, Malhotra R (2007) Corneal astigmatism with upper eyelid gold weight implantation using the combined high pretarsal and levator fixation technique. Ophthal Plast Reconstr Surg 23(5):381–383

22.

Pausch N, Sterker I, Hemprich A, Frerich B (2006) Restoration of lid function in peripheral facial palsy by implanting gold weights. Mund Kiefer Gesichtschir 10(3):135–140

23.

Mavrikakis I, Beckingsale P, Lee E, Riaz Y, Brittain P (2006) Changes in corneal topography with upper eyelid gold weight implants. Ophthal Plast Reconstr Surg 22(5):331–334

24.

Goldhahn A, Schrom T, Berghaus A, Krause A, Duncker G (1999) Corneal astigmatism as a special complication after lid-loading in patients with lagophthalmos. Ophthalmologe 96(8):494–497

25.

Maurer J, Madani M, Mann W (1997) Experiences with upper eyelid gold implantation in facial paralysis. Laryngorhinootologie 76(2):106–109

26.

Linder TE, Pike VE, Linstrom CJ (1996) Early eyelid rehabilitation in facial nerve paralysis. Laryngoscope 106(9 Pt 1):1115–1118

27.

Neuman AR, Weinberg A, Sela M, Peled IJ, Wexler MR (1989) The correction of seventh nerve palsy lagophthalmos with gold lid load (16 years experience). Ann Plast Surg 22(2):142–145

28.

Foster JA, Perry JD, Cahill KV, Holck DEE, Kugler L (2004) Processed human pericardium barrier for gold weight implantation. Ophthal Plast Reconstr Surg 20(2):107–109

29.

Lessa S, Nanci M, Sebastiá R, Flores E (2009) Treatment of paralytic lagophthalmos with gold weight implants covered by levator aponeurosis. Ophthal Plast Reconstr Surg 25(3):189–193
Ethics declarations
Conflict of Interest
The authors declare that they have no conflict of interest.
Additional information
Publisher's Note
Springer Nature remains neutral with regard to jurisdictional claims in published maps and institutional affiliations.
About this article
Cite this article
Verma, H., Koiloorveetil, S.P., Jain, V. et al. Upper Eyelid Gold Weight Implantation for Facial Nerve Palsy—Short-Term and Long-Term Results. Indian J Surg 81, 525–530 (2019). https://doi.org/10.1007/s12262-018-1854-9
Received:

Accepted:

Published:

Issue Date:
Keywords
Lagophthalmos

Gold weight implant

Facial nerve

Lid loading