Abstract
The recurrent laryngeal nerve (RLN) and external branch of superior laryngeal nerve (EBSLN) and parathyroids have to be deliberately identified and preserved during each and every thyroidectomy. The RLN is vulnerable to injury at three sites during surgery. Various approaches have been adopted by surgeons the world over to identify and preserve the RLN. Here, we have adopted the 'inferior approach' (IA), which is an easy and a fruitful one. To safely identify and preserve the RLN in the neck using the inferior approach, an intra-operative analysis of RLN were conducted in 393 patients who underwent thyroidectomy for various indications at a tertiary care centre in North Malabar, Kerala, from January 2004 to December 2011 prospectively. The RLN was identified and preserved by inferior approach. Three hundred ninety-three cases were assessed (343 total and 50 hemi thyroidectomy); 358 and 375 RLN on left and right and 1 NRLN were identified. 64.88% of RLN was underneath, 7.14% was superficial to the main trunk and 27.97% was in between the branches of ITA. RLN enters the larynx mainly as a single trunk in 624 cases (85.11%), while it had branches in 110 cases (14.89%). Eighty-four cases (76.3%) had two branches and 26 cases (23.7%) had three branches. All nerves were identified and preserved using the inferior approach. We were unable to identify 2 RLN due to extensive adhesions and fibrosis of thyroiditis and malignancy. Fourteen patients had temporary hoarseness and no permanent vocal cord palsy was reported. Every thyroid surgeon should be aware of the anatomical variations of the RLN. Inferior approach is a safe technique for its identification and preservation.
This is a preview of subscription content, log in to check access.
Access options
Buy single article
Instant access to the full article PDF.
US$ 39.95
Price includes VAT for USA
Subscribe to journal
Immediate online access to all issues from 2019. Subscription will auto renew annually.
US$ 99
This is the net price. Taxes to be calculated in checkout.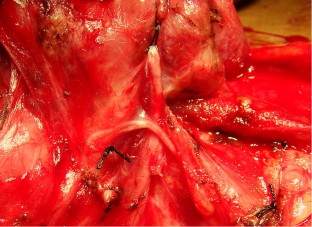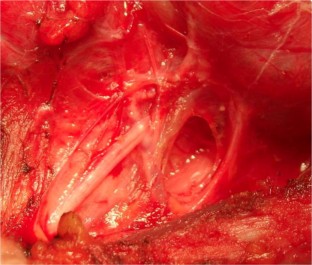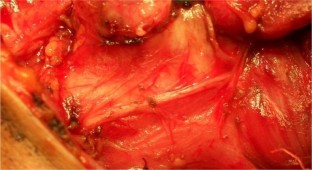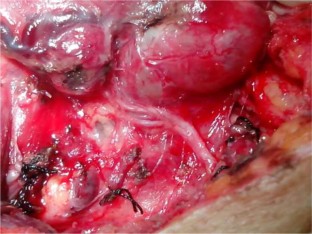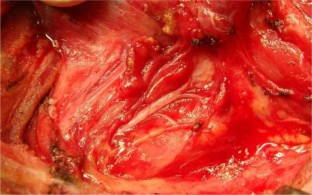 References
1.

Sosa JA, Bowman HM, Tielsch JM, Powe NR, Gordon TA, Udelsman R (1998) The importance of surgeon experience for clinical and economic outcomes from thyroidectomy. Ann Surg 228(3):320

2.

Giddings AE (1998) The history of thyroidectomy. J R Soc Med 91(33_suppl):3–6

3.

Karlan MS, Catz B, Dunkelman D, Uyeda RY, Gleischman S (1984) A safe technique for thyroidectomy with complete nerve dissection and parathyroid preservation. Head Neck 6(6):1014–1019

4.

Delbridge L, Reeve TS, Khadra M (1992) Total thyroidectomy: the technique of capsular dissection ANZ. J Surg 62(2):96–99

5.

Kaplan EL, Salti GI, Roncella M, Fulton N, Kadowaki M (2009) History of the recurrent laryngeal nerve: from Galen to Lahey. World J Surg 33(3):386–393

6.

Zakaria HM, Al Awad NA, Al Kreedes AS, Al-Mulhim AM, Al-Sharway MA, Hadi MA, Al Sayyah AA (2011) Recurrent laryngeal nerve injury in thyroid surgery. Oman Med J 26(1):34

7.

Haller JM, Iwanik M, Shen FH (2012) Clinically relevant anatomy of recurrent laryngeal nerve. Spine 37(2):97–100

8.

Chiang FY, Lu IC et al (2010) Anatomical variations of RLN during thyroid surgery. Kaohsiung J Med Sci 26(11):575–583

9.

Hisham AN, Lukman MR (2002) Recurrent laryngeal nerve in thyroid surgery: a critical appraisal. ANZ J Surg 72(12):887–889

10.

Mahmadlou R, Aghasi MR, Sepehrvand N (2013) Identifying non recurrent laryngeal nerve: preventing a major risk of morbidity during thyroidectomy. Int J Prev Med 4(2):237–240

11.

Ma X, Han X, Liu T, Kou C (2014) Methods for exposure of recurrent laryngeal nerves in thyroid surgery. Zhonghua Er Bi Yan Hou Tou Jing Wai Ke Za Hi 49(10):861–863

12.

Cheng SP, Lee JJ, Liu TP, Lee KS, Liu CL (2013) Pre operative ultrasonography assessment of vocal cord movement during thyroid and parathyroid surgery. Clin Thyroidol Arch 25(5):113–115 Usg for vocal cord assessment

13.

Chintamani (2010) Ten commandments of safe and optimum thyroid surgery. I J S 72(6):421–426

14.

Varaldo E, Ansaldo GL, Mascherini M, Cafiero F, Minuto MN (2014) Neurological complications in thyroid surgery: a surgical point of view on laryngeal nerves. Front Endocrinol 5

15.

Pelizzo MR, Toniato A, Gemo G (1998) Zuckerkandl's tuberculum: an arrow pointing to the recurrent laryngeal nerve (constant anatomical landmark). J Am Coll Surg 187(3):333–336

16.

Simon MM (1943) Recurrent laryngeal nerve in thyroid surgery: triangle for its recognition and protection. Am J Surg 60(2):212–220

17.

(2014) Vesalius on the anatomy and function of the recurrent laryngeal nerves, Lanska D J, J Hist Neurosci 23 (30:21–32)

18.

Thermann M, Feltkamp M, Elles W, Windhorst T (1998) Recurrent laryngeal nerve paralysis after thyroid gland operation etiology and consequences. German Chirurg 69:951–956

19.

Kwak HY et al (2016) Thermal injury of the recurrent laryngeal nerve by THUNDERBEAT during thyroid surgery; findings from a continuous intraoperative neuromonitoring in a porcine model. J Surg Res 200(1):177–182

20.

Steurer M, Passler C, Denk DM, Schneider B, Niederle B, Bigenzahn W (2002) Advantages of recurrent laryngeal nerve identification in thyroidectomy and parathyroidectomy and the importance of preoperative and postoperative laryngoscopic examination in more than 1000 nerves at risk. Laryngoscope 112(1):124–133. https://doi.org/10.1097/00005537-200201000-00022

21.

Lee YS, Son EJ Computarised tomography is useful in pre op identification of non recurrent laryngeal nerve

22.

Pradeep PV, Jayasree B, Harshita SS (2012) Close look at laryngeal nerves during thyroid study. A descriptive study of 584 nerves. Anat Res Int 2012

23.

Kandil E, Khalek MA, Aslam R, Friedlander P, Slakey D, Bellows CF (2011) Recurrent laryngeal nerve: significance of the anterior extralaryngeal branch. Surgery 149(6):820–824

24.

Serpell JW, Yeung MJ, Grodski S (2009) The motor fibers of the recurrent laryngeal nerve are located in the anterior extralaryngeal branch. Ann Surg 249(4):648–652 View at Publisher

25.

Casella C, Pata G, Nascimbeni R, Mittempergher F, Salerni B (2009) Does extralaryngeal branching have an impact on the rate of postoperative transient or permanent recurrent laryngeal nerve palsy? World J Surg 33(2):261–265

26.

Veyseller B, Aksoy F, Karataş A, Özturan O (2011) Effect of recurrent laryngeal nerve identification technique in thyroidectomy on recurrent laryngeal nerve paralysis and hypoparathyroidism. Arch Otolaryngol Head Neck Surg 137(9):897–900

27.

Miyauchi A, Masuoka H, Tomoda C, Takamura Y, Ito Y, Kobayashi K, Miya A (2012) Laryngeal approach to the recurrent laryngeal nerve involved by thyroid cancer at the ligament of Berry. Surgery 152(1):57–60

28.

Nyeki AR, Njock LR, Miloundja J, Vokwely JE, Bengono G (2015) Recurrent laryngeal nerve landmarks during thyroidectomy. Eur Ann Otorhinolaryngol Head Neck Dis 132(5):265–269

29.

Barczyński M, Konturek A, Pragacz K, Papier A, Stopa M, Nowak W (2014) Intraoperative nerve monitoring can reduce prevalence of recurrent laryngeal nerve injury in thyroid reoperations: results of a retrospective cohort study. World J Surg 38(3):599–606

30.

Dionigi G, Boni L et al (2010) Post operative laryngoscopy in thyroid surgery: proper timing to detect RLN injury. Langenbach Arch Surg 395:327–331
Acknowledgements
We sincerely thank all the patients without whom this study would not have been possible.
Ethics declarations
Conflict of Interest
The authors declare that they have no conflict of interests.
Additional information
Publisher's Note
Springer Nature remains neutral with regard to jurisdictional claims in published maps and institutional affiliations.
About this article
Cite this article
MP, S., S, A. & Jose, J. Inferior Approach: a Safe Method for Identification of Recurrent Laryngeal Nerve During Thyroidectomy. Indian J Surg 81, 474–478 (2019). https://doi.org/10.1007/s12262-018-1848-7
Received:

Accepted:

Published:

Issue Date:
Keywords
Inferior thyroid artery

Inferior approach

Non-recurrent laryngeal nerve

Recurrent laryngeal nerve

Thyroidectomy