Abstract
Obscure gastrointestinal (GI) bleeding refers to intermittent or continuous loss of blood where the source is not identified after upper endoscopy and colonoscopy. It may be occult or overt. Obscure GI bleeding accounts for 10% of total GI bleeding cases. The small intestine is the least common site of GI bleeding (5%).Vascular etiologies like arteriovenous malformations (AVM) are a common cause of obscure bleeding, commonly found in jejunum or right colon (80–90%) and rarely in ileum (8%). AVMs are usually seen in patients over 60 years of age and present as recurrent spontaneous bleeding or anaemia or remain asymptomatic; very rarely, they present as life threatening bleeding. Diagnosis of AVMs is challenging as they are often missed on endoscopies as well as during laparotomies. This makes massive, life-threatening obscure bleeding secondary to AVM a therapeutic challenge, as AVMs tend to rebleed spontaneously, if left untreated. We present a case of middle aged man with no previous comorbidities or GI bleeding, presenting acutely with massive, life-threatening obscure lower GI bleeding. Due to rapidly developing shock and acidosis, surgical management was undertaken. On emergency exploration, with on-table enteroscopy, a single AVM was detected in proximal ileum. It was successfully managed with localised resection.
This is a preview of subscription content, log in to check access.
Access options
Buy single article
Instant access to the full article PDF.
US$ 39.95
Price includes VAT for USA
Subscribe to journal
Immediate online access to all issues from 2019. Subscription will auto renew annually.
US$ 99
This is the net price. Taxes to be calculated in checkout.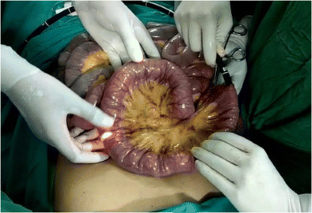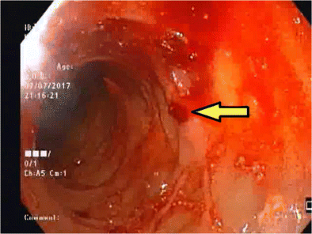 References
1.

Pennazio M, Spada C, Eliakim R, Keuchel M, May A, Mulder CJ, Rondonotti E, Adler SN, Albert J, Baltes P, Barbaro F, Cellier C, Charton JP, Delvaux M, Despott EJ, Domagk D, Klein A, McAlindon M, Rosa B, Rowse G, Sanders DS, Saurin JC, Sidhu R, Dumonceau JM, Hassan C, Gralnek IM (2015) Smallbowel capsule endoscopy and device-assisted enteroscopy for diagnosis and treatment of small-bowel disorders: European Society of Gastrointestinal Endoscopy (ESGE) Clinical Guideline. Endoscopy 47:352–376

2.

Zhang BL, Chen CX, Li YM (2012) Capsule endoscopy examination identifies dierent leading causes of obscure gastrointestinal bleeding in patients of dierent ages. Turk J Gastroenterol 23:220–225

3.

Huprich JE, Barlow JM, Hansel SL, Alexander JA, Fidler JL (2013) Multiphase CT enterography evaluation of small bowel vascular lesions. AJR 201:65–72

4.

Jackson CS, Gerson LB (2014) Management of gastrointestinal angiodysplastic lesions (GIADs): a systematic review and meta-analysis. Am J Gastroenterology 109(4):474–483

5.

Bollinger E, Raines D, Saitta P (2012) Distribution of bleeding gastrointestinal angioectasias in Western population. World J Gastroenterol 18(43):6235–6239

6.

Gunsar F, Yildiz C, Aydin A, Ozutemiz OA (2001) Angiodysplasia in a duodenal diverticulum as an unusual cause of upper gastrointestinal bleeding. Eur J Gastroenterol Hepatol 13:717–719

7.

Gunjan D, Sharma V, Rana SS, Bhasin DK (2014) Small bowel bleeding: a comprehensive review. Gastroenterol Rep 2:262–275
Ethics declarations
Conflict of Interest
The authors declare that they have no conflict of interest.
About this article
Cite this article
Bhosale, A.V., Kolte, S.S. & Sawant, V.S. Life Threatening Obscure Lower Gastrointestinal Bleeding, Secondary to Isolated Proximal Ileal AV Malformation Management with Intraoperative Enteroscopy and Resection. Indian J Surg 80, 618–620 (2018). https://doi.org/10.1007/s12262-018-1764-x
Received:

Accepted:

Published:

Issue Date:
Keywords
Obscure GI bleeding

Life-threatening GI bleeding

Arteriovenous malformations

Enteroscopy

Small-bowel bleeding