Abstract
Hemorrhoids are one of the most common anorectal disorders. Open hemorrhoidectomy (OH) is the gold standard surgical technique while stapled hemorrhoidopexy (SH) [procedure for prolapsed hemorrhoids (PPH)] is a newly developed method for the surgical management of hemorrhoids. A Medline, PubMed, and Cochrane data base search was performed. Relevant papers, e.g., randomized controlled trials, review, and meta-analysis from different parts of the world have shown stapled hemorrhoidopexy is less painful and it is associated with quicker recovery, but SH is associated with higher rates of skin tags, hemorrhoid recurrence, and prolapse recurrence than conventional hemorrhoidectomy. A randomized trial was conducted from March 2014 to March 2016 at M.Y.H. Hospital Indore tertiary care center. The aim of the study was to compare the early results in 100 patients randomly allocated to undergo either stapled or open hemorrhoidectomy. Patients with grade II and III hemorrhoids were randomly allocated to undergo either stapled (50 patients) or open (50 patients) hemorrhoidectomy. Post-operative pain was assessed by means of a visual analog scale (VAS). Recovery evaluation included return to pain-free defecation and normal activities. A 6-month clinical follow-up was obtained in all patients. Operation time for stapled hemorrhoidectomy was shorter (mean 35.8 mins [range 20 to 50] minutes versus 50.2 mins [range 30 to 60] minutes, p < 0.05). Mean (range) VAS scores in the stapled group were significantly lower (VAS score after 7 days: 2.2 [2 to 5] versus 3.3 [2 to 6], p < 0.05). Resumption of routine work was significantly faster in the stapled group (8.08 days versus 16.2 days, p = 0.001). At follow-up, 4 weeks and 4 months recurrence of symptoms and fecal urgency was present in 6/50 (12%) patients in the stapled group and 2/50 (4%) in the OH group (p < 0.05). Our initial results suggest that stapled hemorrhoidectomy is an effective treatment for symptomatic second and third degree hemorrhoids but with significant complication rates on follow-up in patients compared with traditional hemorrhoidectomy.
This is a preview of subscription content, log in to check access.
Access options
Buy single article
Instant access to the full article PDF.
US$ 39.95
Price includes VAT for USA
Subscribe to journal
Immediate online access to all issues from 2019. Subscription will auto renew annually.
US$ 99
This is the net price. Taxes to be calculated in checkout.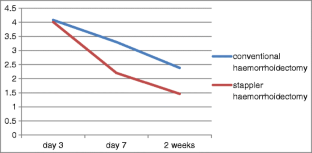 References
1.

Nisar PJ, Acheson AG, Neal KR et al (2004) Stapled haemorrhoidopexy compared with conventional haemorrhoidectomy: systematic review of randomized, controlled trials. Dis Colon Rectum 47(11):1837–1845

2.

Thejeswi P, Laxman YK, Ram K (2012) Comparison of surgical treatment of hemorrhoids—stapled versus open and closed hemorrhoidectomy. The Internet Journal of Surgery 28(2)

3.

Bikhchandani J, Agarwal PN, Kant R, Malik VK (2005) Randomized controlled trial to compare the early and mid-term results of stapled versus open haemorrhoidectomy. Am J Surg 189(1):56–60

4.

Hiremath B, Gupta S (2012) Stapled haemorrhoidopexy for haemorrhoids: a review of our early experience. Indian J Surg 74(2):163–165. doi:10.1007/s12262-011-0406-3

5.

Palimento D, Picchio M, Attanasio U et al (2003) Stapled and open haemorrhoidectomy: randomized controlled trial of early results. World J Surg 27(1):203–207

6.

Tjandra JJ, Chan MK (2007) Systematic review on the procedure for prolapse and haemorrhoids (stapled haemorrhoidopexy). Dis Colon Rectum 50(6):878–892

7.

Khan NF, Hussain Shah SS, Bokhari I, Mahboob S, Gulfam MA (2009) Outcome of stapled haemorrhoidectomy versus Milligan Morgan's haemorrhoidectomy. J Coll Physicians Surg Pak 19(9):561–565

8.

Mehigan BJ, Monson JR, Hartley JE (2000) Stapling procedure for haemorrhoids versus Milligan-Morgan haemorrhoidectomy: randomised controlled trial. Lancet 355(9206):728–725

9.

Ho YH, Cheong WK, Tsang C, Ho J, Eu KW, Tang CL et al (2000) Stapled hemorrhoidectomy-cost and effectiveness. Randomized, controlled trial including incontinence scoring, anorectal manometry, and endoanal ultrasound assessments at up to three months. Dis Colon Rectum 43(12):1666–1675

10.

Khalil KH, O'Bichere A, Sellu D (2000) Randomized clinical trial of sutured versus stapled closed haemorrhoidectomy. Br J Surg 87:1352–1355

11.

Simillis C, Thoukididou SN, Slesser AA, Rasheed S, Tan E, Tekkis PP (2015) Systematic review and network meta-analysis comparing clinical outcomes and effectiveness of surgical treatments for haemorrhoids. Br J Surg 102(13):1603–1618. doi:10.1002/bjs.9913

12.

Nisar PJ, Acheson AG, Neal KR, Scholefield JH (2004) Stapled hemorrhoidopexy compared with conventional hemorrhoidectomy: systematic review of randomized, controlled trials. Colon Rectum 47(11):1837–1845
Ethics declarations
Conflict of Interest
Authors Dr. Sumit Shukla, Dr. Ankur Maheshwari, and Dr. Brijesh Tiwari declare that they have no conflict of interest.
About this article
Cite this article
Shukla, S., Maheshwari, A. & Tiwari, B. Randomized Trial of Open Hemorrhoidectomy Versus Stapled Hemorrhoidectomy for Grade II/III Hemorrhoids. Indian J Surg 80, 574–579 (2018). https://doi.org/10.1007/s12262-017-1670-7
Received:

Accepted:

Published:

Issue Date:
Keywords
Stapled hemorrhoidopexy

Open hemorrhoidectomy

Hemorrhoids

MYH hospital

Randomized trial