Abstract
Essential Skills in the Management of Surgical Cases (ESMSC) is an international wet lab simulation course aimed at undergraduate students. It combines basic science workshops, case-based lectures and ex vivo skills modules, as well as in vivo dissections using a swine model. This study aims to evaluate the effectiveness of high-fidelity In Vivo Simulation-Based Learning for undergraduate level trainees. Also our goal was to compare the skill-based performance of final year students vs. more junior-level ones. Forty undergraduate delegates at clinical rotation level (male = 28, female = 12, mean age = 23.12, 22–24, SD = 0.69) attended this 2-day course in Athens. N = 1 (2.5 %) was year 3, N = 4 (10 %) were year 4, N = 23 (57.5 %) were year 5 and N = 12 (30 %) were year 6. N = 30 (75 %) came from Hellenic universities, N = 8 (20 %) from the UK and N = 2 (5 %) from Germany. N = 20 (50 %) attended the in vivo dissections module first, and then the ex vivo one (type A rotation), whereas N = 20 followed the reverse training sequence with the ex vivo dissection first, followed by the in vivo one (type B rotation). The mean global rating scores for type A rotation were better in both the in vivo by 0.10 (2.40 vs. 2.30) and ex vivo modules by 0.15 (2.85 vs. 2.70), though it did not reach statistical significance (p > 0.05). Furthermore, the mean improvement of performance, in the laparoscopic skills station for the type A rotation, was better compared to type B by 0.351 (2.00 vs. 1.65, p = 0.003). Year 6 students performed better in the laparoscopic station (2.00 vs. 1.75, p = 0.059), whereas years 3, 4 and 5 performed better in the in vivo (2.42 vs. 2.16, p = 0.157) as well as the ex vivo dissections (2.78 vs. 2.75, p = 0.832), though none of those comparisons reached statistical significance. Delegates seemed to appreciate and enjoy the in vivo dissections as reflected in the feedback (8.67/10, min = 6 and max = 10, SD = 1.79). Although medical students seem to appreciate in vivo dissections modules, currently, further evidence is needed to support their recommendation in the undergraduate level. Surgical skills should be part of the undergraduate curriculum to improve final year students' performance in the theatre.
This is a preview of subscription content, log in to check access.
Access options
Buy single article
Instant access to the full article PDF.
US$ 39.95
Price includes VAT for USA
Subscribe to journal
Immediate online access to all issues from 2019. Subscription will auto renew annually.
US$ 99
This is the net price. Taxes to be calculated in checkout.
References
1.

DaRosa DA, Folse JR, Reznick RK, Dunnington GL, Sachdeva AK (1996) Description and evaluation of the surgeons as educators course. J Am Coll Surg 183(5):499–505

2.

Qayumi AK, Cheifetz RE, Forward AD, Baird RM, Litherland HK, Koetting SE (1999) Teaching and evaluation of basic surgical techniques: the University of British Columbia experience. J Investig Surg 12(6):341–350

3.

Depypere L, De Jonghe L, Peetermans W, De Leyn P (2014) Does the implementation of European working time directive (EWTD) have an effect on surgical training in a Flemish teaching hospital network? Acta Chir Belg 114(5):299–303

4.

La Torre M, Caruso C (2013) The animal model in advanced laparoscopy resident training. Surg Laparosc Endosc Percutan Tech 23(3):271–275

5.

Minter RM, Amos KD, Bentz ML et al (2015) Transition to surgical residency: a multi-institutional study of perceived intern preparedness and the effect of a formal residency preparatory course in the fourth year of medical school. Acad Med 90(8):1116–1124

6.

Morgan H, Marzano D, Lanham M, Stein T, Curran D, Hammoud M (2014) Preparing medical students for obstetrics and gynecology milestone level one: a description of a pilot curriculum. Med Educ Online 19:25746

7.

Bridges M, Diamond DL (1999) The financial impact of teaching surgical residents in the operating room. Am J Surg 177(1):28–32

8.

Drosdeck J, Carraro E, Arnold M et al (2013) Porcine wet lab improves surgical skills in third year medical students. J Surg Res 184(1):19–25

9.

Sideris M, Papalois A, Tsoulfas G et al (2015) Developing an international combined applied surgical science and wet lab simulation course as an undergraduate teaching model. Biomed Res Int 2015:463987

10.

Golriz M, Hafezi M, Garoussi C et al (2013) Do we need animal hands-on courses for transplantation surgery? Clin Transpl 27(Suppl 25):6–15

11.

Narayanan SK, Cohen RC, Shun A (2014) Technical tips and advancements in pediatric minimally invasive surgical training on porcine based simulations. Pediatr Surg Int 30(6):655–661

12.

Ng YW, Fong YF (2013) Get "real" with hysteroscopy using the pig bladder: a "uterine" model for hysteroscopy training. Ann Acad Med Singap 42(1):18–23

13.

Profanter C, Perathoner A (2015) DOPS (direct observation of procedural skills) in undergraduate skills-lab: does it work? Analysis of skills-performance and curricular side effects. GMS Z Med Ausbild 32(4):Doc45

14.

Phillips AW, Madhavan A (2013) A critical evaluation of the intercollegiate surgical curriculum and comparison with its predecessor the "Calman" curriculum. J Surg Educ 70(5):557–562

15.

Meyers MO, Meyer AA, Stewart RD et al (2011) Teaching technical skills to medical students during a surgery clerkship: results of a small group curriculum. J Surg Res 166(2):171–175

16.

Naylor RA, Hollett LA, Valentine RJ et al (2009) Can medical students achieve skills proficiency through simulation training? Am J Surg 198(2):277–282

17.

Stelzer MK, Abdel MP, Sloan MP, Gould JC (2009) Dry lab practice leads to improved laparoscopic performance in the operating room. J Surg Res 154(1):163–166

18.

Dunkin B, Adrales GL, Apelgren K, Mellinger JD (2007) Surgical simulation: a current review. Surg Endosc 21(3):357–366

19.

Velázquez-Aviña J, Sobrino-Cossío S, Chávez-Vargas C, Sulbaran M, Mönkemüller K (2014) Development of a novel and simple ex vivo biologic ERCP training model. Gastrointest Endosc 80(6):1161–1167

20.

Haque S, Srinivasan S (2006) A meta-analysis of the training effectiveness of virtual reality surgical simulators. IEEE Trans Inf Technol Biomed 10(1):51–58

21.

Khoo LS (2015) Course review: the Aberdeen cadaveric hand trauma course. Ann Plast Surg 75(4):364

22.

Wong K, Stewart F (2004) Competency-based training of basic trainees using human cadavers. ANZ J Surg 74(8):639–642

23.

Takayesu JK, Farrell SE, Evans AJ, Sullivan JE, Pawlowski JB, Gordon JA (2006) How do clinical clerkship students experience simulator-based teaching? A qualitative analysis. Simul Healthc 1(4):215–219

24.

Davis CR, Toll EC, Bates AS, Cole MD, Smith FC (2014) Surgical and procedural skills training at medical school—a national review. Int J Surg 12(8):877–882

25.

Miller GE (1990) The assessment of clinical skills/competence/performance. Acad Med 65(9 Suppl):S63–S67

26.

Hamaoui K, Sadideen H, Saadeddin M, Onida S, Hoey AW, Rees J (2013) Is it time for integration of surgical skills simulation into the United Kingdom undergraduate medical curriculum? A perspective from King's College London School of Medicine. J Educ Eval Health Prof 10:10
Acknowledgments
We would like to thank all the staff of the E.R.C. ELPEN and especially Georgios Stagias—Felasa C and Nikolaos Psychalakis—Felasa C, and the rest of the medical students' committee—Efstratia Georgopoulou and Stefanos Karamaroudis.
Ethics declarations
Ethics
This study was performed according to the European and National Legislation, Directive 63/2010, PD 56/Αpril 2013 [reference number of the license: Michail Ch. Sideris and Apostolos Papalois 7095/05-11-2014 (revised 884 28/4/2015)].
Authors' Contribution
Main contribution—all the authors have approved the current submission.
Michail Ch. Sideris and Apostolos E. Papalois: equal contribution, lead of the project, and designers of the course curriculum, main editors of the manual. MS and AP drafted and edited the manuscript (discussion drafted by KT and edited by MS and AP), and statistical analysis by MS.
Georgios Tsoulfas: faculty of the course, lead for the in vivo dissections (anatomy demonstration of the abdomen), conception and senior author of the study
Korina Theodoraki: faculty member, literature search and editing of the discussion part of the manuscript
Efstratios Koletsis: faculty of the course, lead for ex vivo dissections—ex vivo graft suturing
Panagiotis Dedeilias: faculty of the course, lead for heart and transplant in vivo module
Nikolaos Lymperopoulos and Konstantinos Imprialos: members of the faculty
Savvas Papagrigoriadis: senior advisor of the course curriculum and manual
Vassilios Papalois: senior advisor of the course curriculum and manual
Georgios Zografos: senior advisor of the course curriculum and manual, lead of the scientific committee of the course
All the qualified authors have contributed to data collection as well as assessors (workplace-based assessments of the medical students).
Georgios Paparoidamis, Nikolaos Staikoglou and Ismini Tsagkaraki: medical students who set up promotion and smooth run of the course, data collection and assistants to senior assessors. GP has contributed with GT to the protocol.
Funding of the Project
Essential Skills in the Management of the Surgical Patient—ESMSC is funded by the Experimental Research Centre ELPEN, and it is provided for free to medical students around Europe.
Conflict of Interest
The authors declare that they have no competing interests.
Additional information
Manual of the Course
Essential Skills in the Management of Surgical Cases – ESMSC, Scientific Publications Parisianou S.A., ISBN: 978-960-583-063-2
Place of the Study
Experimental Research Centre ELPEN
95 Marathonos Av., 19009, Pikermi
Michail Sideris and Apostolos Papalois have equal contribution.
Appendix I: Direct Observation of Procedural Skills (DOPS)
Appendix I: Direct Observation of Procedural Skills (DOPS)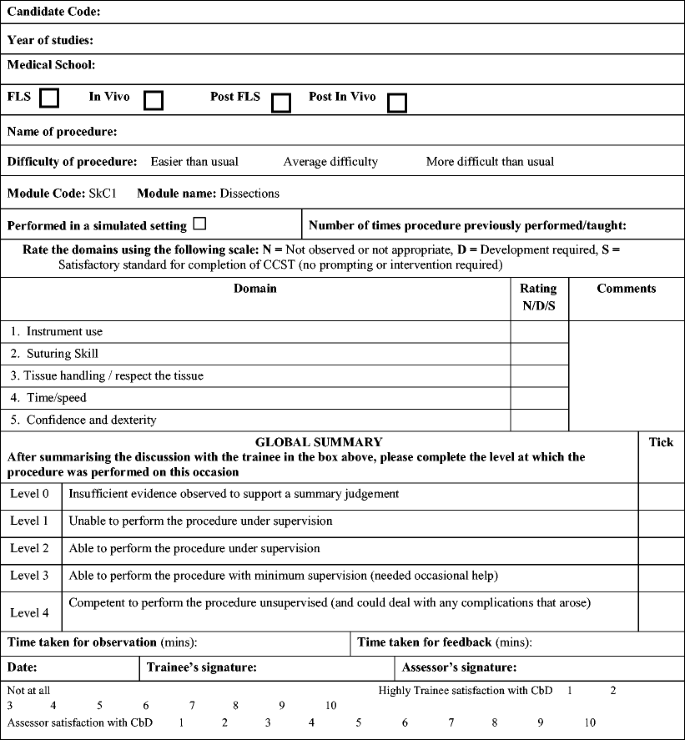 About this article
Cite this article
Sideris, M., Papalois, A., Theodoraki, K. et al. Introducing In Vivo Dissection Modules for Undergraduate Level Trainees: What Is the Actual Benefit and How Could We Make It More Efficient?. Indian J Surg 80, 68–76 (2018). https://doi.org/10.1007/s12262-016-1563-1
Received:

Accepted:

Published:

Issue Date:
Keywords
Surgical education

Wet lab

Undergraduate

Surgical science

In vivo

Ex vivo

Simulation