Abstract
To compare the healing of chronic wounds with honey dressing vs. Povidone iodine dressing in adult subjects with chronic wounds of ≥6 weeks of duration, attending wound care clinic in Surgical Out Patient Department of All India Institute of Medical Sciences, Surgical Out Patient Department of Jai Prakash Narayan Apex Trauma center, New Delhi. Forty five subjects were randomized into two groups i.e., Honey & Povidone iodine dressing group. Dressing was done on alternate day basis for 6 weeks of followup period. Main outcome measure was complete healing at 6 weeks. Wound healing status was assessed at 2 weekly intervals till 6 weeks. Seven out of 22 subjects in honey treated group achieved complete healing as compared to none out of 20 subjects in Povidone iodine treated group. There was a significant decrease in the wound surface area, pain score & increase in comfort score in Honey dressing group in comparison to the Povidone Iodine group at 0.05 level of significance. Honey dressing is highly effective in achieving healing in chronic wounds as compared to Povidone iodine dressing.
Access options
Buy single article
Instant access to the full article PDF.
USD 39.95
Price excludes VAT (USA)
Tax calculation will be finalised during checkout.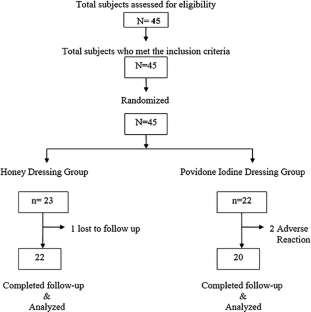 References
Zumla A, Lulat A (1989) Honey—a remedy rediscovered. J Roy Soc Med 82:384–385

Armon PJ (1980) The use of honey in the treatment of infected wounds. Trop Doct 10:91

Molan PC (2006) The evidence supporting the use of honey as a wound dressing. Int J Low Extrem 5:40

Effem SE (1988) Clinical observations on the wound healing properties of honey. Br J Surg 75:679–681

Molan PC, Betts JA (2004) Clinical usage of honey as a wound dressing: an update. J Wound Care 13(9):353–356

White JW (1975) Composition of honey. In: Crane E (ed) Honey: a comprehensive survey. Heinemann, London, pp 157–206

Luciana P, Fernandez SL (2005) Venous ulcer: epidemiology, physiopathology, diagnosis and treatment. Int Soc Dermatol 44:449–456

Yapucu Güneş U, Eşer I (2007) Effectiveness of a honey dressing for healing pressure ulcers. J Wound Ostomy Cont Nurs 34(2):184–190

Okeniyi JA, Olubanjo OO, Ogunlesi TA, Oyelami OA (2005) Comparison of healing of incised abscess wounds with honey and EUSOL dressing. J Alternative Compl Med 11(3):511–513

Subrahmanyam M (1998) A prospective randomized clinical and histological study of superficial burn wound healing with honey and silver sulfadiazine. Burns 24(2):157–161

Wood B, Rademaker M, Molan PC (1997) Manuka honey, a low cost leg ulcer dressing. N Z Med J 110(1040):107

Subrahmanyam M (1994) Honey-impregnated gauze versus amniotic membrane in the treatment of burns. Burns 20(4):331–333

Ndayisaba G, Bazira L, Habonimana E, Muteganya D (1993) Clinical and bacteriological results in wounds treated with honey. J Orthop Surg 7(2):202–204

Weheida SM, Nagubi HH, El-Banna HM, Marzouk S (1991) Comparing the effects of two dressing techniques on healing of low grade pressure ulcers. J Med Res Inst 12(2):259–278

Kramer SA (1999) Effect of povidone-iodine on wound healing: a review. J Vasc Nurs 17(1):17–23

Efem SEE (1988) Clinical observations on the wound healing properties of honey. Br J Surg 75:679–681

Hamdy MH, El Banby MA, Khakifa KI, Gad EM (1988) The antimicrobial effect of honey in the management of septic wounds. Proceedings of the Fourth International Conference on Apiculture in Tropical Climates, Cairo, Egypt 6–10 November London, UK; International Bee Research Association

Mphande AN, Killowe C, Phalira S, Jones HW, Harrison WJ (2007) Effects of honey and sugar dressings on wound healing. J Wound Care 16(7):317–319

Subrahmanyam M (1991) Topical application of honey in treatment of burns. Br J Surg 78(4):497–498

Medhi B, Puri A, Upadhyay S, Kaman L (2008) Topical application of honey in the treatment of wound healing: a metaanalysis. Alternative Med 10(4):166–169

Atiyeh BS, Al-Amm CA, El-Musa KA, Sawwaf A, Dham R (2003) The effect of moist and moist exposed dressings on healing and barrier function restoration of partial thickness wounds. Eur J Plast Surg 26:5–11

Singh A, Halder S, Menon G, Chumber S, Misra MC, Sharma LK, Srivastava A (2004) Meta-analysis of randomized controlled trials on hydrocolloid occlusive dressing versus conventional gauze dressing in the healing of chronic wounds. Asian J Surg 27(4):326–332

Kwong YL, Chung CH (1985) The use of Tegaderm transparent dressing in the outpatient management of partial thickness burns. J Hong Kong Med Assoc 37(4):28–32
About this article
Cite this article
Gulati, S., Qureshi, A., Srivastava, A. et al. A Prospective Randomized Study to Compare the Effectiveness of Honey Dressing vs. Povidone Iodine Dressing in Chronic Wound Healing. Indian J Surg 76, 193–198 (2014). https://doi.org/10.1007/s12262-012-0682-6
Received:

Accepted:

Published:

Issue Date:

DOI: https://doi.org/10.1007/s12262-012-0682-6
Keywords