Abstract
A middle aged housewife presented with an anterior abdominal wall mass which was slowly growing over a period of 1 years over the midline scar of previous caesarean section with cystic degeneration in a part of the tumor. Fine needle aspiration cytology revealed a papillary serous cystadenoma. At exploratory laparotomy tumor was seen arising from the ventral surface of the parietal peritoneum with normal viscera, omentum and ovaries. The pathologist reported the tumor as Benign Multicystic Peritoneal Mesothelioma. It is a rare but clinically favourable neoplasm with wide excision as the definitive treatment. Of the 130 cases reported in the literature, it has the least incidence in the Indian Subcontinent.
This is a preview of subscription content, log in to check access.
Access options
Buy single article
Instant access to the full article PDF.
US$ 39.95
Price includes VAT for USA
Subscribe to journal
Immediate online access to all issues from 2019. Subscription will auto renew annually.
US$ 99
This is the net price. Taxes to be calculated in checkout.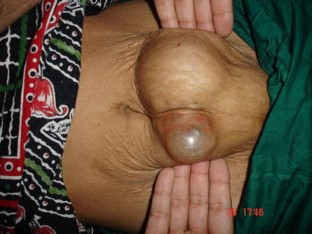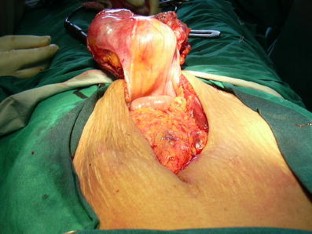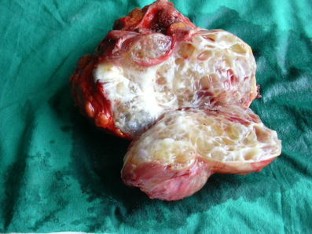 References
1.

Sabiston DC, Lyerly HK (1994) Sabiston essentials of surgery, 2nd edn. WB Saunders, Philadelphia

2.

Devita VT, Hellman S, Rosenthal SA (2008) Cancer: Principles and practice of oncology, 8th edn. Lippincott & Williams & Wilkins, Philadelphia, pp 1858–9

3.

Becklake MR et al (1988) The relationship between acute and chronic airway responses to occupational exposures. Curr Pulmonol 9:25

4.

Clement PB (1995) Reactive tumor-like lesions of the peritoneum. Am J Clin Pathol 103(6):673–6
About this article
Cite this article
Gupta, A., Rao, H.K., Pande, R. et al. A Rare Case of Benign Multicystic Peritoneal Mesothelioma: A Clinical Dilemma. Indian J Surg 75, 27–29 (2013). https://doi.org/10.1007/s12262-011-0314-6
Received:

Accepted:

Published:

Issue Date:
Keywords
Peritoneal tumors mesothelial cysts

Benign multicystic peritoneal mesotheliomas

Implantation fibroid

Desmoid tumor

Peritoneal carcinoma