Abstract
The advent of lenalidomide has fundamentally changed the treatment of patients with myelodysplastic syndrome (MDS) and deletion of the long arm of chromosome 5 (del(5q)), inducing high rates of red blood cell transfusion independence and cytogenetic response. We report a case of an 84-year-old patient with International Prognostic Scoring System (IPSS)-defined low-risk MDS with isolated del(5q), who has received continuous lenalidomide treatment for the past 8 years and whose treatment is ongoing. Grade 3 or 4 neutropenia and thrombocytopenia, which occurred in approximately 60 % of the patients during the first weeks of treatment, did not occur in our patient. Also, there were no thromboembolic events or a progression to acute myeloid leukemia. This case highlights the role of lenalidomide in modifying the course of low-risk del(5q) MDS in long-term responders by inducing a durable hematologic response and thereby contributing to control iron overload and improving long-term outcomes in selected patients.
This is a preview of subscription content, log in to check access.
Access options
Buy single article
Instant access to the full article PDF.
US$ 39.95
Price includes VAT for USA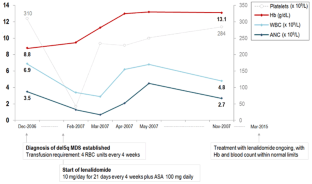 References
1.

Swerdlow SH, Campo E, Harris NL, et al. WHO classification of tumours of haematopoietic and lymphoid tissues. 4th edn. Lyon: IARC Press; 2008.

2.

Haase D, Germing U, Schanz J, et al. New insights into the prognostic impact of the karyotype in MDS and correlation with subtypes: evidence from a core dataset of 2124 patients. Blood. 2007;110(13):4385–95.

3.

Sole F, Luno E, Sanzo C, et al. Identification of novel cytogenetic markers with prognostic significance in a series of 968 patients with primary myelodysplastic syndromes. Haematologica. 2005;90(9):1168–78.

4.

Kelaidi C, Park S, Brechignac S, et al. Treatment of myelodysplastic syndromes with 5q deletion before the lenalidomide era; the GFM experience with EPO and thalidomide. Leuk Res. 2008;32(7):1049–53.

5.

Giagounidis AA, Germing U, Aul C. Biological and prognostic significance of chromosome 5q deletions in myeloid malignancies. Clin Cancer Res. 2006;12(1):5–10.

6.

Fenaux P, Rose C. Impact of iron overload in myelodysplastic syndromes. Blood Rev. 2009;23(Suppl. 1):S15–9.

7.

Germing U, Lauseker M, Hildebrandt B, et al. Survival, prognostic factors and rates of leukemic transformation in 381 untreated patients with MDS and del(5q): a multicenter study. Leukemia. 2012;26(6):1286–92.

8.

Mallo M, Cervera J, Schanz J, et al. Impact of adjunct cytogenetic abnormalities for prognostic stratification in patients with myelodysplastic syndrome and deletion 5q. Leukemia. 2011;25(1):110–20.

9.

Fenaux P, Giagounidis A, Selleslag D, et al. A randomized phase 3 study of lenalidomide versus placebo in RBC transfusion-dependent patients with Low-/Intermediate-1-risk myelodysplastic syndromes with del5q. Blood. 2011;118(14):3765–76.

10.

List A, Dewald G, Bennett J, et al. Lenalidomide in the myelodysplastic syndrome with chromosome 5q deletion. N Engl J Med. 2006;355(14):1456–65.

11.

Kotla V, Goel S, Nischal S, et al. Mechanism of action of lenalidomide in hematological malignancies. J Hematol Oncol. 2009;2:36.

12.

Pellagatti A, Jadersten M, Forsblom AM, et al. Lenalidomide inhibits the malignant clone and up-regulates the SPARC gene mapping to the commonly deleted region in 5q- syndrome patients. Proc Natl Acad Sci U S A. 2007;104(27):11406–11.

13.

Kronke J, Fink EC, Hollenbach PW, et al. Lenalidomide induces ubiquitination and degradation of CK1alpha in del(5q) MDS. Nature. 2015;523(7559):183–8.

14.

List AF, Bennett JM, Sekeres MA, et al. Extended survival and reduced risk of AML progression in erythroid-responsive lenalidomide-treated patients with lower-risk del(5q) MDS. Leukemia. 2014;28(5):1033–40.

15.

Giagounidis A, Fenaux P, Mufti GJ, et al. Practical recommendations on the use of lenalidomide in the management of myelodysplastic syndromes. Ann Hematol. 2008;87(5):345–52.

16.

Gohring G, Giagounidis A, Busche G, et al. Patients with del(5q) MDS who fail to achieve sustained erythroid or cytogenetic remission after treatment with lenalidomide have an increased risk for clonal evolution and AML progression. Ann Hematol. 2010;89(4):365–74.

17.

Giagounidis AA, Kulasekararaj A, Germing U, et al. Long-term transfusion independence in del(5q) MDS patients who discontinue lenalidomide. Leukemia. 2012;26(4):855–8.

18.

Pisani F, Orlandi G, Merola R. Long-term response in a patient with del(5q) myelodysplastic syndrome who discontinued lenalidomide and obtained a good response and tolerance to rechallenge. Case Rep. Oncol. 2014;7(1):277–84.

19.

Kurtin SE, List AF. Durable long-term responses in patients with myelodysplastic syndromes treated with lenalidomide. Clin Lymphoma Myeloma. 2009;9(3):E10–3.

20.

Giagounidis AA, Haase S, Heinsch M, Gohring G, Schlegelberger B, Aul C. Lenalidomide in the context of complex karyotype or interrupted treatment: case reviews of del(5q)MDS patients with unexpected responses. Ann Hematol. 2007;86(2):133–7.

21.

Tehranchi R, Woll PS, Anderson K, et al. Persistent malignant stem cells in del(5q) myelodysplasia in remission. N Engl J Med. 2010;363(11):1025–37.

22.

Ades L, Le BF, Sebert M, et al. Treatment with lenalidomide does not appear to increase the risk of progression in lower risk myelodysplastic syndromes with 5q deletion. A comparative analysis by the Groupe Francophone des Myelodysplasies. Haematologica. 2012;97(2):213–8.

23.

Kuendgen A, Lauseker M, List AF, et al. Lenalidomide does not increase AML progression risk in RBC transfusion-dependent patients with Low- or Intermediate-1-risk MDS with del(5q): a comparative analysis. Leukemia. 2013;27(5):1072–9.

24.

Sanchez-Garcia J, Del CC, Lorenzo I, et al. Multivariate time-dependent comparison of the impact of lenalidomide in lower-risk myelodysplastic syndromes with chromosome 5q deletion. Br J Haematol. 2014;166(2):189–201.

25.

Mallo M, Del RM, Ibanez M, et al. Response to lenalidomide in myelodysplastic syndromes with del(5q): influence of cytogenetics and mutations. Br J Haematol. 2013;162(1):74–86.

26.

Sekeres MA, Maciejewski JP, Giagounidis AA, et al. Relationship of treatment-related cytopenias and response to lenalidomide in patients with lower-risk myelodysplastic syndromes. J Clin Oncol. 2008;26(36):5943–9.

27.

Jadersten M, Saft L, Smith A, et al. TP53 mutations in low-risk myelodysplastic syndromes with del(5q) predict disease progression. J Clin Oncol. 2011;29(15):1971–9.

28.

Sebaa A, Ades L, Baran-Marzack F, et al. Incidence of 17p deletions and TP53 mutation in myelodysplastic syndrome and acute myeloid leukemia with 5q deletion. Genes Chromosomes Cancer. 2012;51(12):1086–92.

29.

Belickova M, Cermak J, Dostalova MM, et al. Changes associated with lenalidomide treatment in the gene expression profiles of patients with del(5q). Clin Lymphoma Myeloma Leuk. 2012;12(5):375–83.

30.

Sardnal V, Rouquette A, Kaltenbach S, et al. A G polymorphism in the CRBN gene acts as a biomarker of response to treatment with lenalidomide in low/int-1 risk MDS without del(5q). Leukemia. 2013;27(7):1610–3.
Acknowledgments
Editorial support for the preparation of the manuscript was provided by Gabriele Berghammer, the text clinic, and funded by Celgene Corporation. The author is fully responsible for the content and editorial decisions related to this manuscript.
Conflict of interest
Martin Farkas declares that there are no actual or potential conflicts of interest in relation to this article.
About this article
Cite this article
Farkas, M. 8-year-sustained response in a patient with isolated del(5q) myelodysplastic syndrome undergoing continuous treatment with lenalidomide: a case report. memo 9, 48–51 (2016). https://doi.org/10.1007/s12254-015-0242-4
Received:

Accepted:

Published:

Issue Date:
Keywords
Myelodysplastic syndrome

MDS with deletion of chromosome 5q

del(5q) MDS

Lenalidomide

Long-term transfusion independence
Schlüsselwörter
Myelodysplastisches Syndrom

MDS mit Deletion am Chromosom 5q

del(5q) MDS

Lenalidomid

Transfusionsunabhängigkeit