Abstract
Metastatic studies on rats showed that after subrenal implantation of tumor cells under the capsule of the kidney or subhepatic implantation under Glisson's capsule of the liver generated primary tumors in these organs. It was assumed that tumor cells that escaped through the disrupted peripheral blood vessels of primary tumors entered the peritoneal cavity, crossed the diaphragm, and appeared in the thoracal, primarily in the parathymic lymph nodes. This explanation did not answer the question whether distant lymph nodes were reached via the blood stream from the primary tumor or through the thoracal lymphatic vessels. In this work, we investigated the metastatic pathway in C3H/HeJ mice, after direct intraperitoneal administration of murine SCC VII cells bypassing the hematogenic spread of tumor cells. The direct pathway was also mimicked by intraperitoneal injection of Pelican Ink colloidal particles, which appeared in the parathymic lymph nodes, similarly to the tumor cells that caused metastasis in the parathymic lymph nodes and in the thymic tissue. The murine peritoneal-parathymic lymph node route indicates a general mechanism of tumor progression from the abdominal effusion. This pathway starts with the growth of abdominal tumors, continues as thoracal metastasis in parathymic lymph nodes and may proceed as mammary lymph node metastasis.
Access options
Buy single article
Instant access to the full article PDF.
USD 39.95
Price excludes VAT (USA)
Tax calculation will be finalised during checkout.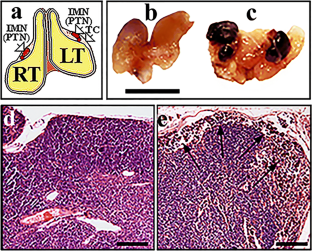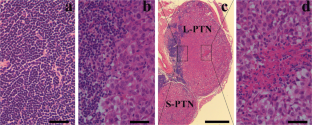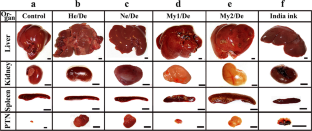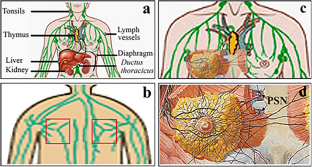 References
Trencsenyi G, Kertai P, Somogyi C, Nagy G, Dombradi Z, Gacsi M, Banfalvi G (2007) Chemically induced carcinogenesis affecting chromatin structure in rat hepatocarcinoma cells. DNA Cell Biol 26:649–655 http://online.liebertpub.com/doi/abs/10.1089/dna.2007.0587

Trencsenyi G, Kertai P, Bako F, Hunyadi J, Marian T, Hargitai Z, Pocsi I, Muranyi E, Hornyak L, Banfalvi G (2009) Renal capsule-Parathymic lymph node complex: a new in vivo metastatic model in rats. Anticancer Res 29:2121–2126 http://ar.iiarjournals.org/content/29/6/2121.long

Cui ZY, Ahn JS, Lee JY, Kim WS, Lim HY, Jeon HJ, Suh SW, Kim JH, Kong WH, Kang JM, Nam DH, Park K (2006) Mouse orthotopic lung cancer model induced by PC14PE6. Cancer Res Treat 38:234–239 https://www.ncbi.nlm.nih.gov/pmc/articles/PMC2741646/

Paget S (1989) The distribution of secondary growths in cancer of the breast. Lancet 133(3421):571–573 https://www.ncbi.nlm.nih.gov/pubmed/2673568

Hoffman RM (1999) Orthotopic metastatic mouse models for anticancer drug discovery and evaluation: a bridge to the clinic. Investig New Drugs 17:343–359 https://www.ncbi.nlm.nih.gov/pubmed?term=orthotopic%20metastatic%20mouse%20model%20for%20anticancer%20drug%20discovery%20and%20evaluation%20a%20bridge%20to%20the%20clinic.&cmd=correctspelling

Rozsa D, Trencsenyi G, Kertai P, Marian T, Nagy G, Banfalvi G (2009) Lymphatic spread of mesenchymal renal tumor to metastatic parathymic lymph nodes in rat. Histol Histopathol 24:1367–1379 http://www.hh.um.es/Abstracts/Vol_24/24_11/24_11_1367.htm

Marco AJ, Domingo M, Ruberte J, Carretero A, Briones V, Dominguez L (1992) Lymphatic drainage of Listeria inonocytogenes and Indian ink inoculated in the peritoneal cavity of the mouse. Lab Anim 26:200–205 http://journals.sagepub.com/doi/abs/10.1258/002367792780740549?url_ver=Z39.88-2003&rfr_id=ori%3Arid%3Acrossref.org&rfr_dat=cr_pub%3Dpubmed&

Banfalvi G (2012a) Role of parathymic lymph nodes in metastatic tumor development. Cancer Metastasis Rev 31:89–97 https://link.springer.com/article/10.1007%2Fs10555-011-9331-y

Steer HW, Lewis DA (1983) Peritoneal cell responses to acute gastro-intestinal inflammation. J Pathol 140:237–253 http://onlinelibrary.wiley.com/doi/10.1002/path.1711400306/full

Jian J, Liu C, Gong Y, Su L, Zhang B, Wang Z, Wang D, Zhou Y, Xu F, Li P, Zheng Y, Song L, Zhou X (2014) India ink incorporated multifunctional phase-transition Nanodroplets for photoacoustic/ultrasound dual-modality imaging and photoacoustic effect based tumor therapy. Theranostics 4(10):1026–1038 http://www.thno.org/v04p1026.htm

Rafferty P, Egenolf D, Brosnan K, Makropoulos D, Jordan J, Meshaw K, Walker M, Volk A, Bugelski PJ (2012) Immunotoxicologic effects of cyclosporine on tumor progression in models of squamous cell carcinoma and B-cell lymphoma in C3H mice. J Immunotoxicol 9:43–55 http://www.tandfonline.com/doi/full/10.3109/1547691X.2011.614646

Moore A, Sergeyev N, Bredow S, Weissleder R (1998) A model system to quantitate tumor burden in locoregional lymph nodes during cancer spread. Invasion Metastasis 18:192–197 https://www.ncbi.nlm.nih.gov/pubmed/10640905

Morris B, Courtice FC (1977) Cells and immunoglobulins in lymph. Lymphology 10:62–69 https://www.ncbi.nlm.nih.gov/pubmed/329011

Miller JF (1963) Role of the thymus in immunity. Brit Med J 24 2(5355):459–464. https://www.ncbi.nlm.nih.gov/pmc/articles/PMC1874012/

Bonney WM, Battenberg JD (1967) Transthoracic thymectomy in rats. Transplantation 5(3):544–546. https://www.ncbi.nlm.nih.gov/pubmed/?term=Bonney+WM%2C+Battenberg+JD.+Transthoracic+thymectomy+in+rats

Blau JN, Gaugas JM (1968) Parathymic lymph nodes in rats and mice. Immunology 14:763–765 https://www.ncbi.nlm.nih.gov/pubmed/?term=Blau+JN%2C+Gaugas+JM.+Parathymic+lymph+nodes+in+rats+and+mice

Tanegashima A, Yamashita A, Yamamoto H, Fukunaga T (1999) Human parathymic lymph node: morphological and functional significance. Immunology 97(2):301–308 https://www.ncbi.nlm.nih.gov/pmc/articles/PMC2326821/

Severeanu G (1909) Die Lymphgefäße der Thymus. Arch Anat Entw Gesch 93

Siegler R (1669-1678) Rich MA (1963) unilateral histogenesis of AKR thymic lymphoma. Cancer Res Volume 23:10(1) http://cancerres.aacrjournals.org/content/23/10_Part_1/1669.long

Workman P, Twentyman P, Balkwill F (1988) United Kingdom co-ordinating committee on Cancer research (UKCCCR) guidelines for the welfare of animals in experimental neoplasia (second edition). Br J Cancer 77(1):1–10 https://ciepal-azur.unice.fr/Oncology%20animal%20guides.pdf

Kanazawa H, Rapacchietta D, Kallman RF (1988) Schedule-dependent therapeutic gain from the combination of fractionated irradiation and cis-diamminedichloroplatinum (II) in C3H/km mouse model systems. Cancer Res 48:3158–3164 http://cancerres.aacrjournals.org/content/48/11/3158.short

Dunn TB (1954) Normal and pathologic anatomy of the reticular tissue in laboratory mice, with a classification and discussion of neoplasms. J Natl Cancer Inst 14(6):1281–1433 https://www.ncbi.nlm.nih.gov/pubmed/13233863

Glomset DA (1938) The incidence of metastasis of malignant tumors to the adrenals. Am J Cancer 32:57–61 http://cancerres.aacrjournals.org/content/amjcancer/32/1/57.full.pdf

Trencsenyi G, Marian T, Bako F, Emri M, Nagy G, Kertai P, Banfalvi G (2014a) Metastatic hepatocarcinoma he/De tumor model in rat. J Cancer 5(7):548–558. https://doi.org/10.7150/jca.9315

Trencsenyi G, Nagy G, Kahlik B, Nemeth E, Kertai P, Kiss A, Banfalvi G (2014b) Lymphoid metastasis of rat My2/De leukemia. Leuk Res 38:586–593. https://doi.org/10.1016/j.leukres.2014.02.006

Pitt ML, Anderson AO (1988) Direct transdiaphragmatic traffic of peritoneal macrophages to the lung. Adv Exp Med Biol 237:627–632 https://link.springer.com/chapter/10.1007/978-1-4684-5535-9_95

MacCallum WG (1903) On the mechanism of absorption of granular materials from the peritoneum. Bull Johns Hopkins Hosp 14:105–115

Olin T, Saldeen T (1964) The lymphatic pathways from the peritoneal cavity: a lymphangiographic study in the rat. Cancer Res 24:1700–1711 http://cancerres.aacrjournals.org/content/24/10/1700.long

Banfalvi G (2012b) Metastatic view of breast cancer. Cancer Metastasis Rev 31:815–822. https://doi.org/10.1007/s10555-012-9392-6

Gray H, Pickering PT, Howden R (1974) Gray's anatomy. Philadelphia Courage Books

Handley RS, Thackray AC (1954) Invasion of the internal mammary glands in carcinoma of the breast. Br J Cancer 1:15–20
Acknowledgements
The SCC VII tumor cell line was kindly provided by Prof. Reinhard Zeidler, University of Munich, Helmholtz Zentrum. The research was supported by the EU and co-financed by the European Regional Development Fund under the GINOP-2.3.2-15-2016-00005 to IJ.
About this article
Cite this article
Király, G., Hargitai, Z., Kovács, I. et al. Metastatic Spread from Abdominal Tumor Cells to Parathymic Lymph Nodes. Pathol. Oncol. Res. 25, 625–633 (2019). https://doi.org/10.1007/s12253-018-0492-7
Received:

Accepted:

Published:

Issue Date:

DOI: https://doi.org/10.1007/s12253-018-0492-7
Keywords
Carcinoma cell line

Murine metastasis model

Parathymic lymph node

Colloidal ink