Abstract
Oral carcinogenesis often leads to the alteration of the microbiota at the site of the tumor, but data are scarce regarding the microbial communities of oral potentially malignant disorders (OPMDs). Punch biopsies were taken from healthy and non-healthy mucosa of OPMD patients to analyze the microbiome using metagenome sequencing. In healthy oral mucosa biopsies the bacterial phyla Firmicutes, Fusobacteria, Proteobacteria, Actinobacteria and Bacteroidetes were detected by Ion Torrent sequencing. The same phyla as well as the phyla Fibrobacteres and Spirochaetes were present in the OPMD biopsies. On the species level, there were 10 bacterial species unique to the healthy tissue and 35 species unique to the OPMD lesions whereas eight species were detected in both samples. We observed that the relative abundance of Streptococcus mitis decreased in the OPMD lesions compared to the uninvolved tissue. In contrast, the relative abundance of Fusobacterium nucleatum, implicated in carcinogenesis, was elevated in OPMD. We detected markedly increased bacterial diversity in the OPMD lesions compared to the healthy oral mucosa. The ratio of S. mitis and F. nucleatum are characteristically altered in the OPMD lesions compared to the healthy mucosa.
Access options
Buy single article
Instant access to the full article PDF.
USD 39.95
Price excludes VAT (USA)
Tax calculation will be finalised during checkout.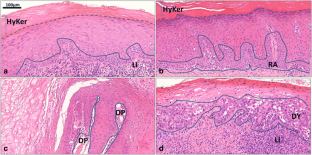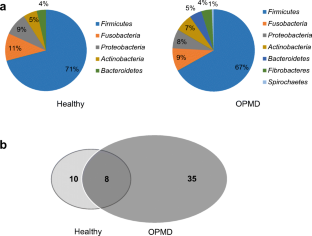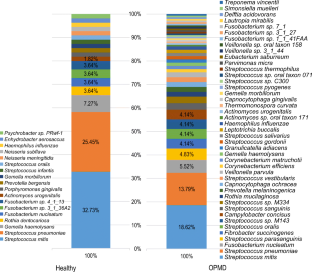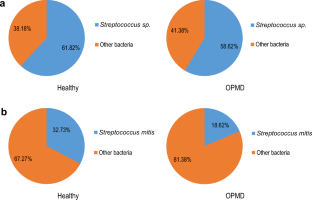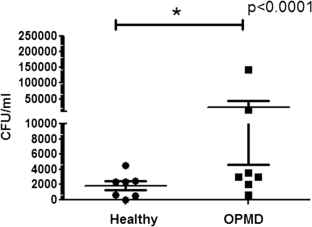 References
Morse DE, Psoter WJ, Cleveland D et al (2007) Smoking and drinking in relation to oral cancer and oral epithelial dysplasia. Cancer Causes Control 18(9):919–929

Jepsen SA, Closmann JJ (2008) The insidious nature and presentation of oral squamous cell carcinoma in the low-risk population. Gen Dent 56(1):78–82

Llewellyn CD, Linklater K, Bell J et al (2003) Squamous cell carcinoma of the oral cavity in patients aged 45 years and under: a descriptive analysis of 116 cases diagnosed in the South East of England from 1990 to 1997. Oral Oncol 39(2):106–114

Nagy KN, Sonkodi I, Szöke I et al (1998) The microflora associated with human oral carcinomas. Oral Oncol 34(4):304–308

Sarode SC, Sarode GS, Tupkari JV (2012) Oral potentially malignant disorders: precising the definition. Oral Oncol 48(9):759–760

van der Waal I (2009) Potentially malignant disorders of the oral and oropharyngeal mucosa; terminology, classification and present concepts of management. Oral Oncol 45(4–5):317–323

Sonkodi I (2009) Oral and Maxilofacial medicine. Semmelweis Publisher, Budapest

Silverman S Jr, Gorsky M (1997) Proliferative verrucous leukoplakia. A follow-up study of 54 cases. Oral Surg Oral Med Oral Pathol Oral Radiol Endod 84(2):154–157

Fehér E, Gáll T, Murvai M et al (2009) Investigation of the occurrence of torque tenovirus in malignant and potentially malignant disorders associated with human papillomavirus. J Med Virol 81(11):1975–1981

Fehér E, Kardos G, Gáll T et al (2011) Comparison of diversity of torque teno virus 1 in different mucosal tissues and disorders. Acta Microbiol Immunol Hung 58(4):319–337

Kis A, Fehér E, Gáll T et al (2009) Epstein-Barr virus prevalence in oral squamous cell cancer and in potentially malignant oral disorders in an eastern Hungarian population. Eur J Oral Sci 117(5):536–540

Wu L, Feng J, Shi L et al (2013) Candidal infection in oral leukoplakia: a clinicopathologic study of 396 patients from eastern China. Ann Diagn Pathol 17(1):37–40

Hebbar PB, Pai A, D S. (2013) Mycological and histological associations of Candida in oral mucosal lesions. J Oral Sci 55(2):157–160

Dilhari A, Weerasekera MM, Siriwardhana A et al (2016) Candida infection in oral leukoplakia: an unperceived public health problem. Acta Odontol Scand 74(7):565–569

Gainza-Cirauqui ML, Nieminen MT, Novak Frazer L et al (2013) Production of carcinogenic acetaldehyde by Candida albicans from patients with potentially malignant oral mucosal disorders. J Oral Pathol Med. 42(3):243–249

Bakri MM, Cannon RD, Holmes AR et al (2014) Detection of Candida albicans ADH1 and ADH2 mRNAs in human archival oral biopsy samples. J Oral Pathol Med 43(9):704–710

Kazanowska-Dygdała M, Duś I, Radwan-Oczko M (2016) The presence of helicobacter pylori in oral cavities of patientsn with leukoplakia and oral lichenplanus. J Appl Oral Sci 24(1):18–23

Mizuki H, Kawamura T, Nagasawa D (2015) In situ immunohistochemical detection of intracellular mycoplasma salivarium in the epithelial cells of oral leukoplakia. J Oral Pathol Med. 44(2):134–144

Meisel P, Holtfreter B, Biffar R et al (2012) Association of periodontitis with the risk of oral leukoplakia. Oral Oncol 48(9):859–863

Hu X, Zhang Q, Hua H et al (2016) Changes in the salivary microbiota of oral leukoplakia and oral cancer. Oral Oncol 56:e6–e8

Hernandez BY, Zhu X, Goodman MT et al (2017) Betel nut chewing, oral premalignant lesions, and the oral microbiome. PLoS One 12(2):e0172196

Srinivas K, Aravinda K, Ratnakar P et al (2011) Oral lichen planus – Review on etiopathogenesis. Natl J Maxillofac Surg 2(1):15–16

Payeras MR, Cherubini K, Figueiredo MA et al (2013) Oral lichen planus: focus on etiopathogenesis. Arch Oral Biol 58(9):1057–1069

Georgakopoulou EA, Achtari MD, Achtaris M et al (2012) Oral lichen planus as a preneoplastic inflammatory model. J Biomed Biotechnol 2012:759626

Roopashree MR, Gondhalekar RV, Shashikanth MC et al (2010) Pathogenesis of oral lichen planus--a review. J Oral Pathol Med. 39(10):729–734

Gorouhi F, Davari P, Fazel N (2014) Cutaneous and mucosal lichen planus: a comprehensive review of clinical subtypes, risk factors, diagnosis, and prognosis. ScientificWorld Journal 2014:742826

Bäckman K, Jontell M (2007) Microbial-associated oral lichenoid reactions. Oral Dis 13(4):402–406

Taghavi Zenouz A, Mehdipour M, Jafari Heydarlou M et al (2010) Relationship between Lichen Planus and Helicobacter pylori Infection. J Dent Res Dent Clin Dent Prospects 4(1):17–20

Attia EA, Abdel Fattah NS, Abdella HM (2010) Upper gastrointestinal findings and detection of helicobacter pylori in patients with oral lichen planus. Clin Exp Dermatol 35(4):355–360

Pourshahidi S, Fakhri F, Ebrahimi H et al (2012) Lack of association between helicobacter pylori infection and oral lichen planus. Asian Pac J Cancer Prev 13(5):1745–1747

Izol B, Karabulut AA, Biyikoglu I et al (2010) Investigation of upper gastrointestinal tract involvement and H. Pylori presence in lichen planus: a case-controlled study with endoscopic and histopathological findings. Int J Dermatol 49(10):1121–1126

Hulimavu SR, Mohanty L, Tondikulam NV et al (2014) No evidence for Helicobacter pylori in oral lichen planus. J Oral Pathol Med. 43(8):576–578

Boorghani M, Gholizadeh N, Taghavi Zenouz A et al (2010) Oral lichen planus: clinical features, etiology, treatment and management; a review of literature. J Dent Res Dent Clin Dent Prospects. 4(1):3–9

Ertugrul AS, Arslan U, Dursun R et al (2013) Periodontopathogen profile of healthy and oral lichen planus patients with gingivitis or periodontitis. Int J Oral Sci 5(2):92–97

El-Naggar AK, Chan JKC, Takata T, Grandis JR, Slootweg PJ (2017) Tumours of the oral cavity and mobile tongue In: The fourth edition of the head and neck World Health Organization blue book: editors' perspectives. Hum Pathol 66:10–12

Sharma PK, Capalash N, Kaur J (2007) An improved method for single step purification of metagenomic DNA. Mol Biotechnol 36(1):61–63

Periasamy S, Chalmers NI, Du-Thumm L et al (2009) Fusobacterium nucleatum ATCC 10953 requires Actinomyces naeslundii ATCC 43146 for growth on saliva in a three-species community that includes Streptococcus oralis 34. Appl Environ Microbiol 75(10):3250–3257

Rubinstein MR, Wang X, Liu W et al (2013) Fusobacterium nucleatum promotes colorectal carcinogenesis by modulating E-cadherin/β-catenin signaling via its FadA adhesion. Cell Host Microbe 14(2):195–206

Schmidt BL, Kuczynski J, Bhattacharya A et al (2014) Changes in abundance of oral microbiota associated with oral cancer. PLoS One 9(6):e98741

Al-Hebshi NN, Nasher AT, Maryoud MY et al (2017) Inflammatory bacteriome featuring fusobacterium nucleatum and Pseudomonas aeruginosa identified in association with oral squamous cell carcinoma. Sci Rep 7(1):1834

Arduino PG, Romano F, Sasia D et al (2017) Subgingival microbiota in white patients with Desquamative gingivitis: a cross-sectional study. J Periodontol 88(7):643–650

Kreth J, Merritt J, Qi F (2009) Bacterial and host interactions of oral streptococci. DNA Cell Biol 28(8):397–403

Van Hoogmoed CG, Geertsema-Doornbusch GI, Teughels W et al (2008) Reduction of periodontal pathogens adhesion by antagonistic strains. Oral Microbial Immunol 23(1):43–48

Standar K, Kreikemeyer B, Redanz S et al (2010) Setup of an in vitro test system for basic studies on biofilm behavior of mixed-species cultures with dental and periodontal pathogens. PLoS One 5(10):e13135

Otsuki K, Imai N (2017) Effects of lactoferrin in 6 patients with refractory bacterial vaginosis. Biochem Cell Biol 95(1):31–33

Klarić M, Mandić V, Lovrić S, e al. (2017) Antimicrobial efficacy of probiotic-containing toothpastes: an in vitro evaluation. Med Glas (Zenica) 14(1):16–24
Acknowledgements
This work was in part supported by the National Research, Development and Innovation Fund of Hungary, financed under the NKFI-6-K funding scheme (11493 project), GINOP-2.3.2-15-2016-00015, János Bolyai Research Scholarship of the Hungarian Academy of Sciences and GINOP 2.3.2-15-2016-00011.
Ethics declarations
Conflict of Interest
No potential conflict of interest was reported by the authors.
Ethical Approval
The study protocol conformed to the Declaration of Helsinki in all respects and was approved by the Institutional Ethics Committee of the University of Szeged (No. 3161).
About this article
Cite this article
Decsi, G., Soki, J., Pap, B. et al. Chicken or the Egg: Microbial Alterations in Biopsy Samples of Patients with Oral Potentially Malignant Disorders. Pathol. Oncol. Res. 25, 1023–1033 (2019). https://doi.org/10.1007/s12253-018-0457-x
Received:

Accepted:

Published:

Issue Date:

DOI: https://doi.org/10.1007/s12253-018-0457-x
Keywords
OPMD

Oral microbiome

Metagenome sequencing

Lichen

Leukoplakia