Abstract
The International Society of Urological Pathology (ISUP) and the World Health Organisation have adopted a five-tiered prognostic grade group for prostate cancer in 2014. Grade group 4 is comprised of Gleason patterns 4 + 4, 3 + 5 and 5 + 3. Recent articles have suggested heterogeneity in their prognostic outcomes. We aimed to determine whether there was a difference in mortality outcomes within the ISUP 4 grouping, as identified on needle biopsy. A total of 4080 men who were diagnosed with non-metastatic (N0 M0) prostate cancer on biopsy with Gleason scores of 7, 8 and 9 were included. Multi-variable Cox Regression and Fine and Grey competing risk analysis were used to determine the All-Cause Mortality (ACM) and the Prostate Cancer Specific Mortality (PCSM) as a function of Gleason Scores (Gleason 3 + 4, 4 + 3, 4 + 4, 3 + 5/5 + 3, 9). Gleason score 4 + 4 was utilized as the referent. The 60 months' prostate cancer specific mortality with Gleason patterns 4 + 4 and 3 + 5/5 + 3 were 17% and 20% respectively (P < 0.01). Patients with 3 + 5/5 + 3 disease, had no statistically significant difference in the ACM (adjusted hazard ratio [aHR] 0.99, 95% confidence interval [Cl] 0.68–1.4, p = 0.99) and PCSM risk (aHR 0.77, 95% Cl 0.47–1.2, p = 0.31) when compare with the referent group of patients. Patients with Gleason patterns 4 + 3 and 9 had statistically significant difference in their PCSM risk (aHR 0.70, 95% CI 0.54–0.91, P < 0.001 and aHR 1.5, 95% Cl 1.2–1.9, P < 0.001) when compared to the referent group. Our analysis suggest that ISUP group 4 is homogenous in terms of the all-cause mortality and the prostate cancer specific morality risk as differentiated by the presence of Gleason 5 score.
This is a preview of subscription content, log in to check access.
Access options
Buy single article
Instant access to the full article PDF.
US$ 39.95
Price includes VAT for USA
Subscribe to journal
Immediate online access to all issues from 2019. Subscription will auto renew annually.
US$ 99
This is the net price. Taxes to be calculated in checkout.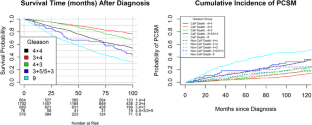 Acknowledgements
Thomas Lu is a University of Adelaide summer research scholar. Bursary was partially funded by the Freemasons Foundation Centre of Men's Health.
Ethics declarations
Conflict of Interest
Nil
Ethical Approval
All data utilised in the study was attained from the South Australian Prostate Cancer Clinical Outcomes Collaboration. Ethical approval is provided for analyses using de-identified data, a condition which this study met.
Informed Consent
The South Australian Prostate Cancer Clinical Outcomes Collaboration database operates under an ethically approved opt-out consent model.
About this article
Cite this article
Lu, T.C., Moretti, K., Beckmann, K. et al. ISUP Group 4 – a Homogenous Group of Prostate Cancers?. Pathol. Oncol. Res. 24, 921–925 (2018). https://doi.org/10.1007/s12253-017-0331-2
Received:

Accepted:

Published:

Issue Date:
Keywords
Prostate cancer

Gleason score

Grade group 4

Biopsy

Prostate cancer specific mortality