Abstract
Cervical cancer (CC) is a leading cause of death in women worldwide. Radiation therapy (RT) for CC is an effective alternative, but its toxicity remains challenging. Blueberry is amongst the most commonly consumed berries in the United States. We previously showed that resveratrol, a compound in red grapes, can be used as a radiosensitizer for prostate cancer. In this study, we found that the percentage of colonies, PCNA expression level and the OD value of cells from the CC cell line SiHa were all decreased in RT/Blueberry Extract (BE) group when compared to those in the RT alone group. Furthermore, TUNEL+ cells and the relative caspase-3 activity in the CC cells were increased in the RT/BE group compared to those in the RT alone group. The anti-proliferative effect of RT/BE on cancer cells correlated with downregulation of pro-proliferative molecules cyclin D and cyclin E. The pro-apoptotic effect of RT/BE correlated with upregulation of the pro-apoptotic molecule TRAIL. Thus, BE sensitizes SiHa cells to RT by inhibition of proliferation and promotion of apoptosis, suggesting that blueberry might be used as a potential radiosensitizer to treat CC.
Access options
Buy single article
Instant access to the full article PDF.
US$ 39.95
Tax calculation will be finalised during checkout.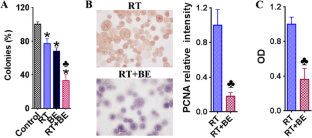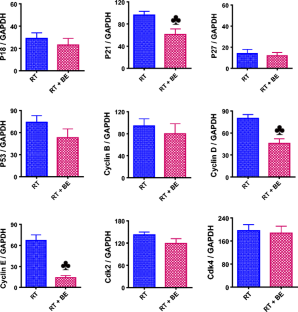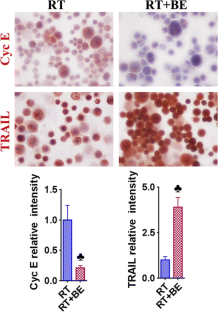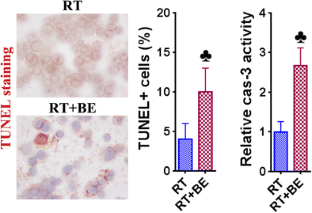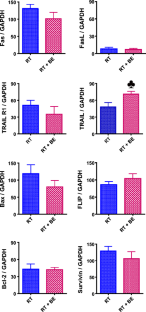 References
1.

Siegel RL, Miller KD, Jemal A (2015) Cancer statistics, 2015. CA Cancer J Clin 65(1):5–29

2.

Nandakumar V, Singh T, Katiyar SK (2008) Multi-targeted prevention and therapy of cancer by proanthocyanidins. Cancer Lett 269(2):378–387

3.

Diaconeasa Z, Leopold L, Rugină D, Ayvaz H, Socaciu C (2015) Antiproliferative and antioxidant properties of anthocyanin rich extracts from blueberry and blackcurrant juice. Int J Mol Sci 16(2):2352–2365

4.

Faria A, Pestana D, Teixeira D, De Freitas V, Mateus N, Calhau C (2010) Blueberry anthocyanins and pyruvic acid adducts: anticancer properties in breast cancer cell lines. Phytother Res 24(12):1862–1869

5.

Jeyabalan J, Aqil F, Munagala R, Annamalai L, Vadhanam MV, Gupta RC (2014) Chemopreventive and therapeutic activity of dietary blueberry against estrogen-mediated breast cancer. J Agric Food Chem 62(18):3963–3971

6.

Kanaya N, Adams L, Takasaki A, Chen S (2014) Whole blueberry powder inhibits metastasis of triple negative breast cancer in a xenograft mouse model through modulation of inflammatory cytokines. Nutr Cancer 66(2):242–248

7.

Kausar H, Jeyabalan J, Aqil F, Chabba D, Sidana J, Singh IP, Gupta RC (2012) Berry anthocyanidins synergistically suppress growth and invasive potential of human non-small-cell lung cancer cells. Cancer Lett 325(1):54–62

8.

Matchett MD, MacKinnon SL, Sweeney MI, Gottschall-Pass KT, Hurta RA (2006) Inhibition of matrix metalloproteinase activity in DU145 human prostate cancer cells by flavonoids from lowbush blueberry (Vaccinium angustifolium): possible roles for protein kinase C and mitogen-activated protein-kinase-mediated events. J Nutr Biochem 17(2):117–125

9.

Montales MTE, Rahal OM, Kang J, Rogers TJ, Prior RL, Wu X, Simmen RC (2012) Repression of mammosphere formation of human breast cancer cells by soy isoflavone genistein and blueberry polyphenolic acids suggests diet-mediated targeting of cancer stem-like/progenitor cells. Carcinogenesis 33(3):652–660

10.

Schmidt BM, Erdman JW, Lila MA (2006) Differential effects of blueberry proanthocyanidins on androgen sensitive and insensitive human prostate cancer cell lines. Cancer Lett 231(2):240–246

11.

Suh N, Paul S, Hao X, Simi B, Xiao H, Rimando AM, Reddy BS (2007) Pterostilbene, an active constituent of blueberries, suppresses aberrant crypt foci formation in the azoxymethane-induced colon carcinogenesis model in rats. Clin Cancer Res 13(1):350–355

12.

Wedge DE, Meepagala KM, Magee JB, Smith SH, Huang G, Larcom LL (2001) Anticarcinogenic activity of strawberry, blueberry, and raspberry extracts to breast and cervical cancer cells. J Med Food 4(1):49–51

13.

Yi W, Fischer J, Krewer G, Akoh CC (2005) Phenolic compounds from blueberries can inhibit colon cancer cell proliferation and induce apoptosis. J Agric Food Chem 53(18):7320–7329

14.

Liu RH (2013) Health-promoting components of fruits and vegetables in the diet. Adv Nutr: An International Review Journal 4(3):384S–392S

15.

Routray W, Orsat V (2011) Blueberries and their anthocyanins: factors affecting biosynthesis and properties. Compr Rev Food Sci Food Saf 10(6):303–320

16.

Aqil F, Munagala R, Kausar H, Jeyabalan J, Gupta R (2013) Enhanced activity of chemotherapeutic drugs by blueberry anthocyanidins and withaferin A against human lung cancer cells. Cancer Res 73(8 Supplement):3678–3678

17.

Fang Y, DeMarco VG, Nicholl MB (2012) Resveratrol enhances radiation sensitivity in prostate cancer by inhibiting cell proliferation and promoting cell senescence and apoptosis. Cancer Sci 103(6):1090–1098

18.

Bingül İ, Başaran-Küçükgergin C, Tekkeşin MS, Olgaç V, Doğru-Abbasoğlu S, Uysal M (2013) Effect of blueberry pretreatment on diethylnitrosamine-induced oxidative stress and liver injury in rats. Environ Toxicol Pharmacol 36(2):529–538

19.

Bunea A, Rugină D, Sconţa Z, Pop RM, Pintea A, Socaciu C, Tăbăran F, Grootaert C, Struijs K, VanCamp J (2013) Anthocyanin determination in blueberry extracts from various cultivars and their antiproliferative and apoptotic properties in B16-F10 metastatic murine melanoma cells. Phytochemistry 95:436–444

20.

Gordillo G, Fang H, Khanna S, Harper J, Phillips G, Sen CK (2009) Oral administration of blueberry inhibits angiogenic tumor growth and enhances survival of mice with endothelial cell neoplasm. Antioxid Redox Signal 11(1):47–58

21.

Kai H, Akamatsu E, Torii E, Kodama H, Yukizaki C, Sakakibara Y, Suiko M, Morishita K, Kataoka H, Matsuno K (2011) Inhibition of proliferation by agricultural plant extracts in seven human adult T-cell leukaemia (ATL)-related cell lines. J Nat Med 65(3–4):651–655

22.

Minker C, Duban L, Karas D, Järvinen P, Lobstein A, Muller CD (2015) Impact of Procyanidins from Different Berries on Caspase 8 Activation in Colon Cancer. Oxidative Med Cell Longev 2015:13. https://doi.org/10.1155/2015/154164

23.

Qi C, Li S, Jia Y, Wang L (2014) Blueberry anthocyanins induce G2/M cell cycle arrest and apoptosis of oral cancer KB cells through down-regulation methylation of p53. Yi chuan= Hereditas/Zhongguo yi chuan xue hui bian ji 36(6):566–573

24.

Ravoori S, Vadhanam MV, Aqil F, Gupta RC (2012) Inhibition of estrogen-mediated mammary tumorigenesis by blueberry and black raspberry. J Agric Food Chem 60(22):5547–5555

25.

Lohachoompol V, Srzednicki G, Craske J (2004) The change of total anthocyanins in blueberries and their antioxidant effect after drying and freezing. Biomed Res Int 2004(5):248–252

26.

Fang Y, Sharp GC, Braley-Mullen H (2008) Interleukin-10 promotes resolution of granulomatous experimental autoimmune thyroiditis. Am J Pathol 172(6):1591–1602

27.

Fang Y, Yu S, Braley-Mullen H (2012) TGF-β promotes proliferation of thyroid epithelial cells in IFN-γ−/− mice by down-regulation of p21 and p27 via AKT pathway. Am J Pathol 180(2):650–660

28.

Fang Y, Bradley MJ, Cook KM, Herrick EJ, Nicholl MB (2013) A potential role for resveratrol as a radiation sensitizer for melanoma treatment. J Surg Res 183(2):645–653

29.

Fang Y, Herrick EJ, Nicholl MB (2012) A Possible Role for Perforin and Granzyme B in Resveratrol-Enhanced Radiosensitivity of Prostate Cancer. J Androl 33(4):752–760

30.

Fang Y, Moore BJ, Bai Q, Cook KM, Herrick EJ, Nicholl MB (2013) Hydrogen peroxide enhances radiation-induced apoptosis and inhibition of melanoma cell proliferation. Anticancer Res 33(5):1799–1807

31.

Zhu Z, Davidson KT, Brittingham A, Wakefield MR, Bai Q, Xiao H, Fang Y (2016) Trichomonas vaginalis: a possible foe to prostate cancer. Med Oncol 33(10):115

32.

Fang Y, Sharp GC, Yagita H, Braley-Mullen H (2008) A critical role for TRAIL in resolution of granulomatous experimental autoimmune thyroiditis. J Pathol 216(4):505–513

33.

Fang Y, Wei Y, DeMarco V, Chen K, Sharp GC, Braley-Mullen H (2007) Murine FLIP transgene expressed on thyroid epithelial cells promotes resolution of granulomatous experimental autoimmune thyroiditis in DBA/1 mice. Am J Pathol 170(3):875–887

34.

Haie-Meder C, Morice P, Castiglione M, Group EGW (2009) Cervical cancer: ESMO clinical recommendations for diagnosis, treatment and follow-up. Ann Oncol 20(suppl_4):iv27–iv28

35.

Dasari S, Tchounwou PB (2014) Cisplatin in cancer therapy: molecular mechanisms of action. Eur J Pharmacol 740:364–378

36.

Tippayamontri T, Kotb R, Paquette B, Sanche L (2012) Synergism in concomitant chemoradiotherapy of cisplatin and oxaliplatin and their liposomal formulation in the human colorectal cancer HCT116 model. Anticancer Res 32(10):4395–4404

37.

Leisching G, Loos B, Botha M, Engelbrecht A-M (2015) Bcl-2 confers survival in cisplatin treated cervical cancer cells: circumventing cisplatin dose-dependent toxicity and resistance. J Transl Med 13(1):1

38.

Galluzzi L, Senovilla L, Vitale I, Michels J, Martins I, Kepp O, Castedo M, Kroemer G (2012) Molecular mechanisms of cisplatin resistance. Oncogene 31(15):1869–1883

39.

Huang H, Huang SY, Chen TT, Chen JC, Chiou CL, Huang TM (2004) Cisplatin restores p53 function and enhances the radiosensitivity in HPV16 E6 containing SiHa cells. J Cell Biochem 91(4):756–765

40.

Liu Y, Xing H, Han X, Shi X, Liang F, Chen G, Ma D (2005) The mechanism of cisplatin-induced apoptosis in HeLa cells. Chin J Clin Oncol 2(6):866–869

41.

Bloom J, Cross FR (2007) Multiple levels of cyclin specificity in cell-cycle control. Nat Rev Mol Cell Biol 8(2):149–160

42.

Resnitzky D, Reed SI (1995) Different roles for cyclins D1 and E in regulation of the G1-to-S transition. Mol Cell Biol 15(7):3463–3469

43.

Zhang D, Li X, Chen C, Li Y, Zhao L, Jing Y, Liu W, Wang X, Zhang Y, Xia H (2012) Attenuation of p38-mediated miR-1/133 expression facilitates myoblast proliferation during the early stage of muscle regeneration. PLoS One 7(7):e41478

44.

Kelman Z (1997) PCNA: structure, functions and interactions. Oncogene 14(6):629–640

45.

Nicholl MB, Ledgewood CL, Chen X, Bai Q, Qin C, Cook KM, Herrick EJ, Diaz-Arias A, Moore BJ, Fang Y (2014) Il-35 promotes pancreas cancer growth through enhancement of proliferation and inhibition of apoptosis: Evidence for a role as an autocrine growth factor. Cytokine 70(2):126–133

46.

Zhu Z, Zhang D, Lee H, Menon AA, Wu J, Hu K, Jin Y (2017) Macrophage-derived apoptotic bodies promote the proliferation of the recipient cells via shuttling microRNA-221/222. J Leukoc Biol 101(6):1349–1359

47.

LeBlanc H, Ashkenazi A (2003) Apo2L/TRAIL and its death and decoy receptors. Cell Death Differ 10(1):66–75

48.

Fang Y, Chen X, Bai Q, Qin C, Mohamud AO, Zhu Z, Ball TW, Ruth CM, Newcomer DR, Herrick EJ (2015) IL-9 inhibits HTB-72 melanoma cell growth through upregulation of p21 and TRAIL. J Surg Oncol 111(8):969–974

49.

Nicholl MB, Chen X, Qin C, Bai Q, Zhu Z, Davis MR, Fang Y (2016) IL-32α has differential effects on proliferation and apoptosis of human melanoma cell lines. J Surg Oncol 113(4):364–369
Acknowledgments
This study was supported by grants from Des Moines University for Yujiang Fang, M.D., Ph.D. (IOER 05-14-01 and IOER 112-3749). Kristoffer T. Davidson was supported by Mentored Research Program from Des Moines University (IOER 112-3113).
Ethics declarations
Conflict of Interest
The authors declare that they have no conflict of interest.
About this article
Cite this article
Davidson, K.T., Zhu, Z., Bai, Q. et al. Blueberry as a Potential Radiosensitizer for Treating Cervical Cancer. Pathol. Oncol. Res. 25, 81–88 (2019). https://doi.org/10.1007/s12253-017-0319-y
Received:

Accepted:

Published:

Issue Date:
Keywords
Blueberry extract

Radiation

Apoptosis

Cervical cancer