Abstract
The management of locally advanced pancreatic cancer (LAPC) is a major challenge. Although new drugs are available for the treatment of metastatic disease, the optimal treatment of non-metastatic cases remains controversial. The role of neoadjuvant therapy is still a question of debate in this setting. The aim of the study was to prospectively collect and analyse data on efficacy and safety of a modified FOLFIRINOX regimen in LAPC patients treated in a single institution. Another major objective was to assess the capability of FOLFIRINOX to render primary non-resectable cancer to resectable. No bolus fluorouracil was given and a 20% dose reduction of oxaliplatin and irinotecan was applied. Primary G-CSF prophylaxis was applied to prevent febrile neutropenia. Thirty-two patients (mean age 60.2 years, range: 40–77 years) have been enrolled into the study. All patients had ECOG performance status of 0 or 1. Best response to therapy was stable disease (SD) or partial regression (PR) in 18 (56.2%) and 6 (18.8%) cases. Two patients (6.3%) underwent surgical resection (100% R0). The most frequent grade 3/4 adverse events were nausea (18.8%), fatigue (12.5%) and diarrhea (12.5%). The incidence of severe neutropenia was 28.1%, with only one documented case of febrile neutropenia. The probability of disease progression was 25% and 50% after 75 and 160 days with 88.4% of possibility of disease progression after 500 days. OS probability was 92.1, 71.5% and 49.5% at 180-, 365 and 540 days. Our data does not support the capability of FOLFIRINOX to render primary non-resectable cancer to resectable. However, due to the high disease control rate observed, FOLFRINOX might be recommended as first line option for the palliative treatment of LAPC. Despite reduced chemotherapy doses significant toxicity has been seen.
This is a preview of subscription content, log in to check access.
Access options
Buy single article
Instant access to the full article PDF.
US$ 39.95
Price includes VAT for USA
Subscribe to journal
Immediate online access to all issues from 2019. Subscription will auto renew annually.
US$ 99
This is the net price. Taxes to be calculated in checkout.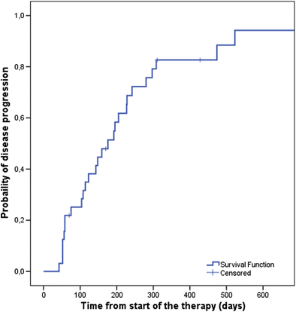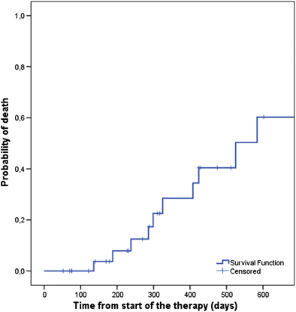 References
1.

Ferlay J, Partensky C, Bray F (2016) More deaths from pancreatic cancer than breast cancer in the EU by 2017. Acta Oncol 55(9–10):1158–1160

2.

Hariharan D, Saied A, Kocher HM (2008) Analysis of mortality rates for pancreatic cancer across the world. HPB (Oxford) 10:58–62

3.

Ferlay J, Soerjomataram I, Ervik M, Dikshit R, Eser S, Mathers C, Rebelo M, Parkin DM, Forman D, Bray F (2014) GLOBOCAN 2012 v1.1, cancer incidence and mortality worldwide: IARC CancerBase no. 11 [internet]. International Agency for Research on Cancer, Lyon

4.

Bodoky G, Lakatos G (2014) Management of pancreatic cancer today. Klinikai Onkológia 1(1):23–29

5.

Conroy T et al (2011) FOLFIRINOX versus gemcitabine for metastatic pancreatic cancer. N Engl J Med 364(19):1817–1825

6.

Suker M, Beumer BR, Sadot E, Marthey L, Faris JE, Mellon EA, El-Rayes BF, Wang-Gillam A, Lacy J, Hosein PJ, Moorcraft SY, Conroy T, Hohla F, Allen P, Taieb J, Hong TS, Shridhar R, Chau I, van Eijck CH (2016) Groot Koerkamp B.FOLFIRINOX for locally advanced pancreatic cancer: a systematic review and patient-level meta-analysis. Lancet Oncol 17(6):801–810. doi:10.1016/S1470-2045(16)00172-8

7.

Heinemann V, Haas M, Boeck S (2013) Neoadjuvant treatment of borderline resectable and non-resectable pancreatic cancer. Ann Oncol 0:1–8

8.

National Comprehensive Cancer Network (2015). NCCN Guidelines Version 2. Pancreatic Adenocarcinoma. http://www.nccn.org

9.

Mahaseth H, Brutcher E, Kauh J, Hawk N, Kim S, Chen Z, Kooby DA, Maithel SK, Landry J, El-Rayes BF (2013) Modified FOLFIRINOX regimen with improved safety and maintained efficacy in pancreatic adenocarcinoma. Pancreas 42(8):1311–1315. doi:10.1097/MPA.0b013e31829e2006

10.

Stein SM, James ES, Deng Y, Cong X, Kortmansky JS, Li J, Staugaard C, Indukala D, Boustani AM, Patel V, Cha CH, Salem RR, Chang B, Hochster HS, Lacy J (2016) Final analysis of a phase II study of modified FOLFIRINOX in locally advanced and metastatic pancreatic cancer. Br J Cancer 114(7):737–743. doi:10.1038/bjc.2016.45

11.

Marthey L, Sa-Cunha A, Blanc JF, Gauthier M, Cueff A, Francois E, Trouilloud I, Malka D, Bachet JB, Coriat R, Terrebonne E, De La Fouchardière C, Manfredi S, Solub D, Lécaille C, Thirot Bidault A, Carbonnel F, Taieb J (2015) FOLFIRINOX for locally advanced pancreatic adenocarcinoma: results of an AGEO multicenter prospective observational cohort. Ann Surg Oncol 22(1):295–301. doi:10.1245/s10434-014-3898-9

12.

Rombouts SJ, Walma MS, Vogel JA, van Rijssen LB, Wilmink JW, Mohammad NH, van Santvoort HC, Molenaar IQ, Besselink MG (2016) Systematic review of resection rates and clinical outcomes after FOLFIRINOX-based treatment in patients with locally advanced pancreatic cancer. Ann Surg Oncol 23(13):4352–4360

13.

Barton JG, Bois JP, Sarr MG, Wood CM, Qin R, Thomsen KM, Kendrick ML, Farnell MB (2009) Predictive and prognostic value of CA19-9 in resected pancreatic adenocarcinoma. J Gastrointest Surg 13:2050–2058

14.

Wang-Gillam A, Li CP, Bodoky G, Dean A, Shan YS, Jameson G, Macarulla T, Lee KH, Cunningham D, Blanc JF, Hubner RA, Chiu CF, Schwartsmann G, Siveke JT, Braiteh F, Moyo V, Belanger B, Dhindsa N, Bayever E, Von Hoff DD, Chen LT (2016) NAPOLI-1 Study Group. Nanoliposomal irinotecan with fluorouracil and folinic acid in metastatic pancreaticcancer after previous gemcitabine-based therapy (NAPOLI-1): a global, randomised,open-label, phase 3 trial. Lancet. Feb 6;387 (10018):545–57. doi: 10.1016/S0140-6736(15)00986-1. Epub 2015 Nov 29

15.

Conroy T, Paillot B, Francois E et al (2005) Irinotecan plus oxaliplatin and leucovorin-modulated fluorouracil in advanced pancreatic cancer—a Groupe Tumeurs digestives of the federation Nationale des Centres de Lutte Contre le cancer study. J Clin Oncol 23:1228–1236

16.

Gunturu KS, Yao X, Cong X et al (2013) FOLFIRINOX for locally advanced and metastatic pancreatic cancer: single institution retrospective review of efficacy and toxicity. Med Oncol 30:361

17.

Hosein PJ, Macintyre J, Kawamura C et al (2012) A retrospective study of neoadjuvant FOLFIRINOX in unresectable or borderline-resectable locally advanced pancreatic adenocarcinoma. BMC Cancer 12:199

18.

Faris JE, Blaszkowsky LS, McDermott S, Guimaraes AR, Szymonifka J, Huynh MA, Ferrone CR, Wargo JA, Allen JN, Dias LE, Kwak EL, Lillemoe KD, Thayer SP, Murphy JE, Zhu AX, Sahani DV, Wo JY, Clark JW, Fernandez-del Castillo C, Ryan DP, Hong TS (2013) FOLFIRINOX in locally advanced pancreatic cancer: the Massachusetts General Hospital cancer center experience. Oncologist 18(5):543–548. doi:10.1634/theoncologist.2012-0435

19.

Peddi PF, Lubner S, McWilliams R et al (2012) Multi-institutional experience with FOLFIRINOX in pancreatic adenocarcinoma. JOP 13:497–501

20.

Rombouts SJ, Mungroop TH, Heilmann MN, van Laarhoven HW, Busch OR, Molenaar IQ, Besselink MG, Wilmink JW (2016) FOLFIRINOX in locally advanced and metastatic pancreatic cancer: a single Centre cohort study. J Cancer 7(13):1861–1866 eCollection 2016

21.

Blazer M, Wu C, Goldberg RM, Phillips G, Schmidt C, Muscarella P, Wuthrick E, Williams TM, Reardon J, Ellison EC, Bloomston M, Bekaii-Saab T (2015) Neoadjuvant modified (m) FOLFIRINOX for locally advanced unresectable (LAPC) and borderline resectable (BRPC) adenocarcinoma of the pancreas. Ann Surg Oncol 22(4):1153–1159. doi:10.1245/s10434-014-4225-1

22.

Boone BA, Steve J, Krasinskas AM, Zureikat AH, Lembersky BC, Gibson MK, Stoller RG, Zeh HJ, Bahary N (2013) Outcomes with FOLFIRINOX for borderline resectable and locally unresectable pancreatic cancer. J Surg Oncol 108(4):236–241. doi:10.1002/jso.23392

23.

Moorcraft SY, Khan K, Peckitt C, Watkins D, Rao S, Cunningham D, Chau I (2014 Dec) FOLFIRINOX for locally advanced or metastatic pancreatic ductal adenocarcinoma: the Royal Marsden experience. Clin Colorectal Cancer 13(4):232–238. doi:10.1016/j.clcc.2014.09.005
Ethics declarations
Conflict of Interest
None.
About this article
Cite this article
Lakatos, G., Petranyi, A., Szűcs, A. et al. Efficacy and Safety of FOLFIRINOX in Locally Advanced Pancreatic Cancer. A Single Center Experience.. Pathol. Oncol. Res. 23, 753–759 (2017). https://doi.org/10.1007/s12253-016-0176-0
Received:

Accepted:

Published:

Issue Date:
Keywords
Pancreatic cancer

Locally advanced

FOLFIRINOX