Abstract
Prognosis and treatment of liver diseases mainly depend on the precise evaluation of the fibrosis. Comparisons were made between the results of Metavir fibrosis scores and digital morphometric analyses (DMA), liver stiffness (LS) values and aminotransferase-platelet ratio (APRI) scores, respectively. Liver biopsy specimens stained with Sirius red and analysed by morphometry, LS and APRI measurements were taken from 96 patients with chronic liver diseases (56 cases of viral hepatitis, 22 cases of autoimmune- and 18 of mixed origin). The strongest correlation was observed between Metavir score and DMA (r = 0.75 p < 0.05), followed in decreasing order by LS and Metavir (r = 0.61), LS and DMA (r = 0.47) LS and APRI (r = 0.35) and Metavir and APRI (r = 0.24), respectively. DMA is a helpful additional tool for the histopathological evaluation of fibrosis, even when the sample size is small and especially in case of advanced fibrosis. The non-invasive methods showed good correlation with the histopathological methods; LS proved to be more accurate than APRI. The stronger correlation between LS values and Metavir scores, as well as the results of DMA in case of appropriate sample size were remarkable.
Access options
Buy single article
Instant access to the full article PDF.
USD 39.95
Price excludes VAT (USA)
Tax calculation will be finalised during checkout.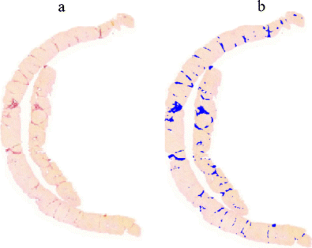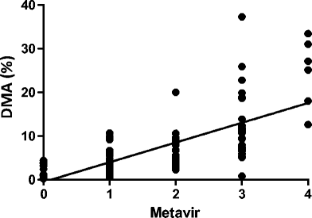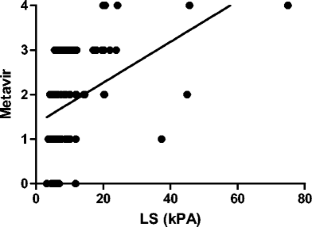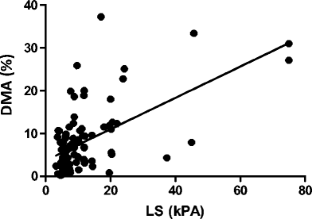 References
Bedossa P, Dargere D, Paradis V (2003) Sampling variability of liver fibrosis in chronic hepatitis C. Hepatology 38:1449–1457

Afdhal NH (2004) Biopsy or biomarkers: is there a gold standard for diagnosis of liver fibrosis? Clin Chem 50:1299–1300

Desmet VJ, Gerber M, Hoofnagle JH et al (1994) Classification of chronic hepatitis: diagnosis, grading and staging. Hepatology 19:1513–1520

Germani G, Burroughs AK, Duillon AP (2010) The relationship between liver disease stage and liver fibrosis: a tangled web. Histopathology 57:773–784

Huang Y, de Boer WB, Adams LA et al (2014) Image analysis of liver biopsy samples measures fibrosis and predicts clinical outcome. J Hepatol 61:22–27

Hall AR, Tsochatzis E, Morris R et al (2013) Sample size requirement for digital image analysis of collagen prportionate area in cirrhotic livers. Histopathology 62:421–430

Isgro G, Calvaruso V, Andreana L et al (2013) The relationship between transient elastograpy and histological collagen proportionate area for assessing fibrosis in chronic viral hepatitis. J Gastroenterol 48:921–929

Huang Y, de Boer WB, Adams LA et al (2013) Image analysis of liver collagen using sirius red is more accurate and correlates better with serum fibrosis markers than trichrome. Liver Int 338:1249–1256

Poynard T, Bedossa P, Opolon P (1997) Natural history of liver fibrosis progression in patient with chronic hepatitis C. The OBSVIRC, METAVIR, CLINVIR and DOSVIRCgroups. Lancet 349:825–832

Corpechot C, El Naggar A, Poujol-Robert A et al (2006) Assessment of biliary fibrosis by transient elastography in patients with PBC and PSC. Hepatology 43:1118–1124

Brunt M, Janney CG, Di Bisceglie AM et al (1999) Nonacoholic steatohepatitis: a proposal for grading and staging the histological lesions. Am J Gastroenterol 94:2467–2474

Ishak K, Baptista L, Bianchi L et al (1995) Histological grading and staging of chronic hepatitis. J Hepatol 22:696–699

Wai CT, Greenson JK, Fontana RJ (2003) A simple noninvasive index can predict both significant fibrosis and cirrhosis in patient with chronic hepatitis C. Hepatology 38:518–526

Dahab GM, Kheriza MM, El-Beltagi HM et al (2004) Digital quatification of fibrosis in liver biopsy sections: description of a new method by photoshop software. J Gastroenterol Hepatol 19:78–85

Goodman ZD, Stoddard AM, Bonkowsky HL et al (2009) Fibrosis progression in chronic hepatitis C: morphometric image analysis in the HALT-C trial. Hepatology 50:1738–1749

Huss S, Schmitz J, Goltz D et al (2010) Development and evaluation of an open source Delphi-based software for morphometric quantification of liver fibrosis. Fibrogenesis Tissue Repair 3:10

Wright M, Thursz M, Pullen R et al (2003) Quantitative versus morphological assessment of liver fibrosis: semi-quantitative scores are more robust than digital image fibrosis area estimation. Liver Int 23:28–34

Maduli E, Andorno S, Rigamonti C et al (2002) Evaluation of liver fibrosis in chronic hepatits C with a computer-assisted morphometric method. Ann Ital Med Int 17:242–247

Arima M, Terao H, Kashima K et al (2004) Regression of liver fibrosis in cases of chronic liver disease type C: quantitative evaluation by using computed image analysis. Intern Med 43:902–910

Friedenberg MA, Miller L, Chung CY et al (2005) Simplified method of hepatic fibrosis quantification: design of a new morphometric analysis application. Liver Int 25:1156–1161

O'Brien MJ, Keating NM, Elderiny S et al (2000) An assessment of digital image analysis to measure fibrosis in liver biopsy specimens of patients with chronic hepatitis C. Am J Clin Pathol 114:712–718

Pilette C, Rousselet C, Bedossa P et al (1998) Histopathological evaluation of liver fibrosis: quantitative image analysis vs semi-quantitative scores. Comparison with serum markers J Hepatol 28:439–446

Ziol M, Kettaneh A, Ganne-Carrié N et al (2009) Relationships between fibrosis amounts assessed by morphometry and liver stiffness measurements in chronic hepatitis or steatohepatitis. Eur J Gastroenterol Hepatol 21:1261–1268

Lazzarini AL, Levine RA, Ploutz-Synder J et al (2005) Advances in digital quantification technique enhance discrimination between mild and advanced liver fibrosis in chronic hepatitis C. Liver Int 25:1142–1149

Cho HJ, Seo YS, Lee KG et al (2011) Serum aminotransferase levels instead of etiology affects the accuracy of transient elastography in chronic viral hepatitis patient. Gastroenterol Hepatol 26:492–500

Yasuda M, Shimizu I, Shiba M et al (1999) Supressive efects of estradiol on dimetylnitrosamine-induced fibrosis of the liver in rats. Hepatology 29:719–727

Fraquelli M, Rigamonti C, Casazza G et al (2007) Reproducibility of transient elastograpy in the evaluation of liver fibrosis in patient with chronic liver disease. Gut 56:968–973

Arena U, Vizutti F, Abraldes JG et al (2008) Reliability of transient elastography for the diagnosis of advanced fibrosis in chronic hepatits C. Gut 57:1288–1293

Tapper EB, Cohen EB, Afdhal N et al (2012) Levels of alanine aminotransferase confound use of transient elastography to diagnose fibrosis in patients with chronic HCV infection. Clin Gastroenterol Hepatol 10:932–937

McCormick SE, Goodman ZD, Maydonovitch CC et al (1996) Evaluation of liver histology ALT elevation and HCV RNA titer in patients with chronic hepatitis C. Am J Gastroenterol 91:1516–1522

Poynard T, Ngo Y, Perazzo H et al (2011) Prognostic value of liver fibrosis biomarkers. A meta-analysis. Gastroenterol Hepatol 7:445–454
Acknowledgments
Authors would like to thank Mrs. Elvira Kálé Rigóné for the English proofreading and Mrs. Tordainé Szabó Hedvig for her technical assistance.
Financial Support
This study was supported by grants OTKA K108548 by the Hungarian National Scientific Research Fund.
About this article
Cite this article
Halász, T., Horváth, G., Kiss, A. et al. Evaluation of Histological and non-Invasive Methods for the Detection of Liver Fibrosis: The Values of Histological and Digital Morphometric Analysis, Liver Stiffness Measurement and APRI Score. Pathol. Oncol. Res. 22, 1–6 (2016). https://doi.org/10.1007/s12253-015-9964-1
Received:

Accepted:

Published:

Issue Date:

DOI: https://doi.org/10.1007/s12253-015-9964-1
Keywords
Liver fibrosis

Liver stiffness

Digital morphometric analysis

Liver biopsy