Abstract
Influenza A viruses (IAV) are responsible for seasonal flu epidemics, which can lead to high morbidity and mortality each year. Like other viruses, influenza virus can hijack host cellular machinery for its replication. Host cells have evolved diverse cellular defense to resist the invasion of viruses. As the main components of promyelocytic leukemia protein nuclear bodies (PML-NBs), PML can inhibit the replication of many medically important viruses including IAV. However, the mechanism of PML against IAV is unclear. In the present study, we found PML was induced in response to IAV infection and ectopic expression of PML could inhibit IAV replication, whereas knockdown of endogenous PML expression could enhance IAV replication. Further studies showed that PML increased the expression of FBXW7 by inhibiting its K48-linked ubiquitination and enhanced the interaction between FBXW7 and SHP2, which negatively regulated IAV replication during infection. Moreover, PML stabilized RIG-I to promote the production of type I IFN. Collectively, these data indicated that PML inhibited IAV replication by enhancing FBXW7 expression in the antiviral immunity against influenza virus and extended the mechanism of PML in antiviral immunity.
Access options
Buy single article
Instant access to the full article PDF.
USD 39.95
Price excludes VAT (USA)
Tax calculation will be finalised during checkout.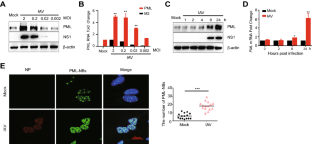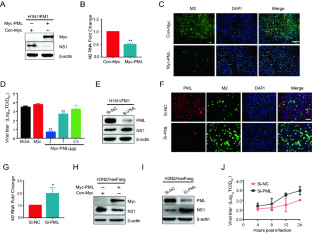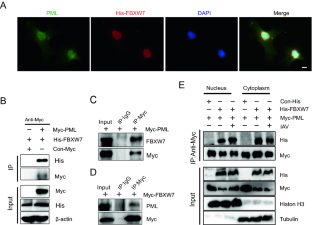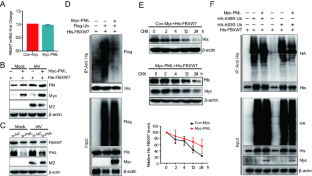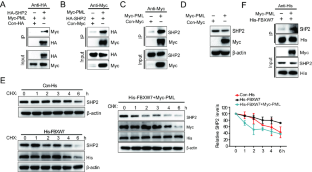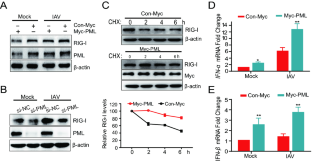 References
Alandijany T, Roberts APE, Conn KL, Loney C, McFarlane S, Orr A, Boutell C (2018) Correction: distinct temporal roles for the promyelocytic leukaemia (PML) protein in the sequential regulation of intracellular host immunity to HSV-1 infection. PLoS Pathog 14:e1006927

Batty EC, Jensen K, Freemont PS (2012) PML nuclear bodies and other TRIM-defined subcellular compartments. Adv Exp Med Biol 770:39–58

Blondel D, Kheddache S, Lahaye X, Dianoux L, Chelbi-Alix MK (2010) Resistance to rabies virus infection conferred by the PMLIV isoform. J Virol 84:10719–10726

Chang HR, Munkhjargal A, Kim M-J, Park SY, Jung E, Ryu J-H, Yang Y, Lim J-S, Kim Y (2018) The functional roles of PML nuclear bodies in genome maintenance. Mutat Res/fundam Mol Mech Mutagen 809:99–107

Chelbi-Alix MK, Pelicano L, Quignon F, Koken MH, Venturini L, Stadler M, Pavlovic J, Degos L, de Thé H (1995) Induction of the PML protein by interferons in normal and APL cells. Leukemia 9:2027–2033

Chelbi-Alix MK, Quignon F, Pelicano L, Koken MH, de Thé H (1998) Resistance to virus infection conferred by the interferon-induced promyelocytic leukemia protein. J Virol 72:1043–1051

Chelbi-Alix MK, Vidy A, El Bougrini J, Blondel D (2006) Rabies viral mechanisms to escape the IFN system: the viral protein P interferes with IRF-3, Stat1, and PML nuclear bodies. J Interferon Cytokine Res 26:271–280

Chen W, Han C, Xie B, Hu X, Yu Q, Shi L, Wang Q, Li D, Wang J, Zheng P, Liu Y, Cao X (2013) Induction of Siglec-G by RNA viruses inhibits the innate immune response by promoting RIG-I degradation. Cell 152:467–478

Chen D, Feng C, Tian X, Zheng N, Wu Z (2018) Promyelocytic leukemia restricts enterovirus 71 replication by inhibiting autophagy. Front Immunol 9:1268

El Asmi F, Maroui MA, Dutrieux J, Blondel D, Nisole S, Chelbi-Alix MK (2014) Implication of PMLIV in both intrinsic and innate immunity. PLoS Pathog 10:e1003975

Everett RD, Chelbi-Alix MK (2007) PML and PML nuclear bodies: implications in antiviral defence. Biochimie 89:819–830

Giorgi C, Ito K, Lin HK, Santangelo C, Wieckowski MR, Lebiedzinska M, Bononi A, Bonora M, Duszynski J, Bernardi R, Rizzuto R, Tacchetti C, Pinton P, Pandolfi PP (2010) PML regulates apoptosis at endoplasmic reticulum by modulating calcium release. Science 330:1247–1251

Hayakawa F, Abe A, Kitabayashi I, Pandolfi PP, Naoe T (2008) Acetylation of PML is involved in histone deacetylase inhibitor-mediated apoptosis. J Biol Chem 283:24420–24425

Hsu KS, Kao HY (2018) PML: regulation and multifaceted function beyond tumor suppression. Cell Biosci 8:5

Iki S, Yokota S, Okabayashi T, Yokosawa N, Nagata K, Fujii N (2005) Serum-dependent expression of promyelocytic leukemia protein suppresses propagation of influenza virus. Virology 343:106–115

Inuzuka H, Shaik S, Onoyama I, Gao D, Tseng A, Maser RS, Zhai B, Wan L, Gutierrez A, Lau AW, Xiao Y, Christie AL, Aster J, Settleman J, Gygi SP, Kung AL, Look T, Nakayama KI, DePinho RA, Wei W (2011) SCFFBW7 regulates cellular apoptosis by targeting MCL1 for ubiquitylation and destruction. Nature 471:104–109

Janer A, Martin E, Muriel MP, Latouche M, Fujigasaki H, Ruberg M, Brice A, Trottier Y, Sittler A (2006) PML clastosomes prevent nuclear accumulation of mutant ataxin-7 and other polyglutamine proteins. J Cell Biol 174:65–76

Kell AM, Gale M Jr (2015) RIG-I in RNA virus recognition. Virology 479–480:110–121

Kentsis A, Dwyer EC, Perez JM, Sharma M, Chen A, Pan ZQ, Borden KL (2001) The RING domains of the promyelocytic leukemia protein PML and the arenaviral protein Z repress translation by directly inhibiting translation initiation factor eIF4E. J Mol Biol 312:609–623

Krammer F, Palese P (2015) Advances in the development of influenza virus vaccines. Nat Rev Drug Discov 14:167–182

Li W, Wang G, Zhang H, Zhang D, Zeng J, Chen X, Xu Y, Li K (2009) Differential suppressive effect of promyelocytic leukemia protein on the replication of different subtypes/strains of influenza A virus. Biochem Biophys Res Commun 389:84–89

Li K, Wang F, Cao WB, Lv XX, Hua F, Cui B, Yu JJ, Zhang XW, Shang S, Liu SS, Yu JM, Han MZ, Huang B, Zhang TT, Li X, Jiang JD, Hu ZW (2017) TRIB3 promotes APL progression through stabilization of the oncoprotein PML-RARα and inhibition of p53-mediated senescence. Cancer Cell 31:697-710.e697

Lin HK, Bergmann S, Pandolfi PP (2004) Cytoplasmic PML function in TGF-beta signalling. Nature 431:205–211

Maul GG, Guldner HH, Spivack JG (1993) Modification of discrete nuclear domains induced by herpes simplex virus type 1 immediate early gene 1 product (ICP0). J Gen Virol 74:2679–2690

Moberg KH, Bell DW, Wahrer DC, Haber DA, Hariharan IK (2001) Archipelago regulates Cyclin E levels in Drosophila and is mutated in human cancer cell lines. Nature 413:311–316

Negorev D, Maul GG (2001) Cellular proteins localized at and interacting within ND10/PML nuclear bodies/PODs suggest functions of a nuclear depot. Oncogene 20:7234–7242

Nisole S, Stoye JP, Saïb A (2005) TRIM family proteins: retroviral restriction and antiviral defence. Nat Rev Microbiol 3:799–808

Nisole S, Maroui MA, Mascle XH, Aubry M, Chelbi-Alix MK (2013) Differential roles of PML isoforms. Front Oncol 3:125

Reineke EL, Lam M, Liu Q, Liu Y, Stanya KJ, Chang KS, Means AR, Kao HY (2008) Degradation of the tumor suppressor PML by Pin1 contributes to the cancer phenotype of breast cancer MDA-MB-231 cells. Mol Cell Biol 28:997–1006

Scherer M, Stamminger T (2016) Emerging role of PML nuclear bodies in innate immune signaling. J Virol 90:5850–5854

Shaw ML, Stertz S (2018) Role of host genes in influenza virus replication. Curr Top Microbiol Immunol 419:151–189

Song Y, Lai L, Chong Z, He J, Zhang Y, Xue Y, Xie Y, Chen S, Dong P, Chen L, Chen Z, Dai F, Wan X, Xiao P, Cao X, Liu Y, Wang Q (2017) E3 ligase FBXW7 is critical for RIG-I stabilization during antiviral responses. Nat Commun 8:14654

Tsunematsu R, Nakayama K, Oike Y, Nishiyama M, Ishida N, Hatakeyama S, Bessho Y, Kageyama R, Suda T, Nakayama KI (2004) Mouse Fbw7/Sel-10/Cdc4 is required for notch degradation during vascular development. J Biol Chem 279:9417–9423

Wang R, Wang Y, Liu N, Ren C, Jiang C, Zhang K, Yu S, Chen Y, Tang H, Deng Q, Fu C, Wang Y, Li R, Liu M, Pan W, Wang P (2013) FBW7 regulates endothelial functions by targeting KLF2 for ubiquitination and degradation. Cell Res 23:803–819

Wang G, Tian Y, Hu Q, Xiao X, Chen S (2018) PML/RARa blocks the differentiation and promotes the proliferation of acute promyelocytic leukemia through activating MYB expression by transcriptional and epigenetic regulation mechanisms. J Cell Biochem. https://doi.org/10.1002/jcb.27077

Welcker M, Clurman BE (2008) FBW7 ubiquitin ligase: a tumour suppressor at the crossroads of cell division, growth and differentiation. Nat Rev Cancer 8:83–93

Yada M, Hatakeyama S, Kamura T, Nishiyama M, Tsunematsu R, Imaki H, Ishida N, Okumura F, Nakayama K, Nakayama KI (2004) Phosphorylation-dependent degradation of c-Myc is mediated by the F-box protein Fbw7. Embo J 23:2116–2125

Zhong S, Hu P, Ye TZ, Stan R, Ellis NA, Pandolfi PP (1999) A role for PML and the nuclear body in genomic stability. Oncogene 18:7941–7947
Acknowledgements
The work was financially supported by National Science and Technology Major Projects for "Major New Drugs Innovation and Development" (2018ZX09711003), CAMS Initiative for Innovative Medicine (CAMS-I2M-1-010), and National Natural Science Foundation of China (81630089).
Ethics declarations
Conflict of interest
No potential conflict of interest was reported by the authors.
Animal and Human Rights Statement
This study does not contain any studies with human participants or animals performed by any of the authors.
Supplementary Information
Below is the link to the electronic supplementary material.
About this article
Cite this article
Yan, HY., Wang, HQ., Zhong, M. et al. PML Suppresses Influenza Virus Replication by Promoting FBXW7 Expression. Virol. Sin. 36, 1154–1164 (2021). https://doi.org/10.1007/s12250-021-00399-3
Received:

Accepted:

Published:

Issue Date:

DOI: https://doi.org/10.1007/s12250-021-00399-3
Keywords
Influenza A virus (IAV)

Promyelocytic leukemia (PML)

FBXW7

RIG-I