Abstract
Host interferon-stimulated gene 20 (ISG20) exerts antiviral effects on viruses by degrading viral RNA or by enhancing IFN signaling. Here, we examined the role of ISG20 during pseudorabies virus (PRV) proliferation. We found that ISG20 modulates PRV replication by enhancing IFN signaling. Further, ISG20 expression was upregulated following PRV infection and poly(I:C) treatment. Ectopic expression of ISG20 inhibited PRV proliferation in PK15 cells, whereas knockdown of ISG20 promoted PRV proliferation. In addition, ISG20 expression upregulated IFN-β expression and enhanced IFN downstream signaling during PRV infection. Notably, PRV UL24 suppressed the transcription of ISG20, thus antagonizing its antiviral effect. Further domain mapping analysis showed that the N terminus (amino acids 1–90) of UL24 was responsible for the inhibition of ISG20 transcription. Collectively, these findings characterize the role of ISG20 in suppressing PRV replication and increase the understanding of host-PRV interplay.
Access options
Buy single article
Instant access to the full article PDF.
USD 39.95
Price excludes VAT (USA)
Tax calculation will be finalised during checkout.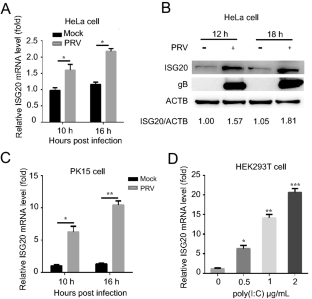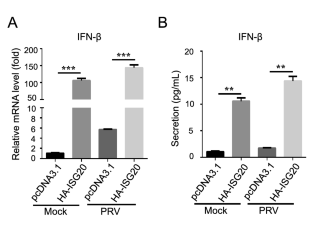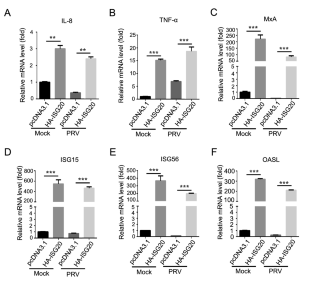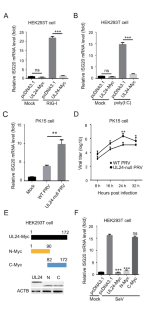 References
Ai JW, Weng SS, Cheng Q, Cui P, Li YJ, Wu HL, Zhu YM, Xu B, Zhang WH (2018) Human endophthalmitis caused by pseudorabies virus infection, China, 2017. Emerg Infect Dis 24:1087–1090

Brukman A, Enquist LW (2006a) Pseudorabies virus EP0 protein counteracts an interferon-induced antiviral state in a species-specific manner. J Virol 80:10871–10873

Brukman A, Enquist LW (2006b) Suppression of the interferon-mediated innate immune response by pseudorabies virus. J Virol 80:6345–6356

Cao X (2016) Self-regulation and cross-regulation of pattern-recognition receptor signalling in health and disease. Nat Rev Immunol 16:35–50

Chai W, Li J, Shangguan Q, Liu Q, Li X, Qi D, Tong X, Liu W, Ye X (2018) Lnc-ISG20 inhibits influenza a virus replication by enhancing ISG20 expression. J Virol 92:e00539−18

Chen W, Royer WE Jr (2010) Structural insights into interferon regulatory factor activation. Cell Signal 22:883–887

Chen SN, Zhang XW, Li L, Ruan BY, Huang B, Huang WS, Zou PF, Fu JP, Zhao LJ, Li N, Nie P (2016) Evolution of IFN-λ in tetrapod vertebrates and its functional characterization in green anole lizard (Anolis carolinensis). Dev Comp Immunol 61:208–224

Chen X, Liu S, Goraya MU, Maarouf M, Huang S, Chen JL (2018) Host immune response to influenza a virus infection. Front Immunol 9:320

Ciminski K, Chase GP, Beer M, Schwemmle M (2021) Influenza a viruses: understanding human host determinants. Trends Mol Med 27:104−112

Crameri M, Bauer M, Caduff N, Walker R, Steiner F, Franzoso FD, Gujer C, Boucke K, Kucera T, Zbinden A, Münz C, Fraefel C, Greber UF, Pavlovic J (2018) MxB is an interferon-induced restriction factor of human herpesviruses. Nat Commun 9:1980

Du Y, Duan T, Feng Y, Liu Q, Lin M, Cui J, Wang RF (2018) LRRC25 inhibits type I IFN signaling by targeting ISG15-associated RIG-I for autophagic degradation. Embo J 37:351–366

Espert L, Degols G, Gongora C, Blondel D, Williams BR, Silverman RH, Mechti N (2003) ISG20, a new interferon-induced RNase specific for single-stranded RNA, defines an alternative antiviral pathway against RNA genomic viruses. J Biol Chem 278:16151–16158

Espert L, Degols G, Lin YL, Vincent T, Benkirane M, Mechti N (2005) Interferon-induced exonuclease ISG20 exhibits an antiviral activity against human immunodeficiency virus type 1. J Gen Virol 86:2221–2229

Espert L, Eldin P, Gongora C, Bayard B, Harper F, Chelbi-Alix MK, Bertrand E, Degols G, Mechti N (2006) The exonuclease ISG20 mainly localizes in the nucleolus and the Cajal (Coiled) bodies and is associated with nuclear SMN protein-containing complexes. J Cell Biochem 98:1320–1333

Feng J, Wickenhagen A, Turnbull ML, Rezelj VV, Kreher F, Tilston-Lunel NL, Slack GS, Brennan B, Koudriakova E, Shaw AE, Rihn SJ, Rice CM, Bieniasz PD, Elliott RM, Shi X, Wilson SJ (2018) Interferon-stimulated gene (ISG)-expression screening reveals the specific antibunyaviral activity of ISG20. J Virol 92:e02140-17

Gao M, Lin Y, Liu X, Li Y, Zhang C, Wang Z, Wang Z, Wang Y, Guo Z (2019) ISG20 promotes local tumor immunity and contributes to poor survival in human glioma. Oncoimmunology 8:e1534038

Gold ES, Diercks AH, Podolsky I, Podyminogin RL, Askovich PS, Treuting PM, Aderem A (2014) 25-Hydroxycholesterol acts as an amplifier of inflammatory signaling. Proc Natl Acad Sci U S A 111:10666–10671

Honda K, Taniguchi T (2006) IRFs: master regulators of signalling by Toll-like receptors and cytosolic pattern-recognition receptors. Nat Rev Immunol 6:644–658

Ikushima H, Negishi H, Taniguchi T (2013) The IRF family transcription factors at the interface of innate and adaptive immune responses. Cold Spring Harb Symp Quant Biol 78:105–116

Imam H, Kim GW, Mir SA, Khan M, Siddiqui A (2020) Interferon-stimulated gene 20 (ISG20) selectively degrades N6-methyladenosine modified Hepatitis B Virus transcripts. PLoS Pathog 16:e1008338

Jiang D, Guo H, Xu C, Chang J, Gu B, Wang L, Block TM, Guo JT (2008) Identification of three interferon-inducible cellular enzymes that inhibit the replication of hepatitis C virus. J Virol 82:1665–1678

Ku CC, Che XB, Reichelt M, Rajamani J, Schaap-Nutt A, Huang KJ, Sommer MH, Chen YS, Chen YY, Arvin AM (2011) Herpes simplex virus-1 induces expression of a novel MxA isoform that enhances viral replication. Immunol Cell Biol 89:173–182

Li XD, Fu SH, Chen LY, Li F, Deng JH, Lu XC, Wang HY, Tian KG (2020) Detection of pseudorabies virus antibodies in human encephalitis cases. Biomed Environ Sci 33:444–447

Liao Y, Goraya MU, Yuan X, Zhang B, Chiu SH, Chen JL (2019) Functional involvement of interferon-inducible transmembrane proteins in antiviral immunity. Front Microbiol 10:1097

Liu Y, Nie H, Mao R, Mitra B, Cai D, Yan R, Guo JT, Block TM, Mechti N, Guo H (2017) Interferon-inducible ribonuclease ISG20 inhibits hepatitis B virus replication through directly binding to the epsilon stem-loop structure of viral RNA. PLoS Pathog 13:e1006296

Liu H, Li S, Yang X, Wang X, Li Y, Wang C, Chen L, Chang H (2018) Porcine ISG15 modulates the antiviral response during pseudorabies virus replication. Gene 679:212–218

Lymberopoulos MH, Pearson A (2007) Involvement of UL24 in herpes-simplex-virus-1-induced dispersal of nucleolin. Virology 363:397–409

Lymberopoulos MH, Bourget A, Ben Abdeljelil N, Pearson A (2011) Involvement of the UL24 protein in herpes simplex virus 1-induced dispersal of B23 and in nuclear egress. Virology 412:341–348

Miyashita H, Fukumoto M, Kuwahara Y, Takahashi T, Fukumoto M (2020) ISG20 is overexpressed in clinically relevant radioresistant oral cancer cells. Int J Clin Exp Pathol 13:1633

Nguyen LH, Espert L, Mechti N, Wilson DM (2001) The human interferon- and estrogen-regulated ISG20/HEM45 gene product degrades single-stranded RNA and DNA in vitro. Biochemistry 40:7174–7179

Pomeranz LE, Reynolds AE, Hengartner CJ (2005) Molecular biology of pseudorabies virus: impact on neurovirology and veterinary medicine. Microbiol Mol Biol Rev 69:462–500

Schneider WM, Chevillotte MD, Rice CM (2014) Interferon-stimulated genes: a complex web of host defenses. Annu Rev Immunol 32:513–545

Sharma S, Tenoever BR, Grandvaux N, Zhou GP, Lin RT, Hiscott J (2003) Triggering the interferon antiviral response through an IKK-related pathway. Science 300:1148–1151

Tailor P, Tamura T, Kong HJ, Kubota T, Kubota M, Borghi P, Gabriele L, Ozato K (2007) The feedback phase of type I interferon induction in dendritic cells requires interferon regulatory factor 8. Immunity 27:228–239

Wang J, Zeng L, Zhang L, Guo ZZ, Lu SF, Ming SL, Li GL, Wan B, Tian KG, Yang GY, Chu BB (2017) Cholesterol 25-hydroxylase acts as a host restriction factor on pseudorabies virus replication. J Gen Virol 98:1467–1476

Wang TY, Yang YL, Feng C, Sun MX, Peng JM, Tian ZJ, Tang YD, Cai XH (2020) Pseudorabies virus UL24 abrogates tumor necrosis factor alpha-induced NF-κB activation by degrading P65. Viruses 12:51

Weiss CM, Trobaugh DW, Sun C, Lucas TM, Diamond MS, Ryman KD, Klimstra WB (2018) The interferon-induced exonuclease ISG20 exerts antiviral activity through upregulation of type I interferon response proteins. mSphere 3:e00209-18

Wu N, Nguyen XN, Wang L, Appourchaux R, Zhang C, Panthu B, Gruffat H, Journo C, Alais S, Qin J, Zhang N, Tartour K, Catez F, Mahieux R, Ohlmann T, Liu M, Du B, Cimarelli A (2019) The interferon stimulated gene 20 protein (ISG20) is an innate defense antiviral factor that discriminates self versus non-self translation. PLoS Pathog 15:e1008093

Xu H, Su C, Pearson A, Mody CH, Zheng C (2017) Herpes Simplex Virus 1 UL24 Abrogates the DNA Sensing Signal Pathway by Inhibiting NF-κB Activation. J Virol 91

Xu T, Ruan H, Gao S, Liu J, Zhang X (2020) ISG20 serves as a potential biomarker and drives tumor progression in clear cell renal cell carcinoma. Aging 12:1808–1827

Yoneyama M, Suhara W, Fukuhara Y, Fukuda M, Nishida E, Fujita T (1998) Direct triggering of the type I interferon system by virus infection: activation of a transcription factor complex containing IRF-3 and CBP/p300. 17

Yuan K (2014) Influenza B virus NS1 protein inhibits conjugation of the interferon (IFN)-induced ubiquitin-like ISG15 protein. EMBO J 20:362–371

Zang R, Case JB, Yutuc E, Ma X, Shen S, Gomez Castro MF, Liu Z, Zeng Q, Zhao H, Son J, Rothlauf PW, Kreutzberger AJB, Hou G, Zhang H, Bose S, Wang X, Vahey MD, Mani K, Griffiths WJ, Kirchhausen T, Fremont DH, Guo H, Diwan A, Wang Y, Diamond MS, Whelan SPJ, Ding S (2020) Cholesterol 25-hydroxylase suppresses SARS-CoV-2 replication by blocking membrane fusion. Proc Natl Acad Sci U S A 117:32105–32113

Zhang X, Bogunovic D, Payelle-Brogard B, Francois-Newton V, Speer SD, Yuan C, Volpi S, Li Z, Sanal O, Mansouri D, Tezcan I, Rice GI, Chen C, Mansouri N, Mahdaviani SA, Itan Y, Boisson B, Okada S, Zeng L, Wang X, Jiang H, Liu W, Han T, Liu D, Ma T, Wang B, Liu M, Liu JY, Wang QK, Yalnizoglu D, Radoshevich L, Uzé G, Gros P, Rozenberg F, Zhang SY, Jouanguy E, Bustamante J, García-Sastre A, Abel L, Lebon P, Notarangelo LD, Crow YJ, Boisson-Dupuis S, Casanova JL, Pellegrini S (2015) Human intracellular ISG15 prevents interferon-α/β over-amplification and auto-inflammation. Nature 517:89–93

Zhang Q, Ke H, Blikslager A, Fujita T, Yoo D (2018) Type III Interferon Restriction by Porcine Epidemic Diarrhea Virus and the Role of Viral Protein nsp1 in IRF1 Signaling. J Virol 01677–01617
Acknowledgements
We acknowledge the supports from the National Key Research and Development Program of China (2016YFD0500100), Shanghai Science and Technology Innovation Action Plan (17391901900), and Shanghai Municipal Agriculture Science and Technology Key Project (2016, 4-2).
Ethics declarations
Conflict of interest
The authors declare no conflict of interest.
Animal and Human Rights Statement
This article does not contain any studies with human or animal subjects performed by any of the authors.
Supplementary Information
Below is the link to the electronic supplementary material.
About this article
Cite this article
Chen, X., Sun, D., Dong, S. et al. Host Interferon-Stimulated Gene 20 Inhibits Pseudorabies Virus Proliferation. Virol. Sin. 36, 1027–1035 (2021). https://doi.org/10.1007/s12250-021-00380-0
Received:

Accepted:

Published:

Issue Date:

DOI: https://doi.org/10.1007/s12250-021-00380-0
Keywords
Interferon-stimulated gene 20 (ISG20)

Interferon

Pseudorabies virus (PRV)

UL24