Abstract
Severe fever with thrombocytopenia syndrome virus (SFTSV) is an emerging tick-borne bunyavirus that causes hemorrhagic fever-like disease (SFTS) in humans with a case fatality rate up to 30%. To date, the molecular biology involved in SFTSV infection remains obscure. There are seven major genotypes of SFTSV (C1–C4 and J1–J3) and previously a reverse genetic system was established on a C3 strain of SFTSV. Here, we reported successfully establishment of a reverse genetics system based on a SFTSV C4 strain. First, we obtained the 5′- and 3′-terminal untranslated region (UTR) sequences of the Large (L), Medium (M) and Small (S) segments of a laboratory-adapted SFTSV C4 strain through rapid amplification of cDNA ends analysis, and developed functional T7 polymerase-based L-, M- and S-segment minigenome assays. Then, full-length cDNA clones were constructed and infectious SFTSV were recovered from co-transfected cells. Viral infectivity, growth kinetics, and viral protein expression profile of the rescued virus were compared with the laboratory-adapted virus. Focus formation assay showed that the size and morphology of the foci formed by the rescued SFTSV were indistinguishable with the laboratory-adapted virus. However, one-step growth curve and nucleoprotein expression analyses revealed the rescued virus replicated less efficiently than the laboratory-adapted virus. Sequence analysis indicated that the difference may be due to the mutations in the laboratory-adapted strain which are more prone to cell culture. The results help us to understand the molecular biology of SFTSV, and provide a useful tool for developing vaccines and antivirals against SFTS.
Access options
Buy single article
Instant access to the full article PDF.
USD 39.95
Price excludes VAT (USA)
Tax calculation will be finalised during checkout.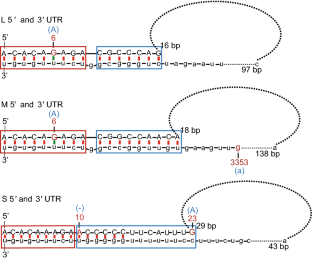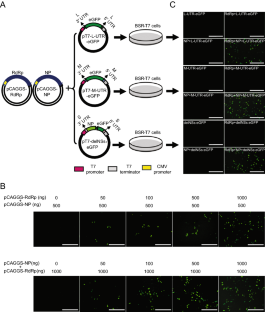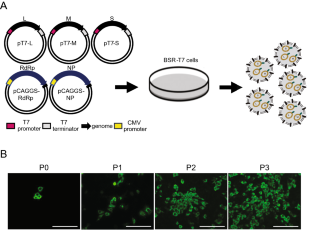 References
Amroun A, Priet S, de Lamballerie X, Querat G (2017) Bunyaviridae RdRps: structure, motifs, and RNA synthesis machinery. Crit Rev Microbiol 43:753–778

Barr JN, Wertz GW (2004) Bunyamwera bunyavirus RNA synthesis requires cooperation of 3′- and 5′-terminal sequences. J Virol 78:1129–1138

Barr JN, Wertz GW (2005) Role of the conserved nucleotide mismatch within 3′- and 5′-terminal regions of Bunyamwera virus in signaling transcription. J Virol 79:3586–3594

Bergeron E, Albarino CG, Khristova ML, Nichol ST (2010) Crimean-Congo hemorrhagic fever virus-encoded ovarian tumor protease activity is dispensable for virus RNA polymerase function. J Virol 84:216–226

Bergeron E, Zivcec M, Chakrabarti AK, Nichol ST, Albarino CG, Spiropoulou CF (2015) Recovery of recombinant Crimean Congo hemorrhagic fever virus reveals a function for non-structural glycoproteins cleavage by Furin. Plos Pathog 11:e1004879

Brennan B, Li P, Zhang S, Li A, Liang M, Li D, Elliott RM (2015) Reverse genetics system for severe fever with thrombocytopenia syndrome virus. J Virol 89:3026–3037

Brennan B, Rezelj VV, Elliott RM (2017) Mapping of transcription termination within the S segment of SFTS phlebovirus facilitated generation of NSs deletant viruses. J Virol 91:e717–e743

Cyranoski D (2018) East Asia braces for surge in deadly tick-borne virus. Nature 556:282–283

Elliott RM (2014) Orthobunyaviruses: recent genetic and structural insights. Nat Rev Microbiol 12:673–685

Flick R, Pettersson RF (2001) Reverse genetics system for Uukuniemi virus (Bunyaviridae): RNA polymerase I-catalyzed expression of chimeric viral RNAs. J Virol 75:1643–1655

Flick K, Hooper JW, Schmaljohn CS, Pettersson RF, Feldmann H, Flick R (2003) Rescue of Hantaan virus minigenomes. Virology 306:219–224

Flick K, Katz A, Overby A, Feldmann H, Pettersson RF, Flick R (2004) Functional analysis of the noncoding regions of the Uukuniemi virus (Bunyaviridae) RNA segments. J Virol 78:11726–11738

Gauliard N, Billecocq A, Flick R, Bouloy M (2006) Rift Valley fever virus noncoding regions of L, M and S segments regulate RNA synthesis. Virology 351:170–179

Guardado-Calvo P, Rey FA (2017) The envelope proteins of the Bunyavirales. Adv Virus Res 98:83–118

Habjan M, Penski N, Spiegel M, Weber F (2008) T7 RNA polymerase-dependent and -independent systems for cDNA-based rescue of Rift Valley fever virus. J Gen Virol 89:2157–2166

Halldorsson S, Behrens AJ, Harlos K, Huiskonen JT, Elliott RM, Crispin M, Brennan B, Bowden TA (2016) Structure of a phleboviral envelope glycoprotein reveals a consolidated model of membrane fusion. Proc Natl Acad Sci USA 113:7154–7159

Jiao L, Ouyang S, Liang M, Niu F, Shaw N, Wu W, Ding W, Jin C, Peng Y, Zhu Y, Zhang F, Wang T, Li C, Zuo X, Luan CH, Li D, Liu ZJ (2013) Structure of severe fever with thrombocytopenia syndrome virus nucleocapsid protein in complex with suramin reveals therapeutic potential. J Virol 87:6829–6839

Lam TT, Liu W, Bowden TA, Cui N, Zhuang L, Liu K, Zhang YY, Cao WC, Pybus OG (2013) Evolutionary and molecular analysis of the emergent severe fever with thrombocytopenia syndrome virus. Epidemics-Neth 5:1–10

Li H, Zhang LK, Li SF, Zhang SF, Wan WW, Zhang YL, Xin QL, Dai K, Hu YY, Wang ZB, Zhu XT, Fang YJ, Cui N, Zhang PH, Yuan C, Lu QB, Bai JY, Deng F, Xiao GF, Liu W, Peng K (2019) Calcium channel blockers reduce severe fever with thrombocytopenia syndrome virus (SFTSV) related fatality. Cell Res 29:739–753

Liu Y, Li Q, Hu W, Wu J, Wang Y, Mei L, Walker DH, Ren J, Wang Y, Yu XJ (2012) Person-to-person transmission of severe fever with thrombocytopenia syndrome virus. Vector Borne Zoonotic Dis 12:156–160

Liu J, Xu M, Tang B, Hu L, Deng F, Wang H, Pang DW, Hu Z, Wang M, Zhou Y (2019) Single-particle tracking reveals the sequential entry process of the Bunyavirus severe fever with thrombocytopenia syndrome virus. Small 15:e1803788

Lv Q, Zhang H, Tian L, Zhang R, Zhang Z, Li J, Tong Y, Fan H, Carr MJ, Shi W (2017) Novel sub-lineages, recombinants and reassortants of severe fever with thrombocytopenia syndrome virus. Ticks Tick-borne Dis 8:385–390

Maes P, Adkins S, Alkhovsky SV, Avsic-Zupanc T, Ballinger MJ, Bente DA, Beer M, Bergeron E, Blair CD, Briese T et al (2019) Taxonomy of the order Bunyavirales: second update 2018. Arch Virol 164:927–941

Mcmullan LK, Folk SM, Kelly AJ, Macneil A, Goldsmith CS, Metcalfe MG, Batten BC, Albarino CG, Zaki SR, Rollin PE, Nicholson WL, Nichol ST (2012) A new phlebovirus associated with severe febrile illness in Missouri. N Engl J Med 367:834–841

Park SW, Ryou J, Choi WY, Han MG, Lee WJ (2016) Epidemiological and clinical features of severe fever with thrombocytopenia syndrome during an outbreak in South Korea, 2013–2015. Am J Trop Med Hyg 95:1358–1361

Rezelj VV, Overby AK, Elliott RM (2015) Generation of mutant Uukuniemi viruses lacking the nonstructural protein NSs by reverse genetics indicates that NSs is a weak interferon antagonist. J Virol 89:4849–4856

Takahashi T, Maeda K, Suzuki T, Ishido A, Shigeoka T, Tominaga T, Kamei T, Honda M, Ninomiya D, Sakai T et al (2014) The first identification and retrospective study of Severe Fever with Thrombocytopenia Syndrome in Japan. J Infect Dis 209:816–827

Tran XC, Yun Y, Van An L, Kim SH, Thao NTP, Man PKC, Yoo JR, Heo ST, Cho NH, Lee KH (2019) Endemic Severe Fever with Thrombocytopenia Syndrome, Vietnam. Emerg Infect Dis 25:1029–1031

Walpita P, Flick R (2005) Reverse genetics of negative-stranded RNA viruses: a global perspective. Fems Microbiol Lett 244:9–18

Walter CT, Barr JN (2011) Recent advances in the molecular and cellular biology of bunyaviruses. J Gen Virol 92:2467–2484

Wang Y, Deng B, Zhang J, Cui W, Yao W, Liu P (2014) Person-to-person asymptomatic infection of severe fever with thrombocytopenia syndrome virus through blood contact. Intern Med 53:903–906

Weber F, Dunn EF, Bridgen A, Elliott RM (2001) The Bunyamwera virus nonstructural protein NSs inhibits viral RNA synthesis in a minireplicon system. Virology 281:67–74

Wu Y, Zhu Y, Gao F, Jiao Y, Oladejo BO, Chai Y, Bi Y, Lu S, Dong M, Zhang C, Huang G, Wong G, Li N, Zhang Y, Li Y, Feng WH, Shi Y, Liang M, Zhang R, Qi J, Gao GF (2017) Structures of phlebovirus glycoprotein Gn and identification of a neutralizing antibody epitope. Proc Natl Acad Sci USA 114:E7564–E7573

Yoshikawa T, Shimojima M, Fukushi S, Tani H, Fukuma A, Taniguchi S, Singh H, Suda Y, Shirabe K, Toda S, Shimazu Y, Nomachi T, Gokuden M, Morimitsu T, Ando K, Yoshikawa A, Kan M, Uramoto M, Osako H, Kida K, Takimoto H, Kitamoto H, Terasoma F, Honda A, Maeda K, Takahashi T, Yamagishi T, Oishi K, Morikawa S, Saijo M (2015) Phylogenetic and geographic relationships of severe fever with thrombocytopenia syndrome virus in China, South Korea, and Japan. J Infect Dis 212:889–898

Yu XJ, Liang MF, Zhang SY, Liu Y, Li JD, Sun YL, Zhang L, Zhang QF, Popov VL, Li C, Qu J, Li Q, Zhang YP, Hai R, Wu W, Wang Q, Zhan FX, Wang XJ, Kan B, Wang SW, Wan KL, Jing HQ, Lu JX, Yin WW, Zhou H, Guan XH, Liu JF, Bi ZQ, Liu GH, Ren J, Wang H, Zhao Z, Song JD, He JR, Wan T, Zhang JS, Fu XP, Sun LN, Dong XP, Feng ZJ, Yang WZ, Hong T, Zhang Y, Walker DH, Wang Y, Li DX (2011) Fever with thrombocytopenia associated with a novel bunyavirus in China. N Engl J Med 364:1523–1532

Zhang Y, Shen S, Shi J, Su Z, Li M, Zhang W, Li M, Hu Z, Peng C, Zheng X, Deng F (2017) Isolation, characterization, and phylogenic analysis of three new severe fever with thrombocytopenia syndrome bunyavirus strains derived from Hubei Province, China. Virol Sin 32:89–96

Zhao L, Zhai S, Wen H, Cui F, Chi Y, Wang L, Xue F, Wang Q, Wang Z, Zhang S, Song Y, Du J, Yu XJ (2012) Severe fever with thrombocytopenia syndrome virus, Shandong Province, China. Emerg Infect Dis 18:963–965
Acknowledgements
We thank Prof. Wuchun Cao from State Key Laboratory of Pathogen and Biosecurity, Beijing Institute of Microbiology and Epidemiology for providing SFTSV WCH-2011/HN/China/isolate 97; Dr. Leike Zhang from Wuhan Institute of Virology, Chinese Academy of Sciences, for generously providing the BSR-T7 cells. We thank for the assistance from the core faculty of Wuhan Institute of Virology for their critical support; This work was supported by grants from the National Natural Science Foundation of China (No. 31900146; Open Research Fund Program of the State Key Laboratory of Virology of China (No. 2020IOV003); Team project of Health Commission of Hubei Province (WJ2019C003).
Ethics declarations
Conflict of interest
The authors declare that they have no conflict of interest.
Animal and Human Rights Statement
This article does not contain any studies with human and animal subjects performed by any of the authors.
Additional information
The original online version of this article was revised: Due to our negligence, the affiliation of author Mingyue Xu was mislabeled. This has now been corrected.
Supplementary Information
Below is the link to the electronic supplementary material.
About this article
Cite this article
Xu, M., Wang, B., Deng, F. et al. Establishment of a Reverse Genetic System of Severe Fever with Thrombocytopenia Syndrome Virus Based on a C4 Strain. Virol. Sin. 36, 958–967 (2021). https://doi.org/10.1007/s12250-021-00359-x
Received:

Accepted:

Published:

Issue Date:

DOI: https://doi.org/10.1007/s12250-021-00359-x
Keywords
Bunyavirus

Severe fever with thrombocytopenia syndrome virus (SFTSV)

Minigenome

Reverse genetic system

T7 polymerase

C4 strain