Abstract
African swine fever (ASF) is an infectious disease caused by African swine fever virus (ASFV) with clinical symptoms of high fever, hemorrhages and high mortality rate, posing a threat to the global swine industry and food security. Quarantine and control of ASFV is crucial for preventing swine industry from ASFV infection. In this study, a recombinase polymerase amplification (RPA)-CRISPR-based nucleic acid detection method was developed for diagnosing ASF. As a highly sensitive method, RPA-CRISPR can detect even a single copy of ASFV plasmid and genomic DNA by determining fluorescence signal induced by collateral cleavage of CRISPR-lwCas13a (previously known as C2c2) through quantitative real-time PCR (qPCR) and has the same or even higher sensitivity than the traditional qPCR method. A lateral flow strip was developed and used in combination with RPA-CRISPR for ASFV detection with the same level of sensitivity of TaqMan qPCR. Likewise, RPA-CRISPR is capable of distinguishing ASFV genomic DNA from viral DNA/RNA of other porcine viruses without any cross-reactivity. This diagnostic method is also available for diagnosing ASFV clinical DNA samples with coincidence rate of 100% for both ASFV positive and negative samples. RPA-CRISPR has great potential for clinical quarantine of ASFV in swine industry and food security.
Access options
Buy single article
Instant access to the full article PDF.
US$ 39.95
Tax calculation will be finalised during checkout.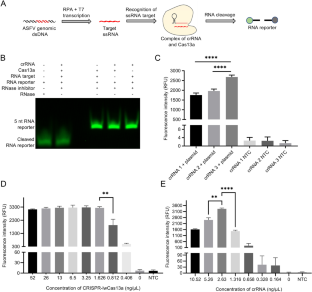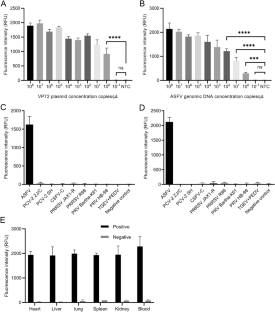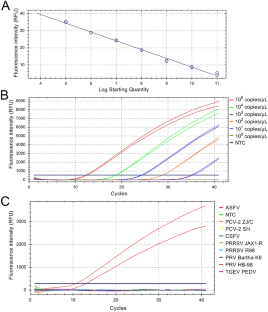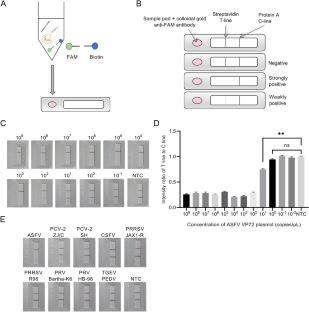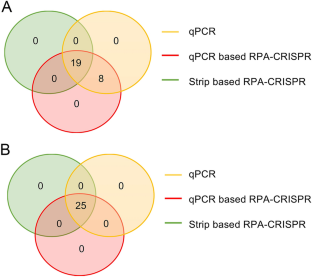 References
Abudayyeh OO, Gootenberg JS, Konermann S, Joung J, Slaymaker IM, Cox DB, Shmakov S, Makarova KS, Semenova E, Minakhin L, Severinov K, Regev A, Lander ES, Koonin EV, Zhang F (2016) C2c2 is a single-component programmable RNA-guided RNA-targeting CRISPR effector. Science 353:aaf5573

Aguero M, Fernandez J, Romero L, Sanchez Mascaraque C, Arias M, Sanchez-Vizcaino JM (2003) Highly sensitive PCR assay for routine diagnosis of African swine fever virus in clinical samples. J Clin Microbiol 41:4431–4434

Ai JW, Zhou X, Xu T, Yang M, Chen Y, He GQ, Pan N, Cai Y, Li Y, Wang X, Su H, Wang T, Zeng W, Zhang WH (2019) CRISPR-based rapid and ultra-sensitive diagnostic test for Mycobacterium tuberculosis. Emerg Microbes Infect 8:1361–1369

Basto AP, Portugal RS, Nix RJ, Cartaxeiro C, Boinas F, Dixon LK, Leitao A, Martins C (2006) Development of a nested PCR and its internal control for the detection of African swine fever virus (ASFV) in Ornithodoros erraticus. Arch Virol 151:819–826

Chang Y, Deng Y, Li T, Wang J, Wang T, Tan F, Li X, Tian K (2019) Visual detection of porcine reproductive and respiratory syndrome virus using CRISPR-Cas13a. Transbound Emerg Dis 67:564–571

Chen Y, Song T, Xiao YL, Wan X, Yang L, Li J, Zeng G, Fang P, Wang ZZ, Gao R (2018) Enhancement of immune response of piglets to PCV-2 vaccine by porcine IL-2 and fusion IL-4/6 gene entrapped in chitosan nanoparticles. Res Vet Sci 117:224–232

Dixon LK, Sun H, Roberts H (2019) African swine fever. Antiviral Res 165:34–41

East-Seletsky A, O'Connell MR, Knight SC, Burstein D, Cate JH, Tjian R, Doudna JA (2016) Two distinct RNase activities of CRISPR-C2c2 enable guide-RNA processing and RNA detection. Nature 538:270–273

Fernandez-Pinero J, Gallardo C, Elizalde M, Robles A, Gomez C, Bishop R, Heath L, Couacy-Hymann E, Fasina FO, Pelayo V, Soler A, Arias M (2013) Molecular diagnosis of African Swine Fever by a new real-time PCR using universal probe library. Transbound Emerg Dis 60:48–58

Freuling CM, Muller TF, Mettenleiter TC (2017) Vaccines against pseudorabies virus (PrV). Vet Microbiol 206:3–9

Galindo I, Alonso C (2017) African Swine Fever Virus: A Review. Viruses 9:103

Gaudreault NN, Richt JA (2019) Subunit Vaccine Approaches for African Swine Fever Virus. Vaccines 7:56

Ge S, Li J, Fan X, Liu F, Li L, Wang Q, Ren W, Bao J, Liu C, Wang H, Liu Y, Zhang Y, Xu T, Wu X, Wang Z (2018) Molecular Characterization of African Swine Fever Virus, China, 2018. Emerging Infect Dis 24:2131–2133

Gootenberg JS, Abudayyeh OO, Kellner MJ, Joung J, Collins JJ, Zhang F (2018) Multiplexed and portable nucleic acid detection platform with Cas13, Cas12a and Csm6. Science 360:439–444

Gootenberg JS, Abudayyeh OO, Lee JW, Essletzbichler P, Dy AJ, Joung J, Verdine V, Donghia N, Daringer NM, Freije CA, Myhrvold C, Bhattacharyya RP, Livny J, Regev A, Koonin EV, Hung DT, Sabeti PC, Collins JJ, Zhang F (2017) Nucleic acid detection with CRISPR-Cas13a/C2c2. Science 356:438–442

Haines FJ, Hofmann MA, King DP, Drew TW, Crooke HR (2013) Development and validation of a multiplex, real-time RT PCR assay for the simultaneous detection of classical and African swine fever viruses. PLoS ONE 8:e71019

Han J, Zhou L, Ge X, Guo X, Yang H (2017) Pathogenesis and control of the Chinese highly pathogenic porcine reproductive and respiratory syndrome virus. Vet Microbiol 209:30–47

Karger A, Perez-Nunez D, Urquiza J, Hinojar P, Alonso C, Freitas FB, Revilla Y, Le Potier MF, Montoya M (2019) An Update on African Swine Fever Virology. Viruses 11:864

Kim HJ, Lee MJ, Lee SK, Kim DY, Seo SJ, Kang HE, Nam HM (2019) African Swine Fever Virus in Pork Brought into South Korea by Travelers from China, August 2018. Emerg Infect Dis 25:1231–1233

King DP, Reid SM, Hutchings GH, Grierson SS, Wilkinson PJ, Dixon LK, Bastos AD, Drew TW (2003) Development of a TaqMan PCR assay with internal amplification control for the detection of African swine fever virus. J Virol Methods 107:53–61

Liu Y, Xu H, Liu C, Peng L, Khan H, Cui L, Huang R, Wu C, Shen S, Wang S, Liang W, Li Z, Xu B, He N (2019) CRISPR-Cas13a Nanomachine Based Simple Technology for Avian Influenza A (H7N9) Virus On-Site Detection. J Biomed Nanotechnol 15:790–798

Luo Y, Li S, Sun Y, Qiu HJ (2014) Classical swine fever in China: a minireview. Vet Microbiol 172:1–6

Luo Y, Atim SA, Shao L, Ayebazibwe C, Sun Y, Liu Y, Ji S, Meng XY, Li S, Li Y, Masembe C, Stahl K, Widen F, Liu L, Qiu HJ (2017) Development of an updated PCR assay for detection of African swine fever virus. Arch Virol 162:191–199

Malogolovkin A, Kolbasov D (2019) Genetic and antigenic diversity of African swine fever virus. Virus Res 271:197673

Mazur-Panasiuk N, Zmudzki J, Wozniakowski G (2019) African Swine Fever Virus - Persistence in Different Environmental Conditions and the Possibility of its Indirect Transmission. J Vet Res 63:303–310

Myhrvold C, Freije CA, Gootenberg JS, Abudayyeh OO, Metsky HC, Durbin AF, Kellner MJ, Tan AL, Paul LM, Parham LA, Garcia KF, Barnes KG, Chak B, Mondini A, Nogueira ML, Isern S, Michael SF, Lorenzana I, Yozwiak NL, MacInnis BL, Bosch I, Gehrke L, Zhang F, Sabeti PC (2018) Field-deployable viral diagnostics using CRISPR-Cas13. Science 360:444–448

Ngom B, Guo Y, Wang X, Bi D (2010) Development and application of lateral flow test strip technology for detection of infectious agents and chemical contaminants: a review. Anal Bioanal Chem 397:1113–1135

Olesen AS, Lohse L, Boklund A, Halasa T, Gallardo C, Pejsak Z, Belsham GJ, Rasmussen TB, Botner A (2017) Transmission of African swine fever virus from infected pigs by direct contact and aerosol routes. Vet Microbiol 211:92–102

Piepenburg O, Williams CH, Stemple DL, Armes NA (2006) DNA detection using recombination proteins. PLoS Biol 4:e204

Qin P, Park M, Alfson KJ, Tamhankar M, Carrion R, Patterson JL, Griffiths A, He Q, Yildiz A, Mathies R, Du K (2019) Rapid and Fully Microfluidic Ebola Virus Detection with CRISPR-Cas13a. ACS Sens 4:1048–1054

Quesada-Gonzalez D, Merkoci A (2015) Nanoparticle-based lateral flow biosensors. Biosens Bioelectron 73:47–63

Sanchez EG, Perez-Nunez D, Revilla Y (2019) Development of vaccines against African swine fever virus. Virus Res 265:150–155

Shmakov S, Smargon A, Scott D, Cox D, Pyzocha N, Yan W, Abudayyeh OO, Gootenberg JS, Makarova KS, Wolf YI, Severinov K, Zhang F, Koonin EV (2017) Diversity and evolution of class 2 CRISPR-Cas systems. Nat Rev Microbiol 15:169–182

Simulundu E, Lubaba CH, van Heerden J, Kajihara M, Mataa L, Chambaro HM, Sinkala Y, Munjita SM, Munang'andu HM, Nalubamba KS, Samui K, Pandey GS, Takada A, Mweene AS (2017) The Epidemiology of African Swine Fever in "Nonendemic" Regions of Zambia (1989–2015): Implications for Disease Prevention and Control. Viruses 9:236

Smargon AA, Cox DBT, Pyzocha NK, Zheng K, Slaymaker IM, Gootenberg JS, Abudayyeh OA, Essletzbichler P, Shmakov S, Makarova KS, Koonin EV, Zhang F (2017) Cas13b Is a Type VI-B CRISPR-Associated RNA-Guided RNase Differentially Regulated by Accessory Proteins Csx27 and Csx28. Mol Cell 65:618–630

Teklue T, Sun Y, Muhammad A, Luo Y, Qiu HJ (2019) Current status and evolving approaches to African swine fever vaccine development. Transbound Emerg Dis 67:529–542

Wang A, Jia R, Liu Y, Zhou J, Qi Y, Chen Y, Liu D, Zhao J, Shi H, Zhang J, Zhang G (2019) Development of a novel quantitative real-time PCR assay with lyophilized powder reagent to detect African swine fever virus in blood samples of domestic pigs in China. Transbound Emerg Dis 67:284–297

Wang D, Yu J, Wang Y, Zhang M, Li P, Liu M, Liu Y (2019) Development of a real-time loop-mediated isothermal amplification (LAMP) assay and visual LAMP assay for detection of African swine fever virus (ASFV). J Virol Methods 276:113775

Wang J, Wang J, Geng Y, Yuan W (2017) A recombinase polymerase amplification-based assay for rapid detection of African swine fever virus. Can J Vet Res 81:308–312

Wang T, Sun Y, Qiu HJ (2018) African swine fever: an unprecedented disaster and challenge to China. Infect Dis Poverty 7:111

Zhao D, Liu R, Zhang X, Li F, Wang J, Zhang J, Liu X, Wang L, Zhang J, Wu X, Guan Y, Chen W, Wang X, He X, Bu Z (2019) Replication and virulence in pigs of the first African swine fever virus isolated in China. Emerg Microbes Infect 8:438–447
Acknowledgments
This research was supported by the National Natural Science Foundation of China (31522057 and 31872451 to LZ; 31720103917 and 31872452 to ZF).
Ethics declarations
Conflicts of interest
The authors declare that they have no conflict of interest.
Animal and Human Rights Statement
This study was performed in accordance with recommendations in the care and use of laboratory animals of the Ministry of Science and Technology of China and was approved by the Scientific Ethics Committee of Huazhong Agricultural University (permit number HZAUSW-2019–007 approved on May 16, 2019).
Electronic supplementary material
Below is the link to the electronic supplementary material.
About this article
Cite this article
Ren, M., Mei, H., Zhou, M. et al. Development of A Super-Sensitive Diagnostic Method for African Swine Fever Using CRISPR Techniques. Virol. Sin. 36, 220–230 (2021). https://doi.org/10.1007/s12250-020-00323-1
Received:

Accepted:

Published:

Issue Date:
Keywords
African swine fever (ASFV)

Recombinase polymerase amplification (RPA)

CRISPR-lwCas13a

Sensitive diagnosis