Access options
Buy single article
Instant access to the full article PDF.
USD 39.95
Price excludes VAT (USA)
Tax calculation will be finalised during checkout.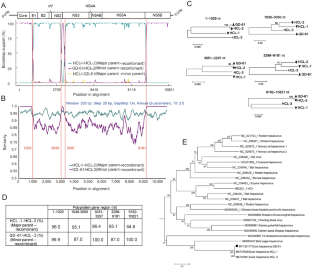 References
Baechlein C, Baron AL, Meyer D, Gorriz-Martin L, Pfankuche VM, Baumgartner W, Polywka S, Peine S, Fischer N, Rehage J, Becher P (2019) Further characterization of bovine hepacivirus: antibody response, course of infection, and host tropism. Transbound Emerg Dis 66:195–206

Chu L, Jin M, Feng C, Wang X, Zhang D (2019) A highly divergent hepacivirus-like flavivirus in domestic ducks. J Gen Virol 100:1234–1240

Gonzalez-Candelas F, Lopez-Labrador FX, Bracho MA (2011) Recombination in hepatitis C virus. Viruses 3:2006–2024

Hartlage AS, Cullen JM, Kapoor A (2016) The strange, expanding world of animal hepaciviruses. Annu Rev Virol 3:53–75

Lu G, Ou J, Sun Y, Wu L, Xu H, Zhang G, Li S (2019) Natural recombination of equine hepacivirus subtype 1 within the NS5A and NS5B genes. Virology 533:93–98

Pfaender S, Cavalleri JM, Walter S, Doerrbecker J, Campana B, Brown RJ, Burbelo PD, Postel A, Hahn K, Anggakusuma RN, Baumgartner W, Becher P, Heim MH, Pietschmann T, Feige K, Steinmann E (2015) Clinical course of infection and viral tissue tropism of hepatitis C virus-like nonprimate hepaciviruses in horses. Hepatology 61:447–459

Pybus OG, Theze J (2016) Hepacivirus cross-species transmission and the origins of the hepatitis C virus. Curr Opin Virol 16:1–7

Smith DB, Becher P, Bukh J, Gould EA, Meyers G, Monath T, Muerhoff AS, Pletnev A, Rico-Hesse R, Stapleton JT, Simmonds P (2016) Proposed update to the taxonomy of the genera Hepacivirus and Pegivirus within the Flaviviridae family. J Gen Virol 97:2894–2907

Trivedi S, Murthy S, Sharma H, Hartlage AS, Kumar A, Gadi SV, Simmonds P, Chauhan LV, Scheel TKH, Billerbeck E, Burbelo PD, Rice CM, Lipkin WI, Vandegrift K, Cullen JM, Kapoor A (2018) Viral persistence, liver disease, and host response in a hepatitis C-like virus rat model. Hepatology 68:435–448
Acknowledgements
This work was supported by the Guangdong Provincial Natural Science Foundation under Grant [Number 2017A030310367].
Ethics declarations
Conflict of interest
The authors declare that they have no conflict of interest.
Animal and Human Rights Statement
All institutional and national guidelines for the care and use of laboratory animals were followed.
Electronic supplementary material
Below is the link to the electronic supplementary material.
About this article
Cite this article
Lu, G., Zhao, J., Ou, J. et al. Novel HCV-Like Virus Detected in Avian Livers in Southern China and Its Implications for Natural Recombination Events. Virol. Sin. 36, 149–151 (2021). https://doi.org/10.1007/s12250-020-00256-9
Received:

Accepted:

Published:

Issue Date:

DOI: https://doi.org/10.1007/s12250-020-00256-9