Abstract
West Nile virus (WNV) is an important neurotropic flavivirus that is widely distributed globally. WNV strain XJ11129 was first isolated in Xinjiang, China, and its genetic and biological characteristics remain largely unknown. In this study, phylogenetic and sequence analyses revealed that XJ11129 belongs to lineage 1a and shares high genetic identity with the highly pathogenic strain NY99. Then, the full-length genomic cDNA of XJ11129 was amplified and assembled using a modified Gibson assembly (GA) method. The virus (named rXJ11129) was successfully rescued in days following this method. Compared with other wild-type WNV isolates, rXJ11129 exhibited virulence indistinguishable from that of the NY99 strain in vivo. In summary, the genomic and virulence phenotypes of rXJ11129 were characterized in vivo and in vitro, and these data will improve the understanding of the spread and pathogenesis of this reemerging virus.
Access options
Buy single article
Instant access to the full article PDF.
USD 39.95
Price excludes VAT (USA)
Tax calculation will be finalised during checkout.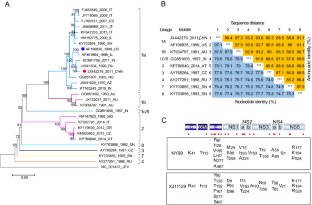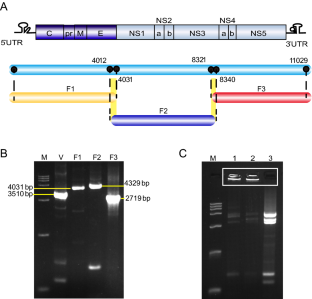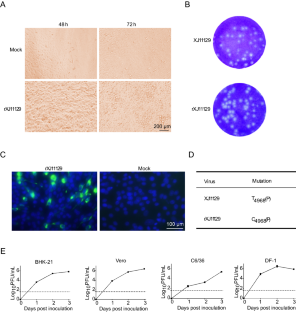 References
Aubry F, Nougairede A, de Fabritus L, Querat G, Gould EA, de Lamballerie X (2014) Single-stranded positive-sense RNA viruses generated in days using infectious subgenomic amplicons. J Gen Virol 95:2462–2467

Aubry F, Nougairede A, Gould EA, de Lamballerie X (2015) Flavivirus reverse genetic systems, construction techniques and applications: a historical perspective. Antivir Res 114:67–85

Bahuon C, Despres P, Pardigon N, Panthier JJ, Cordonnier N, Lowenski S, Richardson J, Zientara S, Lecollinet S (2012) IS-98-ST1 West Nile virus derived from an infectious cDNA clone retains neuroinvasiveness and neurovirulence properties of the original virus. PLoS One 7:e47666

Beasley DW, Whiteman MC, Zhang S, Huang CY, Schneider BS, Smith DR, Gromowski GD, Higgs S, Kinney RM, Barrett AD (2005) Envelope protein glycosylation status influences mouse neuroinvasion phenotype of genetic lineage 1 West Nile virus strains. J Virol 79:8339–8347

Cao L, Fu S, Lv Z, Tang C, Cui S, Li X, Gao X, Li M, Cao Y, Lei W, He Y, Wang H, Liang G (2017) West Nile virus infection in suspected febrile typhoid cases in Xinjiang. China. Emerg Microbes Infect 6:e41

Cao L, Fu S, Lu Z, Tang C, Gao X, Li X, Lei W, He Y, Li M, Cao Y, Wang H, Liang G (2019) Detection of West Nile Virus infection in viral encephalitis cases, China. Vector Borne Zoonotic Dis 19:45–50

Chancey C, Grinev A, Volkova E, Rios M (2015) The global ecology and epidemiology of West Nile virus. Biomed Res Int 2015:376230

Coia G, Parker MD, Speight G, Byrne ME, Westaway EG (1988) Nucleotide and complete amino acid sequences of Kunjin virus: definitive gene order and characteristics of the virus-specified proteins. J Gen Virol 69(Pt 1):1–21

Donadieu E, Bahuon C, Lowenski S, Zientara S, Coulpier M, Lecollinet S (2013) Differential virulence and pathogenesis of West Nile viruses. Viruses 5:2856–2880

Edmonds J, van Grinsven E, Prow N, Bosco-Lauth A, Brault AC, Bowen RA, Hall RA, Khromykh AA (2013) A novel bacterium-free method for generation of flavivirus infectious DNA by circular polymerase extension reaction allows accurate recapitulation of viral heterogeneity. J Virol 87:2367–2372

Gibson DG, Young L, Chuang RY, Venter JC, Hutchison CA 3rd, Smith HO (2009) Enzymatic assembly of DNA molecules up to several hundred kilobases. Nat Methods 6:343–345

Hanna SL, Pierson TC, Sanchez MD, Ahmed AA, Murtadha MM, Doms RW (2005) N-linked glycosylation of west nile virus envelope proteins influences particle assembly and infectivity. J Virol 79:13262–13274

Jeha LE, Sila CA, Lederman RJ, Prayson RA, Isada CM, Gordon SM (2003) West Nile virus infection: A new acute paralytic illness. Neurology 61:55–59

Kelly EP, Puri B, Sun W, Falgout B (2010) Identification of mutations in a candidate dengue 4 vaccine strain 341750 PDK20 and construction of a full-length cDNA clone of the PDK20 vaccine candidate. Vaccine 28:3037

Kinney RM, Huang CY, Whiteman MC, Bowen RA, Langevin SA, Miller BR, Brault AC (2006) Avian virulence and thermostable replication of the North American strain of West Nile virus. J Gen Virol 87:3611–3622

Komar N (2003) West Nile Virus: epidemiology and ecology in North America. Adv Virus Res 61:185–234

Lanciotti SR (1999) Origin of the West Nile Virus responsible for an outbreak of encephalitis in the Northeastern United States. Science 286:2333–2337

Li XL, Fu SH, Liu WB, Wang HY, Lu Z, Tong SX, Li ZX, Nasci RS, Kosoy O, Cui Y, Liang GD (2013) West nile virus infection in Xinjiang, China. Vector Borne Zoonotic Dis 13:131–133

Lim S, Shi P-Y (2013) West Nile virus drug discovery. Viruses 5:2977–3006

Liu WJ, Wang XJ, Clark DC, Lobigs M, Hall RA, Khromykh AA (2006) A single amino acid substitution in the West Nile virus nonstructural protein NS2A disables its ability to inhibit alpha/beta interferon induction and attenuates virus virulence in mice. J Virol 80:2396–2404

Lu Z, Fu SH, Cao L, Tang CJ, Zhang S, Li ZX, Tusong M, Yao XH, Zhang HL, Wang PY, Wumaier M, Yuan XY, Li MH, Zhu CZ, Fu LP, Liang GD (2014) Human infection with West Nile Virus, Xinjiang, China, 2011. Emerg Infect Dis 20:1421–1423

Luo S, Zhang P, Ma X, Wang Q, Lu J, Liu B, Zhao W, Allain JP, Li C, Li T (2019) A rapid strategy for constructing novel simian adenovirus vectors with high viral titer and expressing highly antigenic proteins applicable for vaccine development. Virus Res 268:1–10

McDonald E, Martin SW, Landry K, Gould CV, Lehman J, Fischer M, Lindsey NP (2019) West Nile virus and other domestic nationally notifiable arboviral diseases—United States, 2018. Am J Transplant 19:2949–2954

Munoz-Jordan JL, Laurent-Rolle M, Ashour J, Martinez-Sobrido L, Ashok M, Lipkin WI, Garcia-Sastre A (2005) Inhibition of alpha/beta interferon signaling by the NS4B protein of flaviviruses. J Virol 79:8004–8013

Nash D, Mostashari F, Fine A, Miller J, O'Leary D, Murray K, Huang A, Rosenberg A, Greenberg A, Sherman M, Wong S, Layton M, West Nile Outbreak Response Working G (2001) The outbreak of West Nile virus infection in the New York City area in 1999. N Engl J Med 344:1807–1814

Pan H, Yan Y, Zhang J, Zhao S, Feng L, Ou J, Cao N, Li M, Zhao W, Wan C, Ismail AM, Rajaiya J, Chodosh J, Zhang Q (2018) Rapid construction of a replication-competent infectious clone of human adenovirus type 14 by gibson assembly. Viruses 10:568

Pavitrakar DV, Ayachit VM, Mundhra S, Bondre VP (2015) Development and characterization of reverse genetics system for the Indian West Nile virus lineage 1 strain 68856. J Virol Methods 226:31–39

Petersen LR, Carson PJ, Biggerstaff BJ, Custer B, Borchardt SM, Busch MP (2013) Estimated cumulative incidence of West Nile virus infection in US adults, 1999-2010. Epidemiol Infect 141:591–595

Pu SY, Wu RH, Yang CC, Jao TM, Tsai MH, Wang JC, Lin HM, Chao YS, Yueh A (2011) Successful propagation of flavivirus infectious cDNAs by a novel method to reduce the cryptic bacterial promoter activity of virus genomes. J Virol 85:2927–2941

Shi PY, Tilgner M, Lo MK, Kent KA, Bernard KA (2002) Infectious cDNA clone of the epidemic west nile virus from New York City. J Virol 76:5847–5856

Shiryaev SA, Chernov AV, Aleshin AE, Shiryaeva TN, Strongin AY (2009) NS4A regulates the ATPase activity of the NS3 helicase: a novel cofactor role of the non-structural protein NS4A from West Nile virus. J Gen Virol 90:2081–2085

Siridechadilok B, Gomutsukhavadee M, Sawaengpol T, Sangiambut S, Puttikhunt C, Chin-inmanu K, Suriyaphol P, Malasit P, Screaton G, Mongkolsapaya J (2013) A simplified positive-sense-RNA virus construction approach that enhances analysis throughput. J Virol 87:12667–12674

Suthar MS, Brassil MM, Blahnik G, Gale M Jr (2012) Infectious clones of novel lineage 1 and lineage 2 West Nile virus strains WNV-TX02 and WNV-Madagascar. J Virol 86:7704–7709

Tan CW, Tee HK, Lee MH, Sam IC, Chan YF (2016) Enterovirus A71 DNA-launched infectious clone as a robust reverse genetic tool. PLoS One 11:e0162771

van der Meulen KM, Pensaert MB, Nauwynck HJ (2005) West Nile virus in the vertebrate world. Arch Virol 150:637–657

Wang HJ, Li XF, Ye Q, Li SH, Deng YQ, Zhao H, Xu YP, Ma J, Qin ED, Qin CF (2014) Recombinant chimeric Japanese encephalitis virus/tick-borne encephalitis virus is attenuated and protective in mice. Vaccine 32:949–956

Wengler G, Castle E, Leidner U, Nowak T, Wengler G (1985) Sequence analysis of the membrane protein V3 of the flavivirus West Nile virus and of its gene. Virology 147:264–274

Whiteman MC, Li L, Wicker JA, Kinney RM, Huang C, Beasley DWC, Chung KM, Diamond MS, Solomon T, Barrett ADT (2010) Development and characterization of non-glycosylated E and NS1 mutant viruses as a potential candidate vaccine for West Nile virus. Vaccine 28:1075–1083

Whiteman MC, Wicker JA, Kinney RM, Huang CY-H, Solomon T, Barrett ADT (2011) Multiple amino acid changes at the first glycosylation motif in NS1 protein of West Nile virus are necessary for complete attenuation for mouse neuroinvasiveness. Vaccine 29:9710

Whiteman MC, Popov V, Sherman MB, Wen J, Barrett AD (2015) Attenuated West Nile virus mutant NS1130-132QQA/175A/207A exhibits virus-induced ultrastructural changes and accumulation of protein in the endoplasmic reticulum. J Virol 89:1474–1478

Yu A, Ferenczi E, Moussa K, Eliott D, Matiello M (2020) Clinical spectrum of west nile virus neuroinvasive disease. Neurohospitalist 10:43–47

Yun SI, Kim SY, Rice CM, Lee YM (2003) Development and application of a reverse genetics system for Japanese encephalitis virus. J Virol 77:6450–6465

Zehender G, Ebranati E, Bernini F, Presti AL, Rezza G, Delogu M, Galli M, Ciccozzi M (2011) Phylogeography and epidemiological history of West Nile virus genotype 1a in Europe and the Mediterranean basin. Infect Genet Evol 11:646–653

Zhang S, Li L, Woodson SE, Huang CY-H, Kinney RM, Barrett ADT, Beasley DWC (2006) A mutation in the envelope protein fusion loop attenuates mouse neuroinvasiveness of the NY99 strain of West Nile virus. Virology 353:35–40

Zhao Z, Date T, Li Y, Kato T, Miyamoto M, Yasui K, Wakita T (2005) Characterization of the E-138 (Glu/Lys) mutation in Japanese encephalitis virus by using a stable, full-length, infectious cDNA clone. J Gen Virol 86:2209–2220

Zhou Y, Ray D, Zhao Y, Dong H, Ren S, Li Z, Guo Y, Bernard KA, Shi PY, Li H (2007) Structure and function of flavivirus NS5 methyltransferase. J Virol 81:3891–3903
Acknowledgements
This work was supported by the National Key Research and Development Project of China (2016YFD0500304), the National Science and Technology Major Project of China (2018ZX09711003), and the National Natural Science Foundation of China (81621005 and 31770190). C.F.Q. was supported by the National Science Fund for Distinguished Young Scholars (81925025), the Innovative Research Group (81621005) from the NSFC, and the Innovation Fund for Medical Sciences (2019-I2M-5–049) from the Chinese Academy of Medical Sciences.
Ethics declarations
Conflict of Interest
The authors declare that they have no conflicts of interest.
Animal and Human Rights Statement
The research protocol was approved by the Ethics Committee of Beijing Institute of Microbiology and Epidemiology of Academy of Military Medical Sciences (AMMS).
Electronic supplementary material
Below is the link to the electronic supplementary material.
About this article
Cite this article
Guo, Y., Wang, H., Xu, S. et al. Recovery and Genetic Characterization of a West Nile Virus Isolate from China. Virol. Sin. 36, 113–121 (2021). https://doi.org/10.1007/s12250-020-00246-x
Received:

Accepted:

Published:

Issue Date:

DOI: https://doi.org/10.1007/s12250-020-00246-x
Keywords
WNV isolates from China

Phylogenetic analysis

GA method

Biological characteristic