Abstract
Zika virus (ZIKV) has been isolated from mosquitoes such as Aedes, Mansonia uniformis, and Culex perfuscus; However, the isolation of ZIKV from Anopheles sinensis and Culex tritaeniorhynchus has not yet been reported. In June and July 2018, 22,985 mosquitoes and 57,500 midges were collected in Jiangxi Province in southeastern China. Among them, six strains of ZIKV were isolated from mosquitoes: four from An. sinensis and two from Cx. tritaeniorhynchus. Molecular genetic analysis showed that the ZIKV isolated from An. sinensis and Cx. tritaeniorhynchus belonged to genotype 2 in the Asian evolutionary branch of ZIKV. In addition, the ZIKV strains isolated from An. sinensis and Cx. tritaeniorhynchus had amino acid substitutions identical to ZIKV strains prevalent in South America since 2015. This study is the first to isolate ZIKV from mosquito specimens collected in the wild of Jiangxi Province, China; This is also the first time that ZIKV has been isolated from An. sinensis and Cx. tritaeniorhynchus. Given that An. sinensis and Cx. tritaeniorhynchus have a very wide geographical distribution in China and even in eastern and southern Asia, the isolation of several strains of ZIKV from these two mosquitoes poses new challenges for the prevention and control of ZIKV infection in the mainland of China and countries and regions with the same distribution of mosquitoes.
Access options
Buy single article
Instant access to the full article PDF.
USD 39.95
Price excludes VAT (USA)
Tax calculation will be finalised during checkout.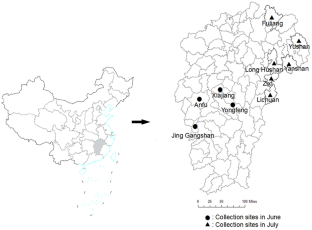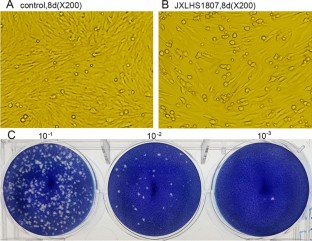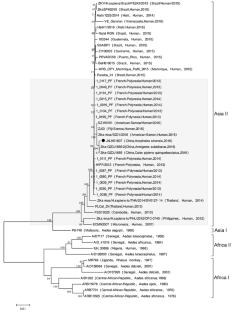 References
Buathong R, Hermann L, Thaisomboonsuk B, Rutvisuttinunt W, Klungthong C, Chinnawirotpisan P, Manasatienkij W, Nisalak A, Fernandez S, Yoon IK, Akrasewi P, Plipat T (2015) Detection of Zika virus infection in Thailand, 2012–2014. Am J Trop Med Hyg 93:380–383

Cao L, Fu S, Gao X, Li M, Cui S, Li X, Cao Y, Lei W, Lu Z, He Y, Wang H, Yan J, Gao GF, Liang G (2016) Low protective efficacy of the current Japanese encephalitis vaccine against the emerging genotype 5 Japanese encephalitis virus. PLoS Negl Trop Dis 10:e0004686

Cao Y, Fu S, Song S, Cai L, Zhang H, Gao L, Cao L, Li M, Gao X, He Y, Wang H, Liang G (2019) Isolation and genome phylogenetic analysis of arthropod-borne viruses, including akabane virus, from mosquitoes collected in Hunan Province, China. Vector Borne Zoonotic Dis 19:62–72

Cao-Lormeau VM, Blake A, Mons S, Lastere S, Roche C, Vanhomwegen J, Dub T, Baudouin L, Teissier A, Larre P, Vial AL, Decam C, Choumet V, Halstead SK, Willison HJ, Musset L, Manuguerra JC, Despres P, Fournier E, Mallet HP, Musso D, Fontanet A, Neil J, Ghawche F (2016) Guillain-barre syndrome outbreak associated with Zika virus infection in French Polynesia: a case-control study. Lancet 387:1531–1539

Diallo D, Sall AA, Diagne CT, Faye O, Faye O, Ba Y, Hanley KA, Buenemann M, Weaver SC, Diallo M (2014) Zika virus emergence in mosquitoes in southeastern Senegal, 2011. PLoS ONE 9:e109442

Duong V, Dussart P, Buchy P (2017) Zika virus in Asia. Int J Infect Dis 54:121–128

Enserink M (2015) Infectious diseases. An obscure mosquito-borne disease goes global. Science 350:1012–1013

Epelboin Y, Talaga S, Epelboin L, Dusfour I (2017) Zika virus: an updated review of competent or naturally infected mosquitoes. PLoS Negl Trop Dis 11:e0005933

Erlanger TE, Weiss S, Keiser J, Utzinger J, Wiedenmayer K (2009) Past, present, and future of Japanese encephalitis. Emerg Infect Dis 15:1–7

Feng Y, Fu S, Zhang H, Li M, Zhou T, Wang J, Zhang Y, Wang H, Tang Q, Liang G (2012) Distribution of mosquitoes and mosquito-borne viruses along the China–Myanmar border in Yunnan Province. Jpn J Infect Dis 65:215–221

Franca RF, Neves MH, Ayres CF, Melo-Neto OP, Filho SP (2016) First international workshop on Zika virus held by Oswaldo Cruz Foundation FIOCRUZ in Northeast Brazil March 2016—A meeting report. PLoS Negl Trop Dis 10:e0004760

Fu S, Song S, Liu H, Li Y, Li X, Gao X, Xu Z, Liu G, Wang D, Tian Z, Zhou J, He Y, Lei W, Wang H, Wang B, Lu X, Liang G (2017) ZIKA virus isolated from mosquitoes: a field and laboratory investigation in China, 2016. Sci China Life Sci 60:1364–1371

Gould E, Pettersson J, Higgs S, Charrel R, de Lamballerie X (2017) Emerging arboviruses: why today? One Health 4:1–13

Guedes DR, Paiva MH, Donato MM, Barbosa PP, Krokovsky L, Rocha S, Saraiva K, Crespo MM, Rezende TM, Wallau GL, Barbosa RM, Oliveira CM, Melo-Santos MA, Pena L, Cordeiro MT, Franca RFO, Oliveira AL, Peixoto CA, Leal WS, Ayres CF (2017) Zika virus replication in the mosquito Culex quinquefasciatus in Brazil. Emerg Microbes Infect 6:e69

Guo XX, Li CX, Deng YQ, Xing D, Liu QM, Wu Q, Sun AJ, Dong YD, Cao WC, Qin CF, Zhao TY (2016) Culex pipiens quinquefasciatus: a potential vector to transmit Zika virus. Emerg Microbes Infect 5:e102

Karabatsos N (1985) International catalogue of arthropod-borne viruses, 3rd edn. American Society for Tropical Medicine and Hygiene, San Antonio

Li M, Fu S, Jiang H, Chen W, Tang S, Shi Y, Liang G (2006) Isolation and identification of Japanese encephalitis virusin Jiangxi province, China. Chinese J Exp Clin Virol 20:61

Li J, Xiong Y, Wu W, Liu X, Qu J, Zhao X, Zhang S, Li J, Li W, Liao Y, Gong T, Wang L, Shi Y, Xiong Y, Ni D, Li Q, Liang M, Hu G, Li D (2016) Zika virus in a traveler returning to China from Caracas, Venezuela, February 2016. Emerg Infect Dis 22:1133–1136

Liang G, Li X, Gao X, Fu S, Wang H, Li M, Lu Z, Zhu W, Lu X, Wang L, Cao Y, He Y, Lei W (2018) Arboviruses and their related infections in China: a comprehensive field and laboratory investigation over the last 3 decades. Rev Med Virol 28:e1959

Lin MA, Ying-Jie YU, Nie XY (2008) Epidemiological analysis of Japanese encephalitis in Shanxi province, 1992–2006. Dis Surveill 23:711–713

Lourenco-de-Oliveira R, Failloux AB (2017) Lessons learned on Zika virus vectors. PLoS Negl Trop Dis 11:e0005511

Ma SF (1981) Studies on the Anopheles (A.) sinensis group of mosquitoes in China, including four new sibling species [in Chinese]. Sinozoologia 1:59–70

Mackenzie JS, Gubler DJ, Petersen LR (2004) Emerging flaviviruses: the spread and resurgence of Japanese encephalitis, West Nile and dengue viruses. Nat Med 10:S98–109

Miller RH, Masuoka P, Klein TA, Kim HC, Somer T, Grieco J (2012) Ecological niche modeling to estimate the distribution of Japanese encephalitis virus in Asia. PLoS Negl Trop Dis 6:e1678

Mlakar J, Korva M, Tul N, Popović M, Poljšak-Prijatelj M, Mraz J, Kolenc M, Resman Rus K, Vesnaver Vipotnik T, Fabjan Vodušek V, Vizjak A, Pižem J, Petrovec M, Avšič Županc T (2016) Zika virus associated with microcephaly. N Engl J Med 374:951–958

Moi ML, Nguyen TTT, Nguyen CT, Vu TBH, Tun MMN, Pham TD, Pham NT, Tran T, Morita K, Le TQM, Dang DA, Hasebe F (2017) Zika virus infection and microcephaly in Vietnam. Lancet Infect Dis 17:805–806

Ogden SC, Hammack C, Tang H (2016) Zika virus and neural developmental defects: building a case for a cause. Sci China Life Sci 59:536–538

OMS (2000) Strengthening implementation of the global strategy for dengue fever/dengue haemorrhagic fever prevention and control: report of the informal consultation

People's Government of Jiangxi province. (2019). [cited 2019 Jun] http://wwwjiangxigovcn/col/col387/indexhtml

Ragan IK, Blizzard EL, Gordy P, Bowen RA (2017) Investigating the potential role of North American animals as Hosts for Zika virus. Vector Borne Zoonotic Dis 17:161–164

Rahman NA, Huhtaniemi I (2017) Zika virus infection-do they also endanger male fertility? Sci China Life Sci 60:324–325

Ren Z, Wang D, Hwang J, Bennett A, Sturrock HJ, Ma A, Huang J, Xia Z, Feng X, Wang J (2015) Spatial-temporal variation and primary ecological drivers of Anopheles sinensis human biting rates in malaria epidemic-prone regions of China. PLoS ONE 10:e0116932

Ren X, Fu S, Dai P, Wang H, Li Y, Li X, Lei W, Gao X, He Y, Lv Z, Cheng J, Wang G, Liang G (2017) Pigsties near dwellings as a potential risk factor for the prevalence of Japanese encephalitis virus in adult in Shanxi, China. Infect Dis Poverty 6:100

Song S, Li Y, Fu S, Liu H, Li X, Gao X, Xu Z, Liu G, Wang D, Tian Z, Zhou J, He Y, Lei W, Wang H, Wang B, Lu X, Liang G (2017) Could Zika virus emerge in Mainland China? Virus isolation from nature in Culex quinquefasciatus, 2016. Emerg Microbes Infect 6:e93

Sun J, Wu D, Zhou H, Zhang H, Guan D, He X, Cai S, Ke C, Lin J (2016) The epidemiological characteristics and genetic diversity of dengue virus during the third largest historical outbreak of dengue in Guangdong, China, in 2014. J Infect 72:80–90

Vireak H, Yasuda CY, Ly S, Haddow AD, Rosa AP, Da Travassos, Tesh RB, Kasper MR (2012) Zika virus infection, Cambodia, 2010. Emerg Infect Dis 18:349–351

Wang J, Zhang H, Sun X, Fu S, Wang H, Feng Y, Wang H, Tang Q, Liang GD (2011) Distribution of mosquitoes and mosquito-borne arboviruses in Yunnan Province near the China–Myanmar–Laos border. Am J Trop Med Hyg 84:738–746

Weaver SC, Reisen WK (2010) Present and future arboviral threats. Antiviral Res 85:328–345

Zhang H, Zhang Y, Hamoudi R, Yan G, Chen X, Zhou Y (2014) Spatiotemporal characterizations of dengue virus in mainland China: insights into the whole genome from 1978 to 2011. PLoS ONE 9:e87630
Acknowledgements
This work was supported by grants from the National Science and Technology Major Project (2018ZX10711001, 2018ZX10102001); The National Key Research and Development Program of China (2017YFC1200202); Science and Technology Project of Jiangxi (2014BBG70097) and Development Grant of State Key Laboratory of Infectious Disease Prevention and Control (2014SKLID103, 2015SKLID505). The funders had no role in the study design, data collection and analysis, decision to publish or preparation of the article.
Ethics declarations
Conflict of interest
The authors declare that they have no conflict of interest.
Animal and Human Rights Statement
All animal experiments were conducted in strict compliance with the regulations set by the Animal Ethics Committee of China CDC.
Electronic Supplementary Material
Below is the link to the electronic supplementary material.
About this article
Cite this article
Wang, J., Xu, H., Song, S. et al. Emergence of Zika Virus in Culex tritaeniorhynchus and Anopheles sinensis Mosquitoes in China. Virol. Sin. 36, 33–42 (2021). https://doi.org/10.1007/s12250-020-00239-w
Received:

Accepted:

Published:

Issue Date:

DOI: https://doi.org/10.1007/s12250-020-00239-w
Keywords
Anopheles sinensis
Culex tritaeniorhynchus

Zika virus (ZIKV)